Abstract
The aim of this work was to survey the discharges of dissolved and particulate Cd, Cu, Fe, Mn, Pb and Zn of the eight main rivers of Sinaloa State to the Mexican coastal environment. Zn was the most abundant dissolved metal and Fe was the most abundant particulate (8.02–16.90 and 51.8–1,140.3 μg/L, respectively). Only particulate Mn had significantly (p = 0.028) higher values in summer-fall (rainy season), whereas the significantly (p = 0.036) higher values of dissolved Zn were observed in winter and spring. The highest annual total discharges to Sinaloa coastal waters were those of the rivers San Lorenzo and Piaxtla (>2 × 103 m.t.) and the lowest those of rivers Baluarte and El Fuerte (349 and 119 m.t., respectively). Pb concentrations may become of concern, because they are higher than the value recommended for the welfare of aquatic communities of natural waters.
Access options
Buy single article
Instant access to the full article PDF.
USD 39.95
Price includes VAT (USA)
Tax calculation will be finalised during checkout.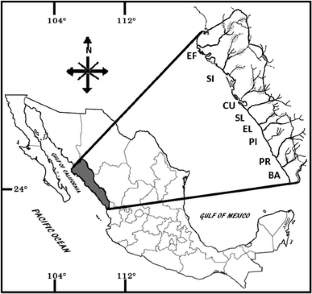 References
Bruland KW, Franks RP, Knauer GA, Martin JH (1979) Sampling and analytical methods for the determination of copper, cadmium, zinc and nickel at the nanogram per liter level in sea water. Anal Chim Acta 105:223–245

CONAGUA (2009) Atlas del agua en México. SEMARNAT, México DF

CONAPESCA (2011) Anuario estadístico de acuacultura y pesca. Comisión Nacional de Acuacultura y Pesca, Mazatlán

Duman F, Kar M (2012) Temporal variation of metals in water, sediment and tissues of the european chup (Squalius cephalus L.). Bull Environ Contam Toxicol 89:428–433

Enríquez-Andrade R, Anaya-Reyna G, Barrera-Guevara JC, Carvajal-Moreno MA, Martínez-Delgado ME, Vaca-Rodríguez J, Valdés-Casillas C (2005) An analysis of critical areas for biodiversity conservation in the Gulf of California Region. Ocean Coast Manag 48:31–50

EPD (2010) Water quality guidelines. Environmental protection division. ministry of environment, British Columbia

Fonseca R, Patinha C, Barriga F, Morais M (2011) Geochemistry of metals in the bottom sediments of tropical dam reservoirs in San Francisco River (Três Marias, MG) and Tocantins River (Tucuruí, PA), Brazil. 12th Internat Spec Conf Watershed River Basin Manag, Internat Water Ass (IWA), September 2011, Recife. Also available online at: http://dspace.uevora.pt/rdpc/bitstream/10174/3765/1/O-079.pdf

Frías-Espericueta MG, Osuna-López JI, Izaguirre-Fierro G, Aguilar-Juárez M, Voltolina D (2010) Cadmio y plomo en organismos de importancia comercial de la zona costera de Sinaloa, México: 20 años de estudios. Oceánides 25:27–39

Gibling AE (2009) Iron and manganese. In: Likens GE (ed) Biogeochemistry of inland waters. Elsevier, New York, pp 368–377

Gómez-Álvarez A, Meza-Figueroa D, Villalba-Atondo AI, Valenzuela-Gracia JL, Ramírez-Hernández J, Almendariz-Tapia JA (2009) Evaluation of potential pollution from mine tailings in the San Pedro River (1993–2005) Mexico-US Border. Environ Geol 57:469–1479

Green-Ruíz C, Páez-Osuna F (2001) Heavy metal anomalies in lagoon sediments related to intensive agriculture in Altata-Ensenada del Pabellón coastal system (SE Gulf of California). Environ Int 26:265–273

Horowitz AJ (2008) Determining annual suspended sediments and sediment-associated trace element and nutrient fluxes. Sci Tot Environ 400:315–343

Karim Z (2011) Risk assessment of dissolved trace metals in drinking water of Karachi, Pakistan. Bull Environ Contam Toxicol 86:676–678

Marmolejo-Rodríguez AJ, Prego R, Meyer-Willerer A, Shumilin E, Cobelo-García A (2007) Total and labile metals in surface sediments of the tropical river-estuary system of Marabasco (Pacific coast of Mexico): influence of an iron mine. Mar Pollut Bull 55:459–468

Miranda A, Voltolina D, Frías-Espericueta MG, Izaguirre-Fierro G, Rivas-Vega ME (2009) Nutrient budget and nutrient discharges to the Gulf of California of a semi-intensive shrimp farm (NW Mexico). Hidrobiológica 19:43–48

Moody JR, Lindstrom RN (1977) Selection and cleaning of plastic containers for storage of trace elements samples. Anal Chem 49:2264–2267

Nasehi F, Hassani AH, Monavvari M, Karbassi AR, Khorasani N (2013) Evaluating the metallic pollution of riverine water and sediments: a case study of Aras River. Environ Monit Assess 185:197–203

Nix RK (2013) The Gulf of California. A physical, geological and biological study. University of Texas, Dallas, 23 p. Available online at: http://www.utdallas.edu/~rnix/MAT-SE_Units/gulf_cal.pdf Downloaded September 20, 2013

Sakata M, Takagi T, Mitsunobu S (2010) Evaluation of loads and sources of heavy metals in Tama River, Tokyo. Water Air Soil Pollut 213:363–373

SGM (2011) Panorama minero de Sinaloa. Servicio Geológico Mexicano, Coordinación General de Minería 51 p

Sundaray SK, Nayak BB, Kanungo TK, Bhatta D (2012) Dynamics and quantification of dissolved heavy metals in the Mahanadi river estuarine system, India. Environ Monit Assess 184:1157–1179

Tamasi G, Cini R (2004) Heavy metals in drinking waters from Mount Amita (Tuscany, Italy). Possibly risks from arsenic for public health in the province of Siena. Sci Tot Environ 327:41–51

Taylor SR, McLennan SM (1985) The continental crust: its composition and evolution. Blackwell, Oxford

Vázquez-Sauceda ML, Pérez-Castañeda R, Sánchez-Martínez JG, Aguirre-Guzmán G (2012) Cadmium and lead levels along the estuarine ecosystem of Tigre River-San Andres lagoon, Tamaulipas, Mexico. Bull Environ Contam Toxicol 89:782–785

Zar JH (1999) Biostatistical analysis. Prentice Hall, Upper Saddle River, New jersey

Zhao Q, Liu S, Deng L, Dong S, Wang C (2013) Longitudinal distribution of heavy metals in sediments of a canyon reservoir in southwest China due to dam construction. Environ Monit Assess 185:6101–6110
Acknowledgments
This study was supported by projects PROFAPI 2009/2010 and by PROMEP 103.5/12/4812.
About this article
Cite this article
Frías-Espericueta, M.G., Mejía-Cruz, R., Osuna López, I. et al. Metal Discharges by Sinaloa Rivers to the Coastal Zone of NW Mexico. Bull Environ Contam Toxicol 92, 132–136 (2014). https://doi.org/10.1007/s00128-013-1158-5
Received:

Accepted:

Published:

Issue Date:
Keywords
Continental waters

Metal transport

Gulf of California

Coastal environment

Lead