Abstract
The impacts of repeated chlorimuron-ethyl applications on soil microbial community structure and function were studied under greenhouse conditions. Chlorimuron-ethyl was applied to soil samples at three different doses [1-,10-,100-fold of recommended field rate (T1, T10, T100)] for 3 years. The half-lives of chlorimuron-ethyl were 37.1–54.6 days. The soil microbial biomass (microbial biomass carbon and total phospholipid fatty acid), the microbial activity (basal respiration and average well color development), the ratio of Gram-negative/Gram-positive bacteria and Shannon index were stimulated by chlorimuron-ethyl during the initial period. Except for T100, the other treatments recovered to the untreated level. The ratio of fungi/bacteria decreased during the initial period and then recovered in the end. Principal component analysis of phospholipid fatty acid showed that chlorimuron-ethyl altered the microbial community structure. Except got T100, T1 and T10 were not different from the control at the end of experiment. These results suggested a dosage effect of chlorimuron-ethyl on the living microbial biomass and the microbial community.
Access options
Buy single article
Instant access to the full article PDF.
USD 39.95
Price includes VAT (USA)
Tax calculation will be finalised during checkout.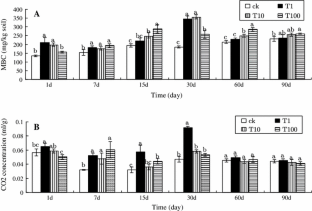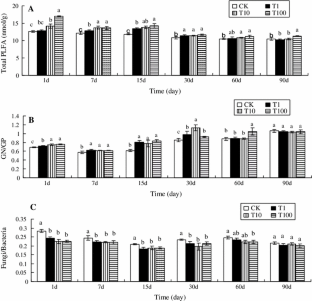 References
Baath E, Anderson TH (2003) Comparison of soil fungi/bacterial rations in a pH gradient using physiological and PLFA-based techniques. Soil Biol Biochem 35:965–963

Braun B, Bockelmann U, Grohmann E, Szewzyk U (2006) Polyphasic characterization of the bacterial community in an urban soil profile with in situ and culture-dependent methods. Appl Soil Ecol 31:267–279

Brown HM (2006) Mode of action, crop selectivity, and soil relations of the sulfonylurea herbicides. Pestic Sci 29:263–281

Byss M, Elhottová D, Tříska J, Baldrian P (2008) Fungal bioremediation of the creosote-contaminated soil: influence of Pleurotus ostreatus on polycyclic aromatic hydrocarbons removal and soil microbial community composition in the laboratory-scale study. Chemosphere 73:1518–1523

Chen SK, Edwards CA (2001) A microcosm approach to assess the effects of fungicides on soil ecological processes and plant growth: comparisons of two soil type. Soil Biol Biochem 33:1982–1991

China Pesticide Information Network (2010) http://www.chinapesticide.gov.cn/service/aspx/B3X.aspx?aiid=HECHL

Cycon M, Piotrowska-Seget Z, Kaczynska A, Kozdrój J (2006) Microbiological characteristics of a sandy loam soil exposed to tebuconazole and l-cyhalothrin under laboratory conditions. Ecotoxicology 15:639–646

Fang H, Tang FF, Zhou W, Cao ZY, Wang DD, Liu KL, Wu XW, Yu YL (2012) Persistence of repeated triadimefon application and its impact on soil microbial functional diversity. J Environ Sci Health B 47(2):104–110

Girvan MS, Bullimore J, Pretty JN, Osborn AM, Ball AS (2003) Soil type is the primary determinant of the composition of the total and active bacterial communities in arable soils. Appl Environ Microbiol 69:1800–1809

Guidelines on environmental safety assessment for chemical pesticides in China, 2012

Hernández AJ, Becerril J, Zárate O, Garbisu C (2006) Assessment of the efficiency of a metal phytoextraction process with biological indicators of soil health. Plant Soil 281(1–2):147–158

Rodriguez RA, Toranzos GA (2003) Stability of bacterial populations in tropical soil upon exposure to Lindane. Int Microbiol 6(4):253–258

Sarah HL, Emily BH, Scott AS, Terry JG (2010) Effects of repeated glyphosate applications on soilmicrobial community composition and the mineralization of glyphosate. Pest Manag Sci 66:59–64

Sharma D, Singh SB (2012) Persistence of bifenthrin in sandy loam soil as affected by microbial community. Bull Environ Contam Toxicol 88:906–908

Sojka RE, Entry JA, Fuhrmann JJ (2006) The influence of high application rates of polyacrylamide on microbial metabolic potential in an agricultural soil. Appl Soil Ecol 32:243–252

Teng C, Tao B (2008) Effects of chlorimuron-ethyl on soil microorganism population and soil respiration intensity. Chin J Soil Sci 39:384–387

Wang MC, Gong M, Zang HB, Hua XM, Yao J, Pang YJ, Yang YH (2006) Effect of methamidophos and urea application on microbial communities in soils as determined by microbial biomass and community level physiological profiles. J Environ Sci Health B 41:399–413

Wang YP, Shi JY, Wang H, Lin Q, Chen XC, Chen YX (2007) The influence of soil heavy metals pollution on soil microbial biomass, enzyme activity, and community composition near a copper smelter. Ecotoxicol Environ Saf 67(1):75–81

Wang MC, Liu YH, Wang Q, Gong M, Hua XM, Pang YJ, Hu SJ, Yang YH (2008) Impacts of methamidophos on the biochemical, catabolic, and genetic characteristics of soil microbial communities. Soil Biol Biochem 40:778–788

Wang XG, Song M, Wang YQ, Gao CM, Zhang Q, Chu XQ, Fang H, Yu YL (2012) Response of soil bacterial community to repeated applications of carbendazim. Ecotoxicol Environ Saf 75:33–39

Winding A, Hund-Rinke K, Rutgers M (2005) The use of microorganisms in ecological soil classification and assessment concepts. Ecotoxicol Environ Saf 62:230–248

Wu J, Lin Q, Huang Q, Xiao H (2006) Soil microbial biomass-methods and application. China Meteorological Press (in Chinese), Beijing 12: 54-78

Wu XW, Cheng LY, Cao ZY, Yu YL (2012) Accumulation of chlorothalonil successively applied to soil and its effect on microbial activity in soil. Ecotoxicol Environ Saf 81:65–69

Xie XM, Liu WP, Abid S (2004) Rapid degradation of bensulfuron-methyl upon repeated application in paddy soils. J Environ Sci 16:49–52

Xu J, Guo LQ, Dong FS, Liu XG, Wu XH, Sheng Y, Zhang Y, Zheng YQ (2013) Response of the soil microbial community to imazethapyr application in a soybean field. J Environ Sci Health B 48:505–511

Xue K, Luo HF, Qi HY, Zhang HX (2005) Changes in soil microbial community structure associated with two types of genetically engineered plants analyzing by PLFA. J Environ Sci 17:130–134

Zak DR, Kling GW (2006) Microbial community composition and function across an arctic tundra landscape. Ecology 87:1659–1670

Zawoznik MS, Tomaro ML (2005) Effect of chlorimuron-ethyl on Bradyrhizobium japonicum and its symbiosis with soybean. Pest Manag Sci 61:1003–1008

Zhang C, Xu J, Dong FS, Liu XG, Sheng Y, Zheng YQ (2010a) Impact of imazethapyr on the microbial community structure in agricultural soils. Chemosphere 81:800–806

Zhang CP, Liu XG, Dong FS, Xu J, Zheng YQ (2010b) The effect of imazethapyr on soil microbes in soybean fields in northeast China. Chem Ecol 26(3):173–182

Zhao CS, He FL (2007) Effects of long residue herbicides on agricultural development of Heilongjiang province. J Dongbei Agric Univ 38:136–139
Acknowledgments
This work was supported financially by the Nature Science Foundation of China (NSFC, 31000863, 31171879) and Public service sector R&D Project (201203098).
Additional information
Jun Xu and Ying Zhang have contributed equally to this paper.
About this article
Cite this article
Xu, J., Zhang, Y., Dong, F. et al. Effects of Repeated Applications of Chlorimuron-Ethyl on the Soil Microbial Biomass, Activity and Microbial Community in the Greenhouse. Bull Environ Contam Toxicol 92, 175–182 (2014). https://doi.org/10.1007/s00128-013-1156-7
Received:

Accepted:

Published:

Issue Date:
Keywords
Chlorimuron-ethyl

Repeated application

Soil activity

Soil microbial community