Abstract
A simple, rapid and economical method was developed and validated for the determination of metamitron using UV detector with RP-HPLC. Study of metamitron in soil was carried out. The compound was extracted from soil by methanol and clean-up was done on C-18 SPE column. Recovery ranged from 90.75 % to 94.05 % within 0.1–2.0 μg g−1 and RSD 1.80 %. Retention time was 3.8 min and limit of detection and limit of quantification were 0.001 and 0.008 μg g−1. The results indicated that the reported method could meet the requirement for the analysis of metamitron in trace amounts.
Access options
Buy single article
Instant access to the full article PDF.
USD 39.95
Price includes VAT (USA)
Tax calculation will be finalised during checkout.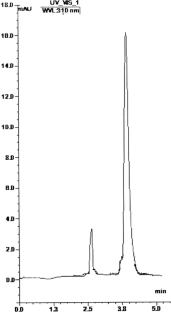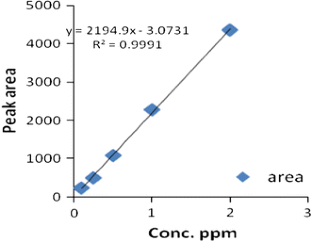 References
Arranz A, De Betono SF, Moreda Jose M, Cid A, Arranz JF (1997) Preconcentration and voltammetric of the herbicide metamitron with silica-modified carbon paste electrode. Mikrochim Acta 127:273–279

Drozdzyñski D, Folkman W (2006) Determination of metamitron residues in sugar beet plants and soil applying solid-supported liquid–liquid extraction followed by gradient RP-HPLC. Chem Anal (Warsaw) 51:439

EU Pesticide database (2013). http://ec.europa.eu/sanco_pesticides/public/index.cfm?event=substance.resultat&s=1. Accessed on 20 Jan, 2013

European Union Reference Laboratory (2011). Pesticides in fruits and vegetables. University of Almeria, Spain. www.crl-pesticides.eu/library/docs/fv/Validation-oliveoil.pdf. Assessed on 25 Dec, 2012

Ghebbioni C, Trevisan M (1992) Determination of sugarbeet herbicides in soil samples by HPLC. Pesticide Sci 34:105–107

Goicolea MA, Arranz JF, Barrio RJ, Gómez de Balugera Z (1991) Differential-pulse adsorptive stripping voltammetry of the herbicides metamitron and isometiozine. Fresenius J Anal Chem 339(3):166–168

Hongji P, Qunfeng Z, Li Changping (2000) Analysis of metamitron by HPLC. Pesticide Sci Adm 2000(2):4–24

Kucharski M, Domaradzki K, Barbara W (2008) Micro-rates of herbicides used in sugar beet crop—influence on herbicide residues level in roots and soil. Pestycydy 3–4:63–69

Moros J, Armenta S, Garrigues S, de la Guardia M (2006) Quality controls of metamitron in agrochemicals using Fourier transform infrared spectroscopy in the middle and near range. Anal Chim Acta 565(2):255–260

SANCO/12495/2011 (2011) Method validation and quality control procedures for pesticides residue analysis in food and feed. www.ec.europa.eu/food/plants/protection/pesticides/docs/qualControl_en.pdf. Assessed on 20 Dec, 2012

Tomlin CDS (2002) The pesticide manual, 12th edn. British Crop Protection Council (BCPC) Publication, Hampshire, pp 608–609

Valentin JFA, Altuna GA, Diez-Caballero RJB, Garcia AA (1989) Study of the conditions for the determination of metamitron by differential pulse polarography. Fresenius J Anal Chem 333(3):218–220
Acknowledgments
The authors thankful to M/s Punjab Chemicals and Crop Protection Limited, India for providing analytical grade and formulation of metamitron and G.B.P.U.A & T, Pantnagar (India) for providing facilities related to research.
About this article
Cite this article
Kumar, S., Tandon, S. & Sand, N.K. Determination and Method Validation of Metamitron in Soil by RP-HPLC. Bull Environ Contam Toxicol 92, 165–168 (2014). https://doi.org/10.1007/s00128-013-1151-z
Received:

Accepted:

Published:

Issue Date:
Keywords
Metamitron

Recovery

Extraction

Soil

RP-HPLC

Validation