Abstract
The temporal distribution of organochlorine pesticides (OCPs) was examined in the 210Pb dated sediment core from the Beibu Gulf, South China Sea. The total OCPs concentrations were in the range of 0.93–26.6 ng g−1 dry weight. Dichlorodiphenyltrichloroethanes (DDTs) (0.17–24.8 ng g−1), Hexachlorocyclohexanes (HCHs) (0.04–0.51 ng g−1), Chlordane related compounds (CHLs) (0.22–1.72 ng g−1) and endosulfan (n.d.–0.91 ng g−1) were the predominant compounds. Similar to most Chinese coastal areas, the levels of DDTs in the Beibu Gulf became elevated since the early 1990s, especially since 2000 despite the ban in 1983 in China. This suggests that the concentrations of DDTs were controlled by several processes, such as land reclamation and soil runoff. The isomer ratios of (p,p′-DDE + p,p′-DDD)/p,p′-DDT, p,p′-DDT/DDTs along with construction land expansion indicated that economic activities, land reclamation, soil runoff and the use of DDT-containing antifouling paints might be responsible for the input of DDT. The ratios of α-HCH/γ-HCH (and γ-HCH/HCHs) and trans-chlordane/cis-chlordane (TC/CC) indicated fresh inputs of lindane and chlordane, respectively. In addition, CC was found to be degraded faster than TC under anaerobic conditions in sediments from the Beibu Gulf.
This is a preview of subscription content, log in to check access.
Access options
Buy single article
Instant access to the full article PDF.
US$ 39.95
Price includes VAT for USA
Subscribe to journal
Immediate online access to all issues from 2019. Subscription will auto renew annually.
US$ 199
This is the net price. Taxes to be calculated in checkout.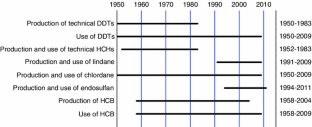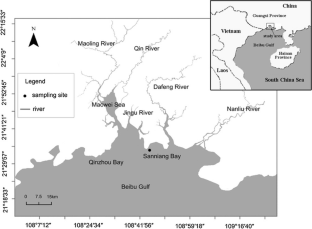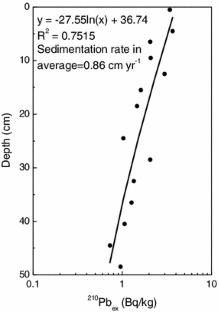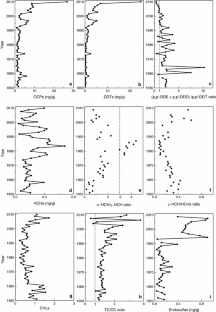 References
Binelli A, Sarkar SK, Chatterjee M, Riva C, Parolini M, Bhattacharya BD, Bhattacharya AK, Satpathy KK (2008) A comparison of sediment quality guidelines for toxicity assessment in the Sundarban wetlands (Bay of Bengal, India). Chemosphere 73:1129–1137

Chen ZZ, Qiu YS, Jia XP, Zhong ZH (2008) Effects of fishing on the marine ecosystem of Beibu Gulf. Chin J Appl Ecol 19:1604–1610 (in Chinese with English abstract)

Chen ZZ, Xu SN, Qiu YS, Lin ZJ, Jia XP (2009) Modeling the effects of fishery management and marine protected areas on the Beibu Gulf using spatial ecosystem simulation. Fish Res 100:222–229

Gan HY, Lin JQ, Liang K, Xia Z (2013) Selected trace metals (As, Cd and Hg) distribution and contamination in the coastal wetland sediment of the northern Beibu Gulf, South China Sea. Mar Pollut Bull 66:252–258

GEF (2007) Global environment facility (GEF) project, China: alternatives to DDT usage for the production of anti-fouling paint. United Nations Development Programme (UNDP). http://www.thegef.org/gef/project_detail?projID=2932. Accessed 6 Dec 2005

Gong XY, Qi SH, Wang YX, Julia EB, Lv CL (2007) Historical contamination and sources of organochlorine pesticides in sediment cores from Quanzhou Bay, Southeast China. Mar Pollut Bull 54:1434–1440

Jia HL, Li YF, Wang DG, Cai DJ, Yang M, Ma JM, Hu JX (2009) Endosulfan in China 1—gridded usage inventories. Environ Sci Pollut Res 16:295–301

Lan WL (2011) Variation of organic pollution in the last twenty years in the Qinzhou bay and its potential ecological impacts. Acta Eco Sin 31:5970–5976 (in Chinese with English abstract)

Lee KT, Tanabe S, Koh CH (2001) Distribution of organochlorine pesticides in sediments from Kyeonggi Bay and nearby areas, Korea. Environ Pollut 114:207–213

Li YF, Cai DJ, Singh A (1998) Technical hexachlorocyclohexane use trends in China and their impact on the environment. Arch Environ Contam Toxicol 35:688–697

Li YF, Scholtz MT, Van Heyst BJ (2003) Global gridded emission inventories of β-hexachlorocyclohexane. Environ Sci Technol 37:3493–3498

Liu X, Zhang G, Li J, Yu LL, Xu Y, Li XD, Kobara Y, Jones KC (2009) Seasonal patterns and current sources of DDTs, chlordanes, hexachlorobenzene, and endosulfan in the atmosphere of 37 Chinese Cities. Environ Sci Technol 43:1316–1321

Martinez A, Erdman NR, Rodenburg ZL, Eastling PM, Hornbuckle KC (2012) Spatial distribution of chlordanes and PCB congeners in soil in Cedar Rapids, Iowa, USA. Environ Pollut 161:222–228

MEP (2009) Bulletin of ban on the production, circulation, use, import and export of DDT, chlordane, mirex and hexachlorobenzene. ministry of environmental protection of the People's Republic of China (MEP). http://www.zhb.gov.cn/info/bgw/bgg/200904/t20090427_150908.htm. Accessed 16 Apr 2009

NIP (2007) National implementation plans transmitted pursuant to article 7(b) of the Stockholm convention. China's National Implementation Plan for the Stockholm Convention on Persistent Pollutants (NIP). http://www.pops.int/documents/implementation/nips/submissions/China_NIP_En.pdf. Accessed 18 Apr 2007

Offenberg JH, Nelson ED, Gigliotti CL, Eisenreich SJ (2004) Chlordanes in the Mid-Atlantic atmosphere: New Jersey 1997–1999. Environ Sci Technol 38:3488–3497

Qiu XH, Zhu T, Li J, Pan HS, Li QL, Miao GF, Gong JC (2004) Organochlorine pesticides in the air around the Taihu Lake, China. Environ Sci Technol 38:1368–1374

Qiu XH, Zhu T, Yao B, Hu JX, Hu SW (2005) Contribution of dicofol to the current DDT pollution in China. Environ Sci Technol 39:4385–4390

Santschi PH, Presley BJ, Wade TL, Garcia-Romero B, Baskaran M (2001) Historical contamination of PAHs, PCBs, DDTs, and heavy metals in Mississippi River Delta, Galveston Bay and Tampa Bay sediment cores. Mar Environ Res 52:51–79

Sutherland TD, Horne I, Lacey MJ, Harcourt RL, Russell RJ, Oakeshott JG (2000) Enrichment of an endosulfan-degrading mixed bacterial culture. Appl Environ Microb 66:2822–2828

UNEP (2011) COP5: endosulfan included under the Stockholm Convention. United Nations Environment Programme (UNEP), Stockholm Convention on Persistent Organic Pollutants (POPs). http://chm.pops.int/Convention/Media/PressReleases/tabid/462/Default.aspx. Accessed 3 May 2011

Walker K, Vallero DA, Lewis RG (1999) Factors influencing the distribution of lindane and other hexachlorocyclohexanes in the environment. Environ Sci Technol 33:4373–4378

Wang TY, Lu YL, Zhang H, Shi YJ (2005) Contamination of persistent organic pollutants (POPs) and relevant management in China. Environ Int 31:813–821

Wang ZY, Yan W, Chi JS, Zhang G (2008) Spatial and vertical distribution of organochlorine pesticides in sediments from Daya Bay, South China. Mar Pollut Bull 56:1578–1585

Xu D, Chu FY, Yang HL, Chen L, Li TJ (2012) Modern sedimentation rates in the Beibu Gulf. Mar Geol Quat Geol 32:17–26 (in Chinese with English abstract)

Yao JL, Yang XX (2012) Research of land use change and its driving force in Guangxi Beibu Gulf economic zone. Pop Sci Technol 14:224–227 (in Chinese with English abstract)

Zhang G, Parker A, House A, Mai BX, Li XD, Kang YH, Wang ZS (2002) Sedimentary records of DDT and HCH in the Pearl River Delta, South China. Environ Sci Technol 36:3671–3677

Zhang BH, Chen SL, Liu YX, Gu GC (2011a) Sediment characteristics and differentiation in the Qinzhou Bay, Guangxi. J Trop Oceanogr 30:66–70 (in Chinese with English abstract)

Zhang JQ, Qi SH, Xing XL, Tan LZ, Gong XY, Zhang Y, Zhang JP (2011b) Organochlorine pesticides (OCPs) in soils and sediments, southeast China: a case study in Xinghua Bay. Mar Pollut Bull 62:1270–1275
Acknowledgments
This work was financial supported by Guangxi Natural Science Foundation (2010GXNSFE013006), NSFC (41273139, 41073104), Major Program of Ministry of Education of China (210161) and Innovation Project of Guangxi Graduate Education (YCSZ2013015).
About this article
Cite this article
Li, P., Wang, Y., Huang, W. et al. Sixty-Year Sedimentary Record of DDTs, HCHs, CHLs and Endosulfan from Emerging Development Gulfs: A Case Study in the Beibu Gulf, South China Sea. Bull Environ Contam Toxicol 92, 23–29 (2014). https://doi.org/10.1007/s00128-013-1130-4
Received:

Accepted:

Published:

Issue Date:
Keywords
Sediment core

OCPs

DDTs

HCHs

Endosulfan

Beibu Gulf