Abstract
This work aimed to assess the degree of anthropogenic influence and severity of heavy metal from a non-ferrous metal smelting industrial zone. The results suggested that anthropogenic inputs played a dominant role in the enrichment of Cu, Zn, Pb, Sb and Cd. These metals showed similar spatial distribution patterns. Multivariate analysis showed strongly significant relationships between Cu–Zn,Cd–Zn, Cd–Sb, Sb, Sb, Cu, Zn, and Pb. Strong relationship was found between Cr, Ni, Cu, Zn, Sb and organic matter in soil. Risk evaluation results within the soil investigated profile was in the following order: Cd > Sb > Cu > Zn > Pb. Nemerow's synthetical contamination index revealed that there is substantial ecotoxicological risk among the sampling sites with 8 of 9 of these locations exceeding the Nemerow criteria for seriously impacted sites and another site was close to moderately polluted domain.
Access options
Buy single article
Instant access to the full article PDF.
USD 39.95
Price includes VAT (USA)
Tax calculation will be finalised during checkout.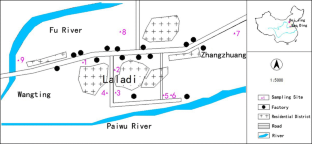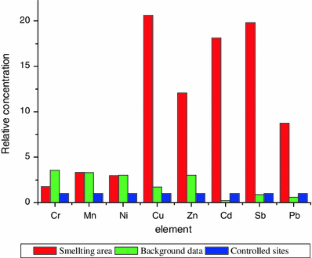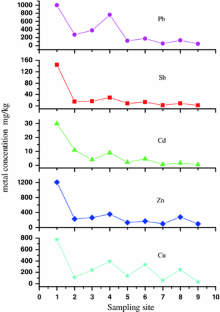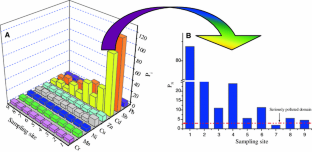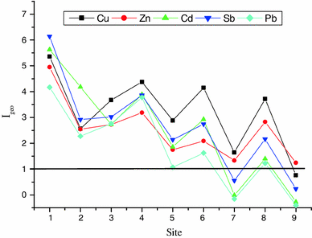 References
Boularbah A, Schwartz C, Bitton G, Morel JL (2006) Heavy metal contamination from mining sites in South Morocco: 1. Use of a biotest to assess metal toxicity of tailings and soils. Chemosphere 63:802–810

Bozkurt S, Moreno L, Neretnieks I (1999) Long-term fate of organics in waste deposits and its effect on metal release. Sci Total Environ 228:135–152

Bozkurt S, Monero L, Neretnieks I (2000) Long-term processes in waste deposits. Sci Total Environ 250:101–121

Chen T, Liu X, Zhu MZ, Zhao K, Wu J, Xu J, Huang P (2008) Identification of trace element sources and associated risk assessment in vegetable soils of the urban–rural transitional area of Hangzhou. China Environ Pollut 151(1):67–78

Chen J, Liu Q, Qian H (2012) Application of improved Nemerow index method based on entropy weight for groundwater quality evaluation. Int J Environ Sci 2(3):1284–1290

Cheng JL, Shi Zh, Li Y, Yang DZ, Li HY, Zhu YW (2005) Assessing environmental quality of agricultural soils using GIS and multivariate analysis in Zhejiang Province. China Environ Inf Arch 3:427–434

Chinese Environmental Protection Administration (1990) Chinese soil element background value. China environmental science press, Beijing

Cui Y, Zhu YG, Zhai R, Huang Y, Qiu Y, Liang J (2005) Exposure to metal mixtures and human health impacts in a contaminated area in nanning. China Environ Int 31:784–790

Culbard EB, Thornton I, Watt J, Wheatley M, Moorcroft S, Thompson M (1988) Metal contamination in British urban dusts and soils. J Environ Qual 17:226–234

De Matos AT, Fontes MPF, Da Costa LM, Martinez MA (2001) Mobility of heavy metals as related to soil chemical and mineralogical characteristics of Brazilian soils. Environ Pollut 111:429–435

Facchinelli A, Sacchi E, Mallen L (2001) Multivariate statistical and GIS based approach to identify heavy metal sources in soil. Environ Pollut 114:313–324

Gaetke LM, Chow K (2003) Copper toxicity, oxidative stress, and antioxidant nutrients. Toxicology 189:147–163

Gallego JLR, Ordonez A, Loredo J (2002) Investigation of trace element sources from an industrialized area (Aviles, northern Spain) using multivariate statistical methods. Environ Int 27:589–596

Gong M, Wu L, Bi XY, Ren LL, Wang L, Ma ZD, Bao ZY, Li ZG (2010) Assessing heavy-metal contamination and sources by GIS-based approach and multivariate analysis of urban-rural topsoils in Wuhan, central China. Environ Geochem Health 32:59–72

Gupta AK, Sinha S (2006) Chemical fractionation and heavy metal accumulation in the plant of Sesamum indicum (L.) var. T55 grown on soil amended with tannery sludge: selection of single extractants. Chemosphere 64:161–173

Magdoff FR, Tabatabai MA, Hanlon ED (1996) Soil organic matter: analysis and interpretation. Soil Sci 46:21–31

Micó C, Recatalá L, Peris M, Sanchez J (2006) Assessing heavy metal sources in agricultural soils of an European mediterranean area by multivariate analysis. Chemosphere 65:863–872

Mokhtar MB, Awaluddin AB, Fong CW, Woojdy M (1991) Lead in blood and air pollution near an operational and a proposed area for copper mining. Malaysia Bull Environ Contam Toxicol 52:149–154

Muller G (1969) Index of geoaccumulation in sediment s of the rhine river. Geol J 2(3):109–118

Nan Z, Zhao C, Li J, Chen F, Sun W (2002) Relation between soil properties and selected heavy metal concentration in spring wheat (Triticum aestivum L.) grown in contaminated soil. Water Air Soil Pollut 133:205–213

Nemerow NL (1985) Stream, lake, estuary, and ocean pollution. Van Nostrand Reinhold, New York

Parizanganeh A, Hajisoltani P, Zamani A (2010) Assessment of heavy metal pollution in topsoils surrounding zinc industrial complex in Zanjan-Iran. Proc Environ Sci 2:162–166

Quartacci MF, Baker AJM, Navari-Izzo F (2005) Nitrilotriacetate- and citric acid-assisted phytoextraction of cadmium by Indian mustard (Brassica juncea (L.) Czernj, Brassicaceae). Chemosphere 59:1249–1255

Raghunath R, Tripathi RM, Kumar AV, Sathe AP, Khandekar RN, Nambi KSV (1999) Assessment of Pb, Cd, Cu, and Zn exposures of 6–10-year-old children in Mumbai. Environ Res 80:215–221

State Environmental Protection Administration (1990) Chinese soil element background value. China Environmental Science, Beijing

Walkley A, Black IA (1934) An examination of the Degtjareff method for determining soil organic matter, and a proposed modification of the chromic acid titration method. Soil Sci 37:29–38

Yobouet YA, Adouby K, Trokourey A (2010) Cadmium, copper, lead and zinc speciation in contaminated soils. Int J Eng Sci Technol 2(5):802–812
Acknowledgments
This study was supported by the Hebei Province Special Fund for Environmental Protection Research in the Public Interest (2013).
About this article
Cite this article
Liang, S., Li, X., Xu, H. et al. Spatial-Based Assessment of Heavy Metal Contamination in Agricultural Soils Surrounding a Non-ferrous Metal Smelting Zone. Bull Environ Contam Toxicol 91, 526–532 (2013). https://doi.org/10.1007/s00128-013-1110-8
Received:

Accepted:

Published:

Issue Date:
Keywords
Heavy metals

Soil contamination

Non-ferrous metal smelting