Abstract
The concentrations of four heavy metals (Pb, Cd, Ni and Cr) were measured in tissues of pelagic (Rutilus caspicus) and benthic (Neogobius gorlap) fishes from the Miankaleh international wetland. The maximum concentrations of Pb, Cd, Ni, and Cr (2.06, 1.20, 1.14 and 0.70 μg g−1, respectively) were measured in the liver of N. gorlap, while the lowest concentrations were measured in muscle tissue collected from R. caspicus (Pb 0.67; Cd 0.25; Ni 0.21 and Cr 0.08 μg g−1). The mean concentrations of metals in liver of R. caspicus and N. gorlap followed a trend where Pb > Cd > Ni > Cr, whereas in R. caspicus and N. gorlap gills and N. gorlap muscle the following trend was observed Pb > Ni > Cd > Cr. The data of presented study show that the liver and gill tissues have higher metal concentrations than muscle and also the metal concentrations in tissues of N. gorlap (benthic) were higher in comparison with R. caspicus (pelagic).
Access options
Buy single article
Instant access to the full article PDF.
USD 39.95
Price includes VAT (USA)
Tax calculation will be finalised during checkout.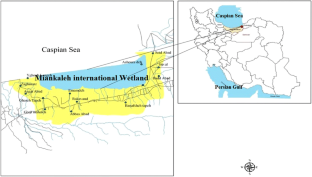 References
Barlas N (1999) A pilot study of heavy metal concentration in various environments and fishes in the upper Sakaryia river basin, Turkey. Environ Toxicol 14:367–373

Bustamante P, Bocher P, Chérel Y, Miramand P, Caurant A (2003) Distribution of trace elements in the tissues of benthic and pelagic fish from the Kerguelen Islands. Sci Total Environ. doi:10.1016/S0048-9697(03)00265-1

Canli M, Atli G (2003) The relationships between heavy metal (Cd, Cr, Cu, Fe, Pb, Zn) levels and the size of six Mediterranean fish species. Environ Pollut 121:129–136

Chari KB, Abbasi SA (2005) A study on the fish fauna of Oussudu—a rare freshwater lake of south India. Int J Environ Studies 62:137–145

Ebrahimpour M, Mushrifah I (2010) Seasonal variation of cadmium, copper, and lead concentrations in fish from a freshwater lake. Biol Trace Elem Res. doi:10.1007/s12011-009-8596-2

Ebrahimpour M, Pourkhabbaz AR, Baramaki R, Babaei H, Rezaei M (2011) Bioaccumulation of heavy metals in freshwater fish species, Anzali, Iran. Bull Environ Contam Toxicol. doi:10.1007/s00128-012-0798-1

Evans MI (1994) Important Bird Areas in the MiddleEast. Birdlife Conservation Series No.2. Birdlife International, Cambridge, p 410

FAO (1983) Compilation of legal limits for hazardous substances in fish and fishery products FAO Fishery Circular No. 464, pp 5–100

Heath AC (1995) Water pollution and fish physiology, 2nd edn. Lewis, Boca Raton, pp 125–140

Ikem A, Egiebor NO, Nyavor K (2003) Trace elements in water, fish and sediment from Tuskegee lake, southeastern U.S.A. Water Air Soil Pollut 149:51–75

Jezierska B, Witeska M (2001) Metal toxicity to fish. Wydawnicko akademii Podlaskiej, Siedlce, p 318

Kalay M, Ay Ö, Canli M (1999) Heavy metal concentrations in fish tissues from the Northeast Mediterranean Sea. Bull Environ Contam Toxicol 63:673–681

Karadede H, Oymak SA, Ünlü E (2004) Heavy metals in mullet, Liza abu, and catfish, Silurus triostegus, from the Atatürk Dam Lake (Euphrates), Turkey. Environ Int 30:183–188

Kargin F (1996) Seasonal changes in levels of heavy metals in tissues of Mullus barbatus and Sparus aurata collected from Iskenderun Gulf (Turkey). Water Air Soil Pollut 90:557–562

Khaled A (2004) Seasonal concentrations of some heavy metals in muscle tissues of Siganus rivulatus and Sargus sargus from El-Mex Bay and Eastern Harbour, Alexandria, Egypt, Egyptian. J Aquat Biol Fish 8(1):65–81

Krishnamurti AJ, Nair VR (1999) Concentration of metals in fishes from Thane and Bassein creeks of Bombay, India. Indian J Mar Sci 28(1):39–44

Mohammadnabizadeh S, Pourkhabbaz AR, Afshariband R, Nowrouzia M (2012) Concentrations of Cd, Ni, Pb, and Cr in the two edible fish species Liza klunzingeri and Sillago sihama collected from Hara biosphere in Iran. Toxicol Environ Chem. doi:10.1080/02772248.2012.693494

Norouzi M, Mansouri B, Hamidian AH, Zarei I, Mansouri A (2012) Metal concentrations in tissues of two fish species from Qeshm Island, Iran. Bull Environ Contam Toxicol. doi:10.1007/s00128-012-0809-2

Palaniappan PLRM, Karthikeyan S (2009) Bioaccumulation and depuration of chromium in the selected organs and whole body tissues of freshwater fish Cirrhinus mrigala individually and in binary solutions with nickel. J Environ Sci (china) 21:229–236

Pazhanisamy K, Vasanth M, Indra N (2007) Bioaccumulation of arsenic in the freshwater fish Labeo Rohita (HAM.). Bioscan 2(1):67–69

Qiao-qiao C, Guang-wei Z, Langdon A (2007) Bioaccumulation of heavy metals in fishes from Taihu Lake, China. J Environ Sci 19:1500–1504

Romeo M, Siau Y, Sidoumou Z, Gnassia-Barelli M (1999) Heavy metal distribution in different fish species from the Mauritania coast. Sci Total Environ 232(3):169–175

Schiaffino S, Reggiani C (1996) Molecular diversity of myofibrillar proteins: gene regulation and functional significance. Phys Rev 76:371–423

Sivakumar S, Khatiwada CP, Sivasubramanian J (2012) Aluminum and the effects of chelating agents on Muscle, Kidney and Liver of cirrhinus mrigala. J Chem Pharm Res 4(6):3020–3030

Tekin-özan S, Aktan N (2012) Relationship of heavy metals in water, sediment and tissues with total length, weight and seasons of Cyprinus carpio L., 1758 From Işikli Lake (Turkey). Pakistan. J Zool 44(5):1405–1416

Tekin-özan S, Kir I (2008) Seasonal variations of heavy metals in some organs of carp (Cyprinus carpio L. 1758) from Beys ehir Lake (Turkey). Environ Monit Assess 138:201–206

WHO (1989) Heavy metals-environmental aspects. Environment health criteria. No. 85. Geneva, Switzerland

Zauke G, Savinov V, Ritterhoff J, Savinova T (1999) Heavy metals in fish from Barent Sea (summer 1994). Sci Total Environ 227:161–173
Acknowledgments
This research was supported by the Faculty of Environmental and Natural Resource, University of Birjand, Iran.
About this article
Cite this article
Alipour, H., Pourkhabbaz, A. & Hassanpour, M. Assessing of Heavy Metal Concentrations in the Tissues of Rutilus rutilus caspicus and Neogobius gorlap from Miankaleh International Wetland. Bull Environ Contam Toxicol 91, 517–521 (2013). https://doi.org/10.1007/s00128-013-1105-5
Received:

Accepted:

Published:

Issue Date:
Keywords
Miankaleh wetland

Rutilus caspicus
Neogobius gorlap

Metal concentration