Abstract
Effects of cadmium (Cd2+) on biomass, pigmentation (chlorophyll a, b, and total carotene), malondialdehyde (MDA), and proline productions by Scenedesmus quadricauda var. longispina were investigated. Cadmium had inhibitory effect on the productions of biomass and pigmentation. Significant differences were found in pigment content among groups. On the other hand, Cd2+ had a simulative effect on the production of MDA and proline by the alga. FTIR–ATR spectroscopy was used to examine active groups of algal biomass before and after Cd2+ exposure. Results confirmed that amino, amide, and anionic groups had significant role on the biosorption of Cd2+ by the alga. Increased accumulation of MDA and proline seemed to be an important strategy for alleviating metal-induced oxidative stress in S. quadricauda var. longispina.
Access options
Buy single article
Instant access to the full article PDF.
USD 39.95
Price includes VAT (USA)
Tax calculation will be finalised during checkout.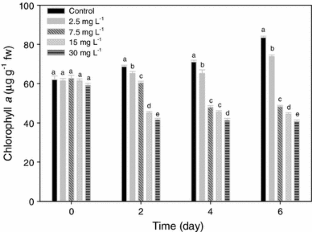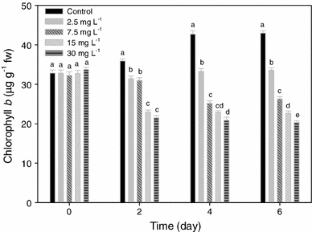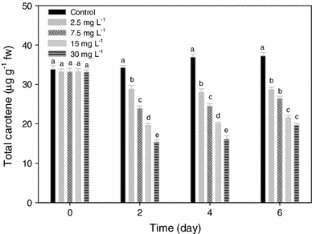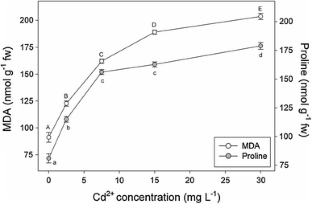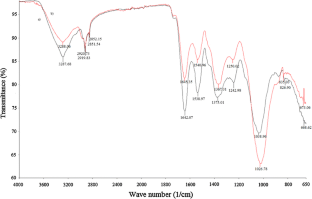 References
Andosch A, Affenzeller MJ, Lütz C, Lütz-Meindl U (2012) A freshwater green alga under cadmium stress: ameliorating calcium effects on ultrastructure and photosynthesis in the unicellular model Micrasterias. J Plant Physiol 169:1489–1500

Arief VO, Trilestari K, Sunarso J, Indraswati N, Ismadji S (2008) Recent progress on biosorption of heavy metals from liquids using low lost biosorbents: characterization, biosorption parameters and mechanism studies. Clean 36(12):937–962

Bates LS, Waldren RP, Teare D (1973) Rapid determination of free proline for water stress studies. Plant Soil 9:205–297

Çelekli A, Yavuzatmaca M, Bozkurt H (2010) An ecofriendly process: predictive modelling of copper adsorption from aqueous solution on Spirulina platensis. J Hazard Mater 173:123–129

Çelekli A, İlgün G, Bozkurt H (2012) Sorption equilibrium, kinetic, thermodynamic, and desorption studies of Reactive Red 120 on Chara contraria. Chem Eng J 191:228–235

Choudhary M, Jetley UK, Khan MA, Zutshi S, Fatma T (2007) Effect of heavy metal stress on proline, malondialdehyde, and superoxide dismutase activity in the cyanobacterium Spirulina platensis-S5. Ecotoxicol Environ Saf 66:204–209

Daud MK, Sun Y, Dawood M, Hayat Y, Variath MT, Wu YX (2009) Cadmium-induced functional and ultrastructural alterations in roots of two transgenic cotton cultivars. J Hazard Mater 161:463–473

Gorbi G, Torricelli E, Pawlik-Skowrónska B, di Toppi LS, Zanni C, Corradi MG (2006) Differential responses to Cr(VI)-induced oxidative stress between Cr-tolerant and wild-type strains of Scenedesmus acutus (Chlorophyceae). Aquat Toxicol 79:132–139

Habib K, Kumar S, Manikar N, Zutshi S, Fatma T (2011) Biochemical effect of carbaryl on oxidative stress, antioxidant enzymes and osmolytes of cyanobacterium Calothrix brevissima. Bull Environ Contam Toxicol 87:615–620

Kováčik J, Klejdus B, Hedbavny J, Bačkor M (2010) Effect of copper and salicylic acid on phenolic metabolites and free amino acids in Scenedesmus quadricauda (Chlorophyceae). Plant Sci 178:307–311

Kramárová Z, Fargašová A, Molnárová M, Bujdoš M (2012) Arsenic and selenium interactive effect on alga Desmodesmus quadricauda; review. Ecotoxicol Enviro Saf 86:1–6

Küpper H, Šetlík I, Šetliková E, Ferimazova N, Spiller M, Küpper FC (2003) Copper-induced inhibition of photosynthesis: limiting steps of in vivo copper chlorophyll formation in Scenedesmus quadricauda. Funct Plant Biol 30(12):1187–1196

Lane TW, Saito MA, George GN, Pickering IJ, Prince RC, Morel FMM (2005) Biochemistry: a cadmium enzyme from a marine diatom. Nature 435:4–42

Li X, Ping X, Xiumei S, Zhenbin W, Liqiang X (2005) Toxicity of cypermethrin on growth, pigments, and superoxide dismutase of Scenedesmus obliquus. Ecotoxicol Environ Saf 60:188–192

Ozturk Ş, Aslim B, Suludere Z (2010) Cadmium(II) sequestration characteristics by two isolates of Synechocystis sp. in terms of exopolysaccharide (EPS) production and monomer composition. Bioresour Technol 101:9742–9748

Pinto E, Sigaud-Kutner TCS, Leitão MAS, Okamoto OK, Morse D, Colepicolo P (2003) Heavy metal-induced oxidative stress in algae. J Phycol 39:1008–1018

Piotrowska-Niczyporuk A, Bajguz A, Zambrzycka E, Godlewska-Zyłkiewicz B (2012) Phytohormones as regulators of heavy metal biosorption and toxicity in green alga Chlorella vulgaris (Chlorophyceae). Plant Physiol Biochem 52:52–65

Qian H, Li J, Pan X, Sun L, Lu T, Ran H, Fu Z (2011) Combined effect of copper and cadmium on heavy metal ion bioaccumulation and antioxidant enzymes induction in Chlorella vulgaris. Bull Environ Contam Toxicol 87:512–516

Rai UN, Singh NK, Upadhyay AK, Verma S (2013) Chromate tolerance and accumulation in Chlorella vulgaris L.: role of antioxidant enzymes and biochemical changes in detoxification of metals. Bioresour Technol 10.1016/j.biortech.2013.03.043

Sabatini SE, Juárez AB, Eppis MR, Bianchi L, Luquet MC, Molina MCR (2009) Oxidative stress and antioxidant defenses in two green microalgae exposed to copper. Ecotoxicol Environ Saf 72:1200–1206

Srivastava VC, Mall ID, Mishra IM (2009) Competitive adsorption of cadmium (II) and nickel (II) metal ions from aqueous solution onto rice husk ash. Chem Eng Process 48:370–379

Tripathi BN, Gaur JP, Mehta SK, Amar A (2006) Oxidative stress in Scenedesmus sp. during short- and long-term exposure to Cu2+ and Zn2+. Chemosphere 62:538–544

Vela HVP, Moreno SG, Horcasitas CM, Villanueva ROV (2007) Growth, photosynthetic and respiratory responses to sub-lethal copper concentrations in Scenedesmus incrassatulus (Chlorophyceae). Chemosphere 67:2274–2281

Wang J, Chen C (2009) Biosorbents for heavy metals removal and their future. Biotechnol Adv 27:195–226

Wellburn RA (1994) The spectral determination of chlorophylls a and b, as well as total carotenoids, using various solvents with spectrophotometers of different resolution. J Plant Physiol 144:307–313

Xu D, Li C, Chen H, Shao B (2013) Cellular response of freshwater green algae to perfluorooctanoic acid toxicity. Ecotox Environ Saf 88:103–107

Zhang W, Zhang M, Lin K, Sun W, Xiong B, Guo M, Cui X, Fu R (2012) Eco-toxicological effect of Carbamazepine on Scenedesmus obliquus and Chlorella pyrenoidosa. Environ Toxicol Pharmacol 33:344–352

Zhou Q (2001) The measurement of malondialdehyde in plants. In: Zhou Q (ed) Methods in plant physiology. China Agricultural Press, Beijing, pp 173–174
Acknowledgments
This research was supported by TUBITAK (The Scientific and Technical Research Council of Turkey) with the project No: 112Y054 and thank to Scientific Research Projects Executive Council of University of Gaziantep. Also, authors thank to Dr. Muhittin Doğan for helping laboratory study.
About this article
Cite this article
Çelekli, A., Kapı, M. & Bozkurt, H. Effect of Cadmium on Biomass, Pigmentation, Malondialdehyde, and Proline of Scenedesmus quadricauda var. longispina . Bull Environ Contam Toxicol 91, 571–576 (2013). https://doi.org/10.1007/s00128-013-1100-x
Received:

Accepted:

Published:

Issue Date:
Keywords
Cadmium

Malondialdehyde

Proline

Scenedesmus quadricauda var. longispina