Abstract
Toxicity tests were performed with embryos of Paracentrotus lividus to investigate the toxicological effect of two arsenic species: arsenate (AsV), expected to be more toxic, and dimethyl-arsinate (DMA) expected to be less toxic. Exposures to toxicants were performed at different developmental stages in order to identify the most sensitive phase of embryological development. Statistical analysis revealed a high significance of each factor (Molecule, Concentration and Time of exposure) and their interaction for the dependent variable "Percentage of normal-shaped plutei". In particular, the 8 cell stage was the most sensitive to arsenic; at a concentration of 50 μg L−1 DMA proved to be more toxic than AsV, resulting in nearly 50 % of normal-shaped plutei against the 74 % recorded for AsV. Starting the administration of arsenic at the morula stage, arsenate proved to be significantly more toxic when compared to DMA.
Access options
Buy single article
Instant access to the full article PDF.
USD 39.95
Price includes VAT (USA)
Tax calculation will be finalised during checkout.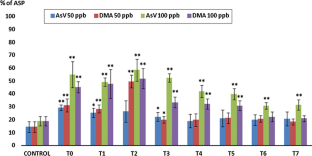 References
Álvarez L, Durán I, Lorenzo JI, Beiras R (2010) Methodological basis for the optimization of a marine sea-urchin embryo test (SET) for the ecological assessment of a coastal water quality. Ecotoxicol Environ Saf 73:491–499. doi:10.1016/j.ecoenv.2010.01.01

Anderson MJ (2001) A new method for non-parametric multivariate analysis of variance. Austral Ecol 26:32–46

Anderson B, Nicely P, Gilbert K, Kosaka R, Hunt J, Phillips B (2004) Overview of freshwater and marine toxicity tests: a technical tool for ecological risk assessment. California Environmental Protection Agency. http://oehha.ca.gov/ecotox/pdf/marinetox3.pdf. Accessed 07 Jan 2013

Arceci RJ, Gross PR (1980) Histone variants and chromatin structure during sea urchin development. Dev Biol 80(1):186–209

Arizzi Novelli A, Argese E, Tagliapietra D, Bettiol C, Ghirardini AV (2002) Toxicity of tributyltin and triphenyltin to early life-stages of Paracentrotus lividus (Echinodermata: Echinoidea). Environ Toxicol Chem 21(4):859–864. doi:10.1002/etc.5620210424

Arizzi Novelli A, Losso C, Ghetti PF, Volpi Ghirardini A (2003) Toxicity of heavy metal using sperm cell and embryo toxicity with Paracentrotus lividus (Echinodermata: Echinoidea): comparison with exposure concentration in the lagoon of Venice, Italy. Environ Toxicol Chem 22(6):1295–1301. doi:10.1002/etc.5620220616

Bennett W, Teasdale PR, Panther JG, Welsh DT, Zhao H, Jolley DF (2012) Investigating arsenic speciation and mobilization in sediments with DGT and DET: a mesocosm evaluation of oxic-anoxic transitions. Environ Sci Technol 46(7):3981–3989

Buznikov GA, Slotkin TA, Lauder JM (2003) Sea urchin embryos and larvae as biosensors for neurotoxicants. Curr Protoc Toxicol, 1.6.1–1.6.24. http://www.stanford.edu/group/Urchin/contents.html. Accessed 07 Jan 2013

Cameron RA, Hough-Evans BR, Britten RJ, Davidson EH (1987) Lineage and fate of each blastomere of the eight-cell sea urchin embryo. Genes Dev 1:75–85. doi:10.1101/gad.1.1.75

Chapman GA (1995) Sea urchin sperm cell. In: Rand GM (ed) Fundamentals of aquatic toxicology: effects, environmental fate and risk assessment, 2nd edn. Bristol, PA, pp 189–205

Cunha I, García LM, Guilhermino L (2005) Sea-urchin (Paracentrotus lividus) glutathione S-transferases and cholinesterase activities as biomarkers of environmental contamination. J Environ Monit 7:288–294. doi:10.1039/B414773A

Dinnel PA, Pagano GG, Oshida PS (1988) A sea urchin test system for marine environmental monitoring. In: Burke RD, Mladenov PV, Parsely RL (eds) Echinoderm biology. Balkema, Rotterdam, pp 611–619

Durkina VB, Evtushenko ZS (1991) Changes in activity of certain enzymes in sea urchin embryos and larvae after exposure of adult organisms to heavy metals. Mar Ecol Prog Ser 72:111–115

Fabbrocini A, D'Adamo R (2011) Gametes and embryos of sea urchins (Paracentrotus lividus, Lmk., 1816) reared in confined conditions: their use in toxicity bioassays. Chem Ecol 27:105–115. doi:10.1080/02757540.2011.625931

Fattorini D, Alonso-Hernandez CM, Diaz-Asencio M, Munoz-Caravaca A, Pannacciulli FG, Tangherlini M, Regoli F (2004) Chemical speciation of arsenic in different marine organisms: importance in monitoring study. Mar Environ Res 58:845–850

Fernandez N, Beiras R (2001) Combined toxicity of dissolved mercury with copper, lead and cadmium on embryogenesis and early larval growth of the Paracentrotus lividus sea-urchin. Ecotoxicology 10:263–271. doi:10.1023/A:1016703116830

Gilbert SF (2000) Developmental biology, 6th edn. Swarthmore College, Sunderland (MA)

His E, Heyvang I, Geffard O, De Montaudouin X (1999) A comparison between oyster (Crassostrea gigas) and sea urchin (Paracentrotus lividus) larval bioassay for toxicological studies. Water Res 33(7):1706–1718

Lera S, Pellegrini D (2006) Evaluation of the fertilization capability of Paracentrotus lividus sea urchin storage gametes by the exposure to different aqueous matrices. Environ Monit Assess 119:1–13. doi:10.1007/s10661-005-9000-0

Losso C, Arizzi Novelli A, Picone M, Ghirardini AV, Ghetti PF, Rudello D, Ugo P (2004) Sulfide as a confounding factor in toxicity tests with the sea urchin Paracentrotus lividus: Comparisons with chemical analysis data. Environ Toxicol Chem 23:396–401

Losso C, Picone M, Arizzi Novelli A, Delaney E, Ghetti PF, Ghirardini AV (2007) Developing toxicity scores for embryotoxicity tests on elutriates with the sea urchin Paracentrotus lividus, the oyster Crassostrea gigas, and the mussel Mytilus galloprovincialis. Arch Environ Contam Toxicol 53(2):220–226

Macken A, Giltrap M, Ryall K, Foley B, McGovern E, McHugh B, Davoren M (2009) A test battery approach to the ecotoxicological evaluation of cadmium and copper employing a battery of marine bioassays. Ecotoxicology 18(4):470–480. doi:10.1007/s10646-009-0305-6

Marin MG, Da Los L, Moschino V, Campesan G (2001) Sediment elutriate toxicity testing with embryos of sea urchin (Paracentrotus lividus). Aquat Ecosyst Health Manag 4:215–221

Neff JM (1997) Ecotoxicology of arsenic in the marine environment (review). Environ Toxicol Chem 16:917–927. doi:10.1002/etc.5620160511

Nipper MG, Martin ML, Williams EK (1997) The optimisation and validation of a marine toxicity test using the New Zeland echinoid, Fellaster Zelandiae. Australas J Ecotoxicol 3:109–115

Pagano G, Esposito A, Bove P, De Angelis M, Rota A, Vamvakinos E, Giordano GG (1982) Arsenic-induced developmental defects and mitotic abnormalities in sea-urchin development. Mutat Res 104:351–354

Palma P, Alvarenga P, Palma V, Matos C, Fernandes RM, Soares A, Barbosa IR (2010) Evaluation of surface water quality using an ecotoxicological approach: a case study of the Alqueva Reservoir (Portugal). Environ Sci Pollut Res 17:703–716

Pantsar-Kallio M, Manninen PKG (1997) Speciation of mobile arsenic in soil samples as a function of pH. Sci Total Environ 204:193–200

Persoone G, Gillelt J (1990) Toxicological versus ecotoxicological testing. In: Bourdeau P et al. (Eds) Short-term Toxicity Tests for Non-genotoxic Effects. Chichester, pp 287–299

Sánchez-Marín P, Echeandia JS, Cid MN, Salgado XAA, Beiras R (2010) Effect of dissolved organic matter (DOM) of contrasting origins on Cu and Pb speciation and toxicity to Paracentrotus lividus larvae. Aquat Toxicol 96:90–102

Sharma VK, Sohn M (2009) Aquatic arsenic: toxicity, speciation, transformations, and remediation. Environ Intern 35:743–759. doi:10.1016/j.envint.2009.01.005

Tufaro F, Brandhorst BP (1979) Similarity of proteins synthesized by isolated blastomeres of early sea urchin embryos. Dev Biol 72:390–397

Turpeinen R, Pantsar-Kallio M, Kairesalo T (2002) Role of microbes in controlling the speciation of arsenic and production of arsines in contaminated soils. Sci Total Environ 285:133–145

Whittaker JR (1973) Segregation during ascidian embryogenesis of egg cytoplasmic information for tissue-specific enzyme development. Proc Natl Acad Sci USA 70:2096–2100

Yamazaki A, Kidachi Y, Minokawa T (2012) "Micromere" formation and expression of endomesoderm regulatory genes during embryogenesis of the primitive echinoid Prionocidaris baculosa. Develop Growth Differ 54:566–578. doi:10.1111/j.1440-169X.2012.01360.x
About this article
Cite this article
Gaion, A., Scuderi, A., Pellegrini, D. et al. Arsenic Exposure Affects Embryo Development of Sea Urchin, Paracentrotus lividus (Lamarck, 1816). Bull Environ Contam Toxicol 91, 565–570 (2013). https://doi.org/10.1007/s00128-013-1098-0
Received:

Accepted:

Published:

Issue Date:
Keywords
Embryotoxicity

Sea urchin

Larval stages

Arsenate

Dimethyl-arsinate