Abstract
We compared Pb concentration in human milk from 37 mothers living in a neighborhood of tin-ore smelters to that from 45 mothers living in a fishing community. The median breast-milk-Pb (BM-Pb) concentration was significantly (p = 0.0000001) higher (11.3 μg L−1; ≤0.96–29.4 μg L−1) in mothers living in the vicinity of smelters than that of rural mothers (1.9 μg L−1; ≤0.96–20.0 μg L−1). These mothers also showed a statistically significant correlation between length of residence and BM-Pb concentration (Spearman r = 0.6864; p < 0.0001). The estimated median exposure (for infants <6 months) was 3.0 μg kg−1 b.w. for rural infants compared to 7.5 μg kg−1 b.w. for infants in the vicinity of metal smelters. Overall, most BM-Pb concentrations (79 %) in the metal smelter area were above the critical limit of 5.0 μg L−1 set by the WHO.
Access options
Buy single article
Instant access to the full article PDF.
USD 39.95
Price includes VAT (USA)
Tax calculation will be finalised during checkout.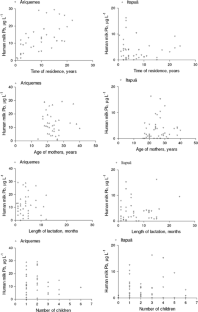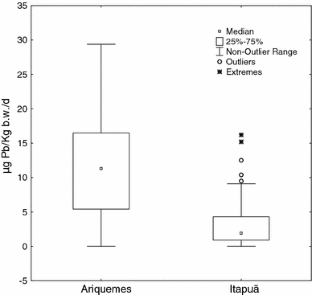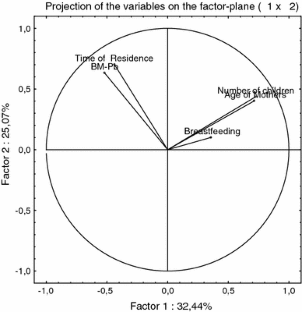 References
Anastacio AS, Silveira CL, Miekeley N, Donangelo CM (2004) Distribution of lead in human milk fractions: relationship with essential minerals and maternal blood lead. Biol Trace Elem Res 102:27–37

Barr DB, Wang RY, Needham LL (2005) Biologic monitoring of exposure to environmental chemicals throughout the life stages: requirements and issues for consideration for the National Children's Study. Environ Health Perspect 113:1083–1091

Caravanos J, Chatham-Stephens K, Ericson B, Landrigan PJ, Fuller R (2013) The burden of disease from pediatric lead exposure at hazardous waste sites in 7 Asian countries. Environ Res 120:119–125

Chamberlain AC (1985) Prediction of response of blood lead to airborne and dietary lead from volunteer experiments with lead isotopes. Proc R Soc Lond 224B:149–182

Counter SA, Buchanan LH, Ortega F, Amarasiriwardena C, Hu H (2000) Environmental lead contamination and pediatric lead intoxication in an Andean Ecuadorian village. Int J Occup Environ Health 6:169–176

Dórea JG (2004) Mercury and lead during breast-feeding. Br J Nutr 92:21–40

Douay F, Roussel H, Pruvot C, Waterlot C (2008) Impact of a smelter closedown on metal contents of wheat cultivated in the neighbourhood. Environ Sci Pollut Res Int 15:162–169

Hallen IP, Jorhem L, Lagerkvist BJ, Oskarsson A (1995) Lead and cadmium levels in human milk and blood. Sci Total Environ 166:149–155

Koyashiki GA, Paoliello MM, Matsuo T, de Oliveira MM, Mezzaroba L, Carvalho MdF, Sakuma AM, Turini C, Vannuchi MT, Barbosa CS (2010) Lead levels in milk and blood from donors to the Breast Milk Bank in Southern Brazil. Environ Res 110:265–271

Li PJ, Sheng YZ, Wang QY, Gu LY, Wang YL (2000) Transfer of lead via placenta and breast milk in humans. Biomed Environ Sci 13:85–89

Ludwing JA, Reynolds JF (1988) Statistical ecology: a primer on methods and computing. Wiley Interscience, New York, p 325

Marques RC, Dórea JG, McManus C, Leão RS, Brandão KG, Marques RC, Vieira IH, Guimarães JR, Malm O (2011) Hydroelectric reservoir inundation (Rio Madeira Basin, Amazon) and changes in traditional lifestyle: impact on growth and neurodevelopment of pre-school children. Public Health Nutr 14:661–669

Marques RC, Dórea JG, Leão RS, Dos Santos VG, Bueno L, Marques RC, Brandão KG, Palermo EF, Guimarães JR (2012) Role of methylmercury exposure (from fish consumption) on growth and neurodevelopment of children under 5 years of age living in a transitioning (tin-mining) area of the western Amazon, Brazil. Arch Environ Contam Toxicol 62:341–350

Moreira FR, Baptista FP, Gomes RA, Mancebo ACA, Souza MCB (2012) A direct method for quantification of lead and cadmium content in biological fluids of the human reproductive system. Anal Lett 45:2823–2834

Namihira D, Saldivar L, Pustilnik N, Carreon GJ, Salinas ME (1993) Lead in human blood and milk from nursing women living near a smelter in Mexico City. J Toxicol Environ Health 38:225–232

Needleman HL (1994) Preventing childhood lead poisoning. Prev Med 23:634–637

Reyment RA, Joreskog KG (1996) Applied factor analysis in the natural sciences. Cambridge University Press, Cambridge, p 383

Sharma R, Pervez S (2005) Toxic metals status in human blood and breast milk samples in an integrated steel plant environment in Central India. Environ Geochem Health 27:39–45

World Health Organization (WHO) (1989) Minor and trace elements in human milk. WHO, Geneva

World Health Organization (WHO) (2008) Indicators for assessing infant and young child feeding practices: conclusions of a consensus meeting held 6–8 November 2007 in Washington D.C., USA. WHO, Geneva
About this article
Cite this article
Marques, R.C., Moreira, M.d.R., Bernardi, J.V.E. et al. Breast Milk Lead Concentrations of Mothers Living Near Tin Smelters. Bull Environ Contam Toxicol 91, 549–554 (2013). https://doi.org/10.1007/s00128-013-1093-5
Received:

Accepted:

Published:

Issue Date:
Keywords
Lead in human milk

Metal smelter

Environmental exposure