Abstract
Results of a GC-MS analysis for targeted pesticides i.e. dieldrin, endosulfan, pp-DDT, endrin, HCB, heptachlor, mirex and aldrin in the Kafue Flats of Zambia are presented. Analysis was done in soils, sediments, water and vegetation samples from the Lochinvar and Blue Lagoon National Parks along the Kafue River. A validated analytical method that was used gave recoveries in a spiked soil sample ranging between 60 % and 100 % with limits of detection (LODs) ranging from 0.94 to 8.0 ng/g. The targeted pesticides were not detected in all the samples i.e. were below LODs. Screening using the Automated Mass Spectral Deconvolution and Identification System (AMDIS) simplified the analysis due to its power of deconvolution and identification of analytes of interest.
Access options
Buy single article
Instant access to the full article PDF.
USD 39.95
Price includes VAT (USA)
Tax calculation will be finalised during checkout.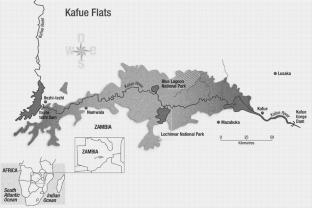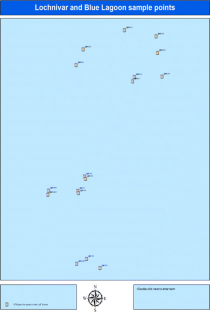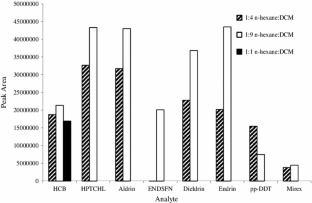 References
Bauerle GF Jr, Ray KL, Brodbelt JS (1995) Determination of pyrethroid insecticides by ion trap GC/MS/MS. Anal Chim Acta 317:137–148

Bester K, Theobald N (2000) Results of non-target screening of lipophilic organic pollutants in the German Bight V: Xanthen-9-one. Water Res 34(8):2277–2282

Bester K, Gatermann R, Hühnerfuss H, Lange W, Theobald N (1998) Results of non-target screening of lipophilic organic pollutants in the German Bight IV: identification and quantification of chloronitrobenzenes and dichloronitrobenzenes. Environ Pollut 102(2–3):163–169

D'Arcy D, Mallard WG (2004) AMDIS—user guide. Department of Commerce Technology Administration, National Institute of Standards and Technology (NIST).

Davies T (1998) The new automated mass spectral deconvolution and identification system (AMDIS). Spectrosc Eur 10(3):24–27

Fiehn O (2008) Extending the breadth of metabolite profiling by gas chromatography coupled to mass spectrometry. Trends Analyt Chem 27(3):261–269

Finck Y, Aydin N, Pellaton C, Gorin G, Gülaçar F (2004) Combination of gas chromatography-mass spectrometry and mass spectral deconvolution for structural elucidation of an unusual C29-steroid detected in a complex sedimentary matrix. J Chromatogr A 1049:227–231

Grigoriadou A, Schwarzbauer J, Georgakopoulos A (2008) Organic pollutants in marine and terrestrial water samples in the industrial area east of Kavala city, North Greece. Environ Pollut 151:231–242

Halket JM, Przyborowska A, Stein SE, Mallard WG, Down S, Chalmers RA (1999) Deconvolution gas chromatography/mass spectrometry of urinary organic acids – potential for pattern recognition and automated identification of metabolic disorders. Rapid Commun Mass Spectrom 13:279–284

Ibáñez M, Sancho JV, McMillan D, Rao R, Hernández F (2008) Rapid non-target screening of organic pollutants in water by ultra performance liquid chromatography coupled to time-of flight mass spectrometry. Trends Analyt Chem 27(5):481–489

IUPAC Technical Report (2003) Endocrine disruptors in the environment. Pure Appl Chem 75:631–681

Kavlock RJ, Daston GP, Fenner-Crisp P, Gray LE, Kaattari S, Lucier G (1996) Research needs for the risk assessment of health and environmental effects of endocrine disruptors: a report of the U.S. EPA-sponsored workshop. Environ Health Perspect 104:715–740

Kende A, Csizmazia Z, Rikker T, Angyal V, Torkos K (2006) Combination of stir bar sorptive extraction–retention time locked gas chromatography–mass spectrometry and automated mass spectral deconvolution for pesticide identification in fruits and vegetables. Microchem J 84:63–69

Lu H, Dunn WB, Shen H, Kell DB, Liang Y (2008) Comparative evaluation of software for deconvolution of metabolomics data based on GC-TOF-MS. Trends Anal Chem 27:215–227

Paune F, Caixach F, Espadaler I, Om J, Rivera J (1998) Assessment on the removal of organic chemicals from raw and drinking water at a Llobregat river water works plant using GAC. Water Res 32(11):3313–3324

Schwarzbauer J, Heim S (2005) Lipophilic organic contaminants in the Rhine river (Germany). Water Res 39:4735–4748

Sichilongo K (2004) Enhance signal generation for use in the analysis of synthetic pyrethroids using chemical ionization tandem quadrupole ion trap mass spectrometry. Anal Bioanal Chem 380:942–949

Sichilongo K, Torto N (2006) Determination of endocrine disruptors in Kafue lechwe (Kobus leche kafuensis) samples from the Lochinvar National Park of Zambia. Env Int 32:718–723

Sichilongo K, Torto N (2009) Evaluation of endocrine disruptor levels in Kafue Lechwe (Kobus leche kafuensis) samples from the Blue Lagoon National Park of Zambia. Bull Environ Contam Toxicol 83:846–851

Stein SE (1999) An integrated method for spectrum extraction and compound identification from gas chromatography/mass spectrometry data. J Am Soc Mass Spectrom 10:770–781

Syakalima M, Choongo K, Mwenechanya R, Wepener V, Yamasaki M, Maede Y (2006) Pesticide/herbicide pollutants in the Kafue river and a preliminary investigation into their biological effect through catalase levels in fish. Jpn J Vet Res 54(2–3):119–128

Tyler CR, Jobling S, Sumpter JP (1998) Endocrine disruption in wildlife: a critical review of the evidence. Crit Rev Toxicol 28:319–361

USEPA (2012) http://www.epa.gov/opp00001/health/human.htm

Zhang W, Wu P, Li C (2006) Study of automated mass spectral deconvolution and identification system (AMDIS) in pesticide residue analysis. Rapid Commun Mass Spectrom 20:1563–1568

Zhang Z, Hibberd A, Zhou JL (2008) Analysis of emerging contaminants in sewage effluent and river water: comparison between spot and passive sampling. Anal Chim Acta 607:37–44
Acknowledgments
The authors sincerely thank the European Union (EU) for having purchased a brand new Agilent 5975 Inert MSD Gas Chromatograph–Mass Spectrometer and donated it through the Organization for Prohibition of Chemical Weapons (OPCW) to the University of Zambia, Department of Chemistry for peaceful application of chemistry. We also thank the Government of Zambia for providing funding through the University of Zambia's Sector Pool research fund.
About this article
Cite this article
Sichilongo, K., Banda, D. GC-MS Determination of Targeted Pesticides in Environmental Samples from the Kafue Flats of Zambia. Bull Environ Contam Toxicol 91, 510–516 (2013). https://doi.org/10.1007/s00128-013-1087-3
Received:

Accepted:

Published:

Issue Date:
Keywords
Kafue Flats

Zambia

Soils and sediments

AMDIS

Endocrine disruptors