Abstract
The Golden Horn Estuary and Bosphorus Strait are two major marine environments of metropolitan Istanbul which have been exposed to intensive industrial discharges for more than 50 years. In the present study, concentrations of cadmium (Cd), chromium (Cr), copper (Cu), lead (Pb) and zinc (Zn) were measured in mussel tissue and sediment samples by using inductively coupled plasma-atomic emission spectroscopy to assess the current status of metal pollution in the Golden Horn and Bosphorus Strait. Ranges of Cd, Cr, Cu, Pb and Zn concentrations in soft parts of the mussels were BDL-2.59; BDL-7.35; 3.96–20.90; BDL-10.0; and 124.8–293.2 μg g−1 dry weight (dw), respectively, while the ranges of Cd, Cr, Cu, Pb and Zn in <63 μm sediment fractions were BDL, 19.5–300.3, 16.9–724.7, 10.5–260.9, and 39.3–793.1 μg g−1 dw, respectively. Ranges of Cd, Cr, Cu, Pb and Zn in >63 μm sediment fractions were BDL, 4.73–52.81, 3.45–481.87, 3.13–174.67 and 10.7–241.2 μg g−1 dw, respectively. Trace metal concentrations found in sediment of the Golden Horn were 5–10 times higher than average literature values obtained in Mediterranean marine environment, whereas those of the Bosphorus Strait were consistent with or slightly higher than average literature values.
Access options
Buy single article
Instant access to the full article PDF.
USD 39.95
Price includes VAT (USA)
Tax calculation will be finalised during checkout.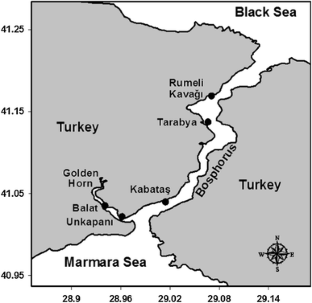 References
Altug G, Balkıs N (2009) Levels of some toxic elements and frequency of bacterial heavy metal resistance in sediment and sea water. Environ Monit Assess 149(1):61–69

Balkıs N, Topçuoğlu S, Güven K, Öztürk B, Topaloğlu B, Kırbaşoğlu Ç, Aksu A (2007) Heavy metals in shallow sediments from the Black Sea, Marmara Sea and Aegean Sea regions of Turkey. J Black Sea/Medit Environ 13:147–153

Borrego J, Morales J, De la Torre M, Grande J (2002) Geochemical characteristics of heavy metal pollution in surface sediments of the Tinto and Odiel river estuary (southwestern Spain). Environ Geol 41(7):785–796

Bowen HJM (1982) Environmental chemistry, vol 2. Royal Society of Chemistry, pp 1–301

Catsiki VA, Florou H (2006) Study on the behavior of the heavy metals Cu, Cr, Ni, Zn, Fe, Mn and 137Cs in an estuarine ecosystem using Mytilus galloprovincialis as a bioindicator species: the case of Thermaikos gulf, Greece. J Environ Radioactiv 86(1):31–44

Desideri D, Meli M, Roselli C, Feduzi L (2009) A biomonitoring study: 210Po and heavy metals in mussels. J Radioanal Nucl Chem 279(2):591–600

Ergin M, Saydam C, Bastürk Ö, Erdem E, Yörük R (1991) Heavy metal concentrations in surface sediments from the two coastal inlets (Golden Horn Estuary and Izmit Bay) of the northeastern Sea of Marmara. Chem Geol 91(3):269–285

Ergül H, Alkan A, Topcuoglu S (2007) Trace metals in mussel and sediment samples from southeastern coast of the Black Sea. International 38th CIESM Congress

Ergül H, Topcuoğlu S, Ölmez E, Kırbaşoğlu Ç (2008) Heavy metals in sinking particles and bottom sediments from the eastern Turkish coast of the Black Sea. Estuar Coast Shelf Sci 78(2):396–402

Essien J, Antai S, Olajire A (2009) Distribution, seasonal variations and ecotoxicological significance of heavy metals in sediments of cross river estuary mangrove swamp. Water Air Soil Pollut 197(1):91–105

European Commission (2006) Commission Regulation (EC) No. 1881/2006 of 19 December 2006 setting maximum levels for certain contaminants in foodstuffs. Off J Eur Union L 364(5):1–34

FDA (2001) Fish and fisheries products hazards and control guidance. Food and drug administration center for food safety and applied nutrition, Washington

Giusti L, Zhang H (2002) Heavy metals and arsenic in sediments, mussels and marine water from Murano (Venice, Italy). Environ Geochem Health 24(1):47–65

Güven K, Saygı N, Öztürk B (1993) Survey of metal contents of Bosphorus algae, Zostera marina and sediments. Bot Marina 36(3):175–178

Kljakovic-Gaspic Z, Herceg-Romanic S, Kozul D, Veza J (2010) Biomonitoring of organochlorine compounds and trace metals along the Eastern Adriatic coast (Croatia) using Mytilus galloprovincialis. Mar Pollut Bull 60(10):1879–1889

Köklü U, Akman S, Döner G (2000) Investigation of the heavy metal pollution of Istanbul Bosphorus sea-water and mussels. Fresenius Environ Bull 9(11):759–765

Kut D, Topcuoğlu S, Esen N, Küçükcezzar R, Güven K (2000) Trace metals in marine algae and sediment samples from the Bosphorus. Water Air Soil Pollut 118(1):27–33

Magesh N, Chandrasekar N, Vetha Roy D (2011) Spatial analysis of trace element contamination in sediments of Tamiraparani estuary, southeast coast of India. Estuar Coast Shelf Sci 92(4):618–628

Mol S, Alakavuk DÜ (2011) Heavy metals in mussels (Mytilus galloprovincialis) from Marmara Sea, Turkey. Biol Trace Elem Res 141(1):184–191

Nauen CE (1983) Compilation of legal limits for hazardous substances in fish and fishery products. FAO Fish Circ (764):1–102

Shurova N (2001) Influence of salinity on the structure and the state of bivalve Mytilus galloprovincialis populations. Russ J Mar Biol 27(3):151–155

Szefer P, Fowler S, Ikuta K, Osuna FP, Ali A, Kim BS, Fernandes HM, Belzunce MJ, Guterstam B, Kunzendorf H, Wolowicz M, Hummel H, Deslous-Paoli M (2006) A comparative assessment of heavy metal accumulation in soft parts and byssus of mussels from subarctic, temperate, subtropical and tropical marine environments. Environ Pollut 139(1):70–78

Teksöz G, Yetiş U, Tuncel G, Balkaş T (1991) Pollution chronology of the Golden Horn sediments. Mar Pollut Bull 22(9):447–451

Tezcan SS, Durgunoglu HT (1977) The Golden Horn master plan and final application report. Proceedings, Symposium on Pollution of the Golden Horn. Bogazici University, Istanbul

Topcuoglu S, Kırbasoglu C, Güngör N (2002) Heavy metals in organisms and sediments from Turkish Coast of the Black Sea, 1997–1998. Environ Int 27(7):521–526

Topcuoğlu S, Kırbaşoğlu Ç, Yılmaz YZ (2004) Heavy metal levels in biota and sediments in the northern coast of the Marmara Sea. Environ Monit Assess 96(1):183–189

Tuncer G, Tuncel G, Balkas TI (2001) Evolution of metal pollution in the Golden Horn (Turkey) sediments between 1912 and 1987. Mar Pollut Bull 42(5):350–360

Turekian KK, Wedepohl KH (1961) Distribution of the elements in some major units of the earth's crust. Geol Soc Am Bull 72(2):175–192
Acknowledgments
The authors are thankful to Sayhan Topçuoğlu, Yavuz Çotuk and Cem Dalyan for their excellent cooperation. This work was supported by Scientific Research Projects Coordination Unit of Istanbul University. Project Number: 9144.
About this article
Cite this article
Kılıç, Ö., Belivermiş, M. Spatial and Seasonal Distribution of Trace Metal Concentrations in Mussel (Mytilus galloprovincialis) and Sediment of Bosphorus and Golden Horn. Bull Environ Contam Toxicol 91, 402–408 (2013). https://doi.org/10.1007/s00128-013-1077-5
Received:

Accepted:

Published:

Issue Date:
Keywords
Bivalve mollusc

Monitoring

Marine

ICP-AES

Istanbul

Turkey