Abstract
This study investigated the responses of Na+/K+-ATPase, Mg2+-ATPase and Ca2+-ATPase in the gill and muscle of a freshwater fish Oreochromis niloticus exposed to 1 μg/mL of Cd and Zn and their mixture for different periods (0, 7, 14, 21 and 28 days). At the end of experimental periods, the activities Na+/K+-ATPase, Mg2+-ATPase and Ca2+-ATPase in gill tissues and only Ca2+-ATPase activity in muscle tissues were measured. Gill Na+/K+-ATPase activity generally decreased following single metal exposures, whereas their combinations increased its activity. Gill Ca2+-ATPase activity decreased relative to the control at most exposure times for single exposures of Zn and Cd, as well as for the combined exposure. There was no gill Ca2+-ATPase activity after 28 days of exposure to Zn and Cd combined. Mg2+-ATPase activity was not affected significantly in gill tissue by exposure to Zn and Cd individually or in combination. Muscle Ca2+-ATPase activity also decreased significantly following metal exposure, but not as greatly as in the gill tissue. Tissue protein levels were mostly unaffected by metal exposures. This study showed that certain ATPases are highly sensitive to metal exposure whether the metals are essential or non essential, and suggests using gill tissue Na+/K+-ATPase and Ca2+-ATPase as sensitive biomarkers in metal contaminated waters.
Access options
Buy single article
Instant access to the full article PDF.
USD 39.95
Price includes VAT (USA)
Tax calculation will be finalised during checkout.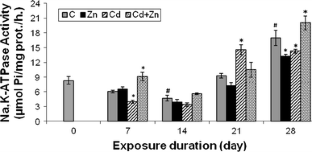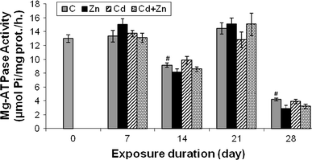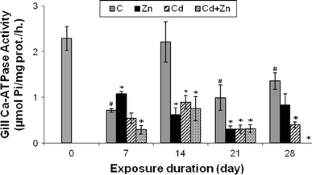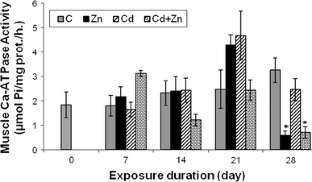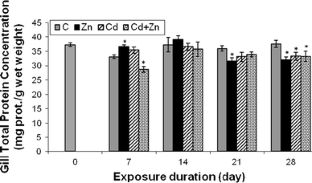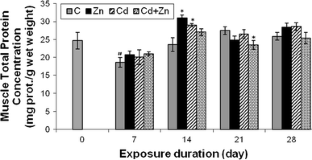 References
Almeida JA, Diniz YS, Marques SFG, Faine LA, Ribas BO, Burneiko RC, Novelli ELB (2002) The use of the oxidative stress responses as biomarkers in Nile Tilapia (Oreochromis niloticus) exposed to in vivo cadmium contamination. Contam Environ Int 27:673–679

Atli G, Canli M (2007) Enzymatic responses to metal exposures in a freshwater fish Oreochromis niloticus. Comp Biochem Physiol 145C:282–287

Atli G, Canli M (2011a) Alterations in ion levels of freshwater fish Oreochromis niloticus following acute and chronic exposures to five heavy metals. Turk J Zool 35(5):725–736

Atli G, Canli M (2011b) Essential metal (Cu, Zn) exposures alter the activity of ATPases in gill, kidney and muscle of tilapia Oreochromis niloticus. Ecotoxicol 20:1861–1869

Atli G, Canli M (2012) Metals (Ag+, Cd2+, Cr6+) Affect ATPase activity in the gill, kidney and muscle of freshwater fish Oreochromis niloticus following acute and chronic exposures. Environ Toxicol. doi:10.1002/tox.20766

Brzóska MM, Moniuszko-Jakoniuk J (2001) Interactions between cadmium and zinc in the organism. Food and Chem Toxicol 39(10):967–980

Canli M, Stagg RM (1996) The effects of in vivo exposure to cadmium, copper, and zinc on the activities of gill ATPases in the Norway lobster Nephrops norvegicus. Arch Environ Contam Toxicol 31:491–501

Chowdhury MJ, Pane EF, Wood CM (2004) Physiological effects of dietary cadmium acclimation and waterborne cadmium challenge in rainbow trout: respiratory, ionoregulatory, and stres parameters. Comp Biochem Physiol 139C:163–173

De Boeck G, Vlaeminck A, Balm PHM, Lock RAC, De Wachter B, Blust R (2001) Morphological and metabolic changes in common carp, Cyprinus carpio, during short-term copper exposure: interactions between Cu2+ and plasma cortisol elevation. Environ Toxicol Chem 20(2):374–381

De la Torre FR, Salibian A, Ferrari L (2000) Biomarkers assessment in juvenile Cyprinus carpio exposed to waterborne cadmium. Environ Pollut 109:277–282

De la Torre FR, Salibian A, Ferrari L (2007) Assessment of the pollution impact on biomarkers of effect of a freshwater fish. Chemosphere 68:1582–1590

Dongshi C, Pei-Yuan Q, Wen-Xiong W (2008) Biokinetics of cadmium and zinc in a marine bacterium; influences of metal interaction and pre-exposure. Environ Toxicol Chem 27:1794–1801

Ebrahimpour M, Alipour H, Rakhshah S (2010) Influence of water hardness on acute toxicity of copper and zinc on fish. Toxicol Ind Health 26:361–365

Eroglu K, Atli G, Canli M (2005) Effects of metal (Cd, Cu, Zn) interactions on the profiles of metallothionein-like proteins in the Nile fish Oreochromis niloticus. Bull Environ Contam Toxicol 75:390–399

Eyckmans M, Tudorache C, Darras VM, Blust R, De Boeck G (2011) Hormonal and ion regulatory response in three freshwater fish species following waterborne copper exposure. Comp Biochem Physiol 152C:270–278

Firat Ö, Kargın F (2010) Biochemical alterations induced by Zn and Cd individually or in combination in the serum of Oreochromis niloticus. Fish Physiol Biochem 36:647–653

Grosell M, Wood CM, Walsh PJ (2003) Copper homeostasis and toxicity in the elasmobranch Raja erinacea and the teleost Myoxocephalus octodecemspinosus during exposure to elevated water-borne copper. Comp Biochem Physiol 135C:179–190

Heath AG (1995) Water pollution and fish physiology, 2nd edn. CRC Press, New York, p 359

Hogstrand C, Verbost PM, Bonga SE, Wood CM (1996) Mechanisms of zinc uptake in gills of freshwater rainbow trout: interplay with calcium transport. Am J Physiol Reg I 270:1141–1147

Hollis L, McGeer JC, McDonald DG, Wood CM (2000) Effects of long term sublethal Cd exposure in rainbow trout during soft water exposure: implications for biotic ligand modelling. Aquat Toxicol 51:93–105

Lacroix A, Hontela A (2004) A comparative assessment of the adrenotoxic effects of cadmium in two teleost species, rainbow trout, Oncorhynchus mykiss, and yellow perch, Perca flavescens. Aquat Toxicol 67:13–21

Lemaire-Gony S, Mayer-Gostan N (1994) In vitro dose–response study of the effect of cadmium on eel (Anguilla anguilla) gill Na+-K+-ATPase activities. Ecotoxicol Environ Saf 28:43–52

Li ZH, Li P, Randak T (2011) Evaluating the toxicity of environmental concentrations of waterborne chromium (VI) to a model teleost, Oncorhynchus mykiss: a comparative study of in vivo and in vitro. Comp Biochem Physiol 153C:402–407

Lionetto MG, Giordano ME, Vilella S, Schettino T (2000) Inhibition of eel enzymatic activities by cadmium. Aquat Toxicol 48:561–571

Marshall WS, Grosell M (2005) Ion transport, osmoregulation and acid-base balance. Physiol Fish 2022_C006.fm 177–230

McGeer JC, Wood CM (1998) Protective effects of water Cl− on physiological responses to waterborne silver in rainbow trout. Can J Fish Aquat Sci 55(11):2447–2454

Parvez S, Sayeed I, Raisuddin S (2006) Decreased gill ATPase activities in the freshwater fish Channa punctata (Bloch) exposed to a diluted paper mill effluent. Ecotoxicol Environ Saf 65:62–66

Rainbow PS, Blackmore G (2001) Barnacles as biomonitors of trace metal availabilities in Hong Kong coastal waters; changes in space and time. Mar Environ Res 51:441–463

Reddy PM, Philip GH, Bashamohideen M (1991) Inhibition of Mg2+ and Na+/K+-ATPases in selected tissues of fish, Cyprinus carpio under fenvalerate toxicity. Biochem Int 23:715–721

Rogers JT, Wood CM (2004) Characterization of branchial lead–calcium interaction in the freshwater rainbow trout Oncorhynchus mykiss. J Exp Biol 207:813–825

Saxena TB, Zachariassen KE, Jorgensen L (2000) Effects of ethoxyquin on the Blood Composition of Turbot, Scophthalmus maximus L. Comp Biochem Physiol Part 127C:1–9

Stagg R, Goksoyr A, Rodger G (1992) Changes in branchial Na+, K+-ATPase, metallothionein and P450 1A1 in dab Limanda limanda in the German bight: indicators of sediment contamination. Mar Ecol Prog Res 91:105–115

Thophon S, Kruatrachue M, Upatham ES, Pokethitiyook P, Sahaphong S (2003) Histopathological alterations of white seabass, Lates calcarifer, in acute and subchronic cadmium exposure. Environ Pollut 121:307–320

Tyler G, Balsberg-Pahlsson AM, Bengtsson G, Baath E, Tranvik L (1989) Heavy metal ecology and terrestrial plants, micro-organisms and invertebrates. Water Air Soil Pollut 47:189–215

US EPA (2002) National recommended water quality criteria. EPA-822-R-02-047. United States environmental protection agency (US EPA). Washington, DC, USA

WHO (2001) Environmental health criteria 221. World Health Organization, Geneva

Wicklund Glynn A, Norrgren L, Mussener A (1994) Differences in uptake of inorganic mercury and cadmium in the gills of the zebrafish, Brachydanio rerio. Aquat Toxicol 30:13–26

Zikic RV, Stajn AS, Pavlovic SZ, Ognjanovic BI, Saicic ZS (2001) Activities of superoxide dismutase and catalase in erythrocytes and plasma transaminases of goldfish (scientific name. Carassius auratus gibelio bloch) exposed to cadmium. Physiol Res 50:105–111
Acknowledgments
This study was supported by a grant (FEF2011YL7) from University of Çukurova (Turkey).
About this article
Cite this article
Eroglu, A., Canli, M. Effects of Cd, Zn and Cd + Zn Combination on ATPase Activitiy in the Gill and Muscle of Tilapia (Oreochromis niloticus). Bull Environ Contam Toxicol 91, 420–425 (2013). https://doi.org/10.1007/s00128-013-1076-6
Received:

Accepted:

Published:

Issue Date:
Keywords
Cd

Zn

Interaction

Oreochromis niloticus

ATPase