Abstract
To investigate the biomagnification factor (BMF) of EDCs by the polychaete, Perinereis nuntia, organisms were exposed to EDCs through their diet. BMF values ranged from 0.001 to 0.028 indicating that EDCs were not biomagnified. Elimination rates were (0.20–0.25 day−1) and were higher than uptake rate (0.0003–0.003 day−1) verifying that EDCs were not biomagnified by P. nuntia due to their fast elimination. The calculated half-life of each EDC in this study varies from 2.76 to 3.45 days. Overall, the findings from this study demonstrated that the studied EDCs are not biomagnified in P. nuntia but exposure does occur from the diet.
Access options
Buy single article
Instant access to the full article PDF.
USD 39.95
Price includes VAT (USA)
Tax calculation will be finalised during checkout.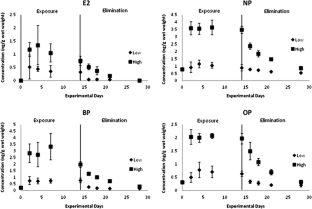 References
Berntssen MHG, Giskegjerde TA, Roselund G, Torstensen E, Lundebye A (2007) Predicting world health organization toxic equivalency factor dioxin and dioxin-like polychlorinated biphenyls levels in farmed Atlantic salmon (Salmo salar) based on known levels in feed. Environ Toxicol Chem 26(1):13–23

Cheng CY, Liu LL, Ding WH (2006) Occurrence and seasonal variation of alkylphenols in marine organisms from the coast of Taiwan. Chemosphere 65:2152–2159

Clarke DJ, George SG, Burchell B (1991) Glucuronidation in fish. Aquat Toxicol 20:35–56

Cross-Sorokin MY, Grist EPM, Cooke M, Crane M (2003) Uptake and depuration of 4-nonylphenol by the benthic invertebrate Gammarus pulex: how important is feeding rate? Environ Sci Technol 37:2236–2241

Diehl J, Johnson SE, Xia K, West A, Tomanek L (2012) The distribution of 4-nonylphenol in marine organisms of north American pacific coast estuaries. Chemosphere 87:490–497

Ekelund R, Bergman A, Granmo A, Berggren M (1990) Bioaccumulation of 4-nonylphenol in marine animals: a re-evaluation. Environ Pollut 64:107–120

Hayashi O, Kameshiro M, Masuda M, Satoh K (2008) Bioaccumulation and metabolism of [14C] Bisphenol A in the brackish water bivalve Corbicula japonica. Biosci Biotech Bioch 72(12):3219–3224

Hecht SA, Gunnarsson JS, Boese BL, Lamberson JO, Schaffner C, Giger W, Jepson PC (2004) Influences of sedimentary organic matter quality on the bioaccumulation of 4-nonylphenol by estuarine amphipods. Environ Toxicol Chem 23(4):865–873

Heinonen J, Honkanen J, Kukkonen JVK, Holopainen IJ (2002) Bisphenol A accumulation in the freshwater Clam Pisidium amnicum at low temperature. Arch Environ Contam Toxicol 43:50–55

Jager T, Selck H (2011) Interpreting toxicity data in a DEB framework: a case study for nonylphenol in the marine polychaete Capitella teleta. J Sea Res 66(4):456–462

Kobayashi J, Kinoshita K, Mizukawa K, Sakurai T, Imaizumi Y, Takada H, Suzuki N (2011) Dietary uptake kinetics of polychlorinated biphenyls from sediment-contaminated sandworms in a marine benthic fish (Pseudopleuronectes yokohamae). Chemosphere 82:745–750

Kumar V, Nakada N, Yamashita N, Johnson AC, Tanaka H (2011) How seasonality affects the flow of estrogens and their conjugates in one of Japan's most populous catchments. Environ Pollut 159:2906–2912

Lietti E, Marin MG, Matozzo V, Polesello S, Valsecchi S (2007) Uptake and elimination of 4-Nonylphenol by the Clam Tapes philippinarum. Arch Environ Contam Toxicol 53:571–578

Mäenpää K, Kukkonen JVK (2006) Bioaccumulation and toxicity of 4-nonylphenol (4-NP) and 4-(2-dodecyl)-benzene sulfonate (LAS) in Lumbriculus variegatus (Oligochaeta) and Chironomus riparius (Insecta). Aquat Toxicol 77:329–338

Olsen Y (2011) Resources for fish feed in future mariculture. Aquacult Environ Interact 1:187–200

Osborne LL, Davies RW, Dixon KR, Moore RL (1982) Mutagenic activity of fish and sediments in the sheep river, Alberta. Water Res 16:899–902

Pojana G, Busetti F, Collarin A, Bonfa A, Marcomini A (2004) Determination of natural and synthetic estrogenic compounds in coastal lagoon waters by HPLC-electrospray-mass spectrometry. Int J Environ An Ch 84(7):717–727

Reynoldson TB (1987) Interactions between sediment contaminants and benthic organisms. Hydrobiologia 149:53–66

Vasquez-Duhalt R, Marquez-Rocha F, Ponce E, Licea AF, Viana MT (2005) Nonylphenol, an integrated vision of a pollutant. Appl Ecol Env Res 4(1):1–25

Walter BA, Agha BJ, Digenis GA (1988) Disposition of [14C] Nonoxynol-9 after Intravenous or Vaginal Administration to Female Sprague-Dawley Rats. Toxicol Appl Pharm 96:258–268
Acknowledgments
The present study were financially supported by the program of EXTEND 2010 of Japanese Ministry of Environment.
About this article
Cite this article
Nurulnadia, M.Y., Koyama, J., Uno, S. et al. Bioaccumulation of Dietary Endocrine Disrupting Chemicals (EDCs) by the Polychaete, Perinereis nuntia . Bull Environ Contam Toxicol 91, 372–376 (2013). https://doi.org/10.1007/s00128-013-1073-9
Received:

Accepted:

Published:

Issue Date:
Keywords
Biomagnification

Dietary

EDC

Perinereis nuntia