Abstract
Ring doves were provided contaminated food spiked with [13C]-2,2′,4,4′,5,5′-hexachlorobiphenyl (PCB 153) over a period of 63 days. Animals were sacrificed after 0.33, 0.5, 1, 2, 4, 8, 18, 36 and 63 days following access to contaminated food. At each time point, chemical concentrations in blood, liver, brain, gonad, adipose and remaining whole carcass was determined. Whole body concentrations of PCB 153 increased linearly with time over the experiment indicating that the birds did not reach steady state with their food after 63 days. Tissue/plasma concentration ratios were plotted as a function of time to determine time to inter-tissue steady state for fast and slowly perfused tissues. Liver, brain and gonad achieved steady state concentrations with plasma in less than 3 days, whereas fat and carcass tissues required 9.7 and 11.5 days, respectively. The results indicate that inter-tissue distribution kinetics for PCBs in birds is relatively rapid and completed within a little over a week following exposure to a contaminated diet.
Access options
Buy single article
Instant access to the full article PDF.
USD 39.95
Price includes VAT (USA)
Tax calculation will be finalised during checkout.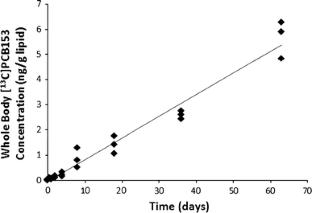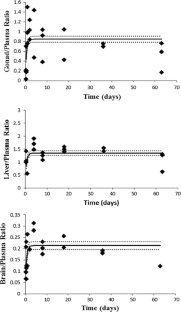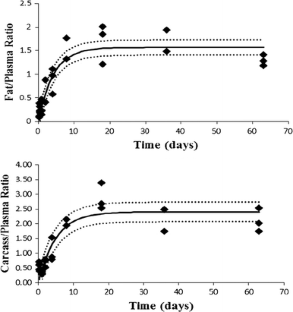 References
Barron MG, Stehly GR, Hayton WL (1990) Pharmokinetic modeling in aquatic animals I Models and concepts. Aquat Toxicol 18:61–85

Biessman A (1981) Accumulation of polychlorinated biphenyls in steroidal tissue of gonads and adrenals in Japanese quail. Arch Environ Contam Toxicol 10:653–662

Borlakoglu JT, Welch VA, Wilkins JPG, Dils RR (1990) Transport and cellular uptake of polychlorinated biphenyls (PCBs) - I. Association of individual PCB isomers and congeners with plasma lipoproteins and proteins in the pigeon. Biochem Pharmacol 40:265–272

Breslin WJ, Bleavins MR, Ringer RK (1983) Distribution and excretion of hexachlorobenzene in bobwhite (Colinus virginianus). J Toxicol Environ Health A 11:885–896

Brown AM (2001) A step-by-step guide to non-linear regression analysis of experimental data using a Microsoft Excel spreadsheet. Comput Methods Prog Bio 65:191–200

Bustnes JO, Skaare JU, Erikstad KE, Bakken V, Mehlum F (2001) Whole blood concentrations of organochlorines as a dose metric for studies of the glaucous gull (Larus hyperboreus). Environ Toxicol Chem 20:1046–1052

Clark TP, Norstrom RJ, Fox GA, Won HT (1987) Dynamics of organochlorine compounds in herring gulls (Larus argentatus): II. A two-compartment model and data for ten compounds. Environ Toxicol Chem 6:547–559

Drouillard KG (2000) Modeling the toxicokinetics and biomagnification of polychlorinated biphenyls (PCBs) in birds. Thesis Trent University, Peterborough, Ontario, Canada

Drouillard KG, Norstrom RJ (2000) Dietary absorption efficiencies and toxicokinetics of polychlorinated biphenyls in ring doves following exposure to Aroclor mixtures. Environ Toxicol Chem 19:2707–2714

Drouillard KG, Norstrom RJ (2001) Quantifying maternal and dietary sources of 2,2′,4,4′,5,5′-hexachlorobiphenyl deposited in eggs of the ring dove (Streptopelia risoria). Environ Toxicol Chem 20:561–567

Drouillard KG, Fernie KJ, Smits JE, Bortolotti GR, Bird DM, Norstrom RJ (2001) Bioaccumulation and toxicokinetics of 42 polychlorinated biphenyl congeners in American kestrels (Falco sparverius). Environ Toxicol Chem 20:2514–2522

Drouillard KG, Norstrom RJ (2003) The influence of diet properties and feeding rates on PCB toxicokinetics in the ring dove. Arch Environ Contam Toxicol 44:0097–0106

Drouillard KG, Hagen H, Haffner D (2004) Evaluation of chloroform/methanol and dichloromethane/hexane extractable lipids as surrogate measures of sample partition capacity for organochlorines in fish tissues. Chemosphere 55:395–400

Frings CS, Fendley TW, Dunn RT, Queen CA (1972) Improved determination of total serum lipids by the sulfo-phospho-vanillin reaction. Clinical Chem 18:673–674

Henriksen EO, Gabrielsen GW, Skaare UJ (1998) Validation of the use of blood samples to assess tissue concentrations of organochlorines in glaucous gulls, Larus hyperboreu. Chemosphere 37:2627–2643

Ivie GW, Dorough HW, Bryant HE (1974) Fate of mirex-14 C in Japanese quail. Bull Environ Contam Toxicol 11:129–135

Knight JA, Anderson S, Rawle JM (1972) Chemical basis of the sulfo-phosphovanillin reaction estimating total serum lipids. Clinical Chem 18:199–202

Maervoet J, Beck V, Roelens SA, Covaci A, Voorspoels S, Geuns J, Darras VM, Schepens P (2005) Uptake and tissue-specific distributions of selected polychlorinated biphenyls in developing chicken embryos. Environ Toxicol Chem 24:597–602

Metcalfe C, Metcalfe T, Ray S, Paterson G, Koenig B (1999) Polychlorinated biphenyls and organochlorine compounds in brain, liver and muscle of beluga whales (Delphinapterus leucas) from the Arctic and St Lawrence estuary. Mar Environ Res 47:1–15

Nestorov I (2007) Whole-body physiologically based pharmacokinetic models. Expert Opin Drug Met 3:235–249

Norstrom RJ, Clark TP, Jeffrey DA, Won HT, Gilman AP (1986) Dynamics of organochlorine compounds in herring gulls (Larus argentatus): I. distribution and clearance of [14C] DDE in freeliving herring gulls (Larus argentatus). Environ Toxicol Chem 5:41–48

Norstrom RJ, Clark TP, Enright M, Leung B, Drouillard KG, MacDonald CR (2007) ABAM, a model for bioaccumulation of POPs in birds: validation for adult herring gulls and their eggs in lake Ontario. Environ Sci Technol 41:4339–4347

Poulin P, Haddad S (2012) Advancing prediction of tissue distribution and volume of distribution of highly lipophilic compounds from a simplified tissue-composition-based model as a mechanistic animal alternative method. J Pharm Sci 101:2250–2261

Schinkel AH (1999) P-glycoprotein, a gatekeeper in the blood–brain barrier. Adv Drug Deliv Rev 36:179–194
Additional information
Ross J. Norstrom: Deceased.
About this article
Cite this article
Daley, J.M., Norstrom, R.J. & Drouillard, K.G. Tissue Distribution Kinetics of 2,2′,4,4′,5,5′-Hexachlorobiphenyl in Ringdoves After Oral Dosing. Bull Environ Contam Toxicol 91, 367–371 (2013). https://doi.org/10.1007/s00128-013-1069-5
Received:

Accepted:

Published:

Issue Date:
Keywords
Inter-tissue distribution

Steady state

Ringdoves

Polychlorinated biphenyls