Abstract
Moss samples were collected from 121 sampling sites all over Croatia during the summer and autumn of 2010. They were totally digested by using microwave digestion system and analysed by using atomic emission spectrometry with inductively coupled plasma (ICP-AES). Descriptive statistics and maps of distribution were made. The data obtained in this study were compared with those from the study in 2006 and additionally with the data obtained in the similar studies in neighbouring countries and Norway as pristine area. The median value of nickel is 3.16 mg kg−1 and the content varies from 1.04 to 14.66 mg kg−1. The content of vanadium ranges between 0.23 and 37.26 mg kg−1 with the median value of 2.55 mg kg−1. High contents of these elements are found in the vicinity of Rijeka, Zagreb and Sisak as a result of their emission from oil refinery, thermal power plant and industrial processes.
Access options
Buy single article
Instant access to the full article PDF.
USD 39.95
Price includes VAT (USA)
Tax calculation will be finalised during checkout.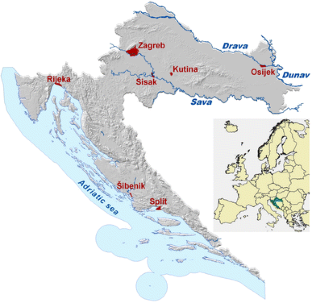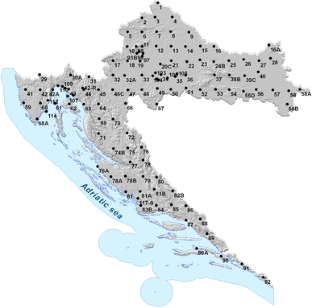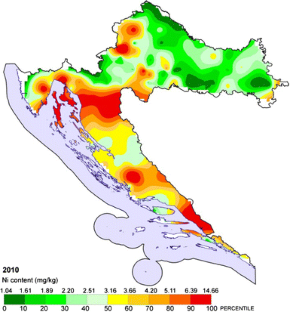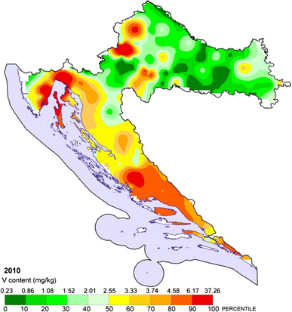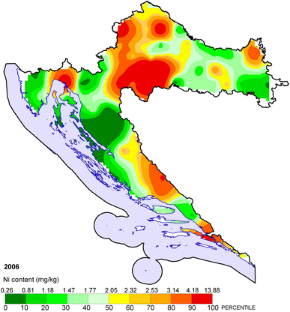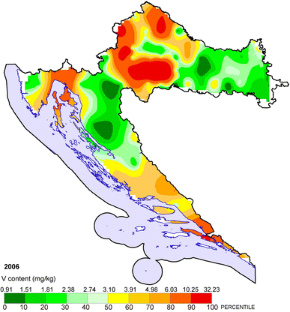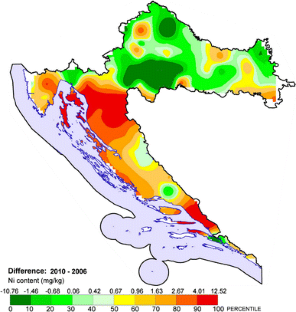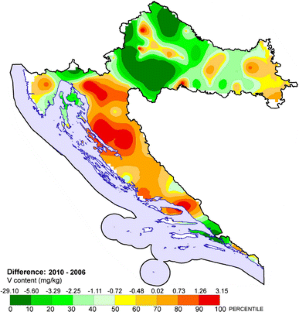 References
Bakker VZ, Jaworski JF (1980) Effects of vanadium in the Canadian environment. National Research Council Canada, Associate Committee Scientific Criteria for Environmental Quality, p 94

Balabanova B, Stafilov T, Bačeva K, Šajn R (2010) Biomonitoring of atmospheric pollution with heavy metals in the copper mine vicinity located near Radoviš, Republic of Macedonia. J Environ Sci Health Part A 45:1504–1518

Barandovski L, Stafilov T, Šajn R, Frontasyeva MV, Bačeva K (2013) Air pollution study in Macedonia by using moss biomonitoring technique, ICP-AES and AAS. Maced J Chem Chem En 32(1):89–107

Barceloux DG, Barceloux D (1999) Vanadium. Clin Toxicol 37(2):265–278

Baroch EF (2006) Vanadium and vanadium alloys, Encyclopedia of Chemical Technology. Wiley, New York

Buse A, Norris D, Harmens H, Buker P, Ashenden T, Mills G (2003) European atlas: Heavy metals in European mosses: 2000/2001 Survey. Programme Coordination Centre for the ICP Vegetation, Centre for Ecology and Hydrology

Duffus JH (2007) Carcinogenicity classification of vanadium pentoxide and inorganic vanadium compounds, the NTP study of carcinogenicity of inhaled vanadium pentoxide, and vanadium chemistry. Regul Toxicol Pharmacol 47(1):110–114

Fereidoun H, Nourddin MS, Rreza NA, Mohsen A, Ahmad R, Pouria H (2007) The effect of long-term exposure to particulate pollution on the lung function of teheranian and zanjanian students. Pak J Physiol 3(2):1–5

Halamić J, Miko S (eds) (2009) Geochemical atlas of the Republic of Croatia. Croatian Geological Survey, Zagreb

Harmens H (2009) Heavy metals in European mosses: 2010 survey monitoring manual. ICP Vegetation Coordination Centre, Centre for Ecology and Hydrology

Harmens H, Norris D, and the participants of the Moss Survey (2008) Spatial and temporal trends in heavy metal accumulation in mosses in Europe (1990–2005). Programme Coordination Centre for the ICP Vegetation, Centre for Ecology and Hydrology

Harmens H, Norris D and the participants of the Moss Survey (2013) Heavy metals and nitrogen in mosses: spatial patterns in 2010/2011 and long-term temporal trends in Europe. ICP Vegetation Programme Coordination Centre, Centre for Ecology and Hydrology

International Agency for Research on Cancer (IARC) (1990) Nickel and nickel compounds. In: Chromium, nickel and welding. IARC monographs on the evaluation of carcinogenic risks to humans, vol. 49 Lyon 257–445

Jörg M, Wörle-Knirsch, Kern K, Schleh C, Adelhelm C, Feldmann C, Krug HF (2007) Nanoparticulate vanadium oxide potentiated vanadium toxicity in human lung cells. Environ Sci Technol 41(1):331–336

Kasprzak KS, Sunderman FW Jr, Salnikow K (2003) Nickel carcinogenesis. Mutat Res 533(1–2):67–97

Lagerkvist B, Nordberg GF, Vouk V (1986) Vanadium. In: Friberg L, Nordberg GR, Vouk VB (eds) Handbook on the toxicology of metals, vol 2., Specific metalsElsevier, Amsterdam, pp 638–663

Mishra V (2003) Health effects of air pollution, Background paper for Population- Environment Research Network (PERN) Cyberseminar, 1–15 December http://www.mnforsustain.org/climate_health_effects_of_air_pollution_mishra_pern.htm

Rühling A, Steinnes E (1998) Atmospheric heavy metal deposition in Europe 1995–1996. Nord 15. Nordic Council of Ministers, Copenhagen, Denmark

Schell LM, Gallo MV, Denham M, Ravenscroft J (2006) Effects of pollution on human growth and development: an Introduction. J Phys Anthropol 25(1):103–112

Špirić Z, Frontasyeva M, Steinnes E, Stafilov T (2012) Multi-element atmospheric deposition study in Croatia. Int J Environ Anal Chem 92(10):1200–1214

Steinnes E, Berg T, Uggerud TH, Pfaffhuber KA (2011) Atmospheric deposition of heavy metals in Norway, National Study in 2010, Rapport 1109/2011 [in Norwegian]. Norwegian University of Science and Technology, Trondheim

Von Burg R (1997) Toxicology update: nickel and some nickel compounds. J Appl Toxicol 17:425–431

Vučković I, Špirić Z, Stafilov T, Kušan V (2012) Atmospheric deposition of cadmium in Croatia studied by using moss biomonitoring technique and ICP-AES. Geologica Macedonica 26:11–19

Vučković I, Špirić Z, Stafilov T, Kušan V (2013) Moss biomonitoring of air pollution with chromium in Croatia. J Environ Sci Health Part A 48:829–834

Zoller WH, Gordon GE, Cladney ES (1973) The source and distribution of vanadium in the atmosphere. In: advances in chemistry series, No. 123. Trace elements in the environment, American Chemical Society, Washington, p 31–47
About this article
Cite this article
Vučković, I., Špirić, Z., Stafilov, T. et al. The Study on Air Pollution with Nickel and Vanadium in Croatia by Using Moss Biomonitoring and ICP-AES. Bull Environ Contam Toxicol 91, 481–487 (2013). https://doi.org/10.1007/s00128-013-1067-7
Received:

Accepted:

Published:

Issue Date:
Keywords
Air pollution

Nickel

Vanadium

Moss biomonitoring

ICP-AES

Croatia