Abstract
The widely used antibiotic metronidazole (MTZ) was investigated for its toxic effects on the liver of the common carp (Cyprinus carpio L.). The fish were exposed to 0.1, 0.5, and 2.5 mg/L MTZ in water for 30 days, and parameters that are indicative of liver damage and oxidative stress were measured. MTZ increased liver ethoxyresorufin-O-deethylase, malondialdehyde, and glutathione levels, and elevated the activities of superoxide dismutase, catalase, aspartate aminotransferase, and alanine aminotransferase. These parameters usually showed significant differences in the 0.5 and 2.5 mg/L MTZ groups compared to the control group (p < 0.05). These findings indicated that MTZ induced oxidative stress and caused liver damage in common carp, suggesting that measures should be taken to avoid contamination of surface waters with MTZ.
Access options
Buy single article
Instant access to the full article PDF.
USD 39.95
Price includes VAT (USA)
Tax calculation will be finalised during checkout.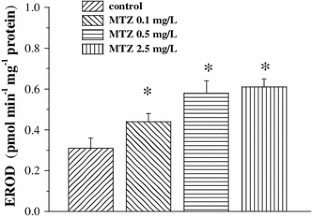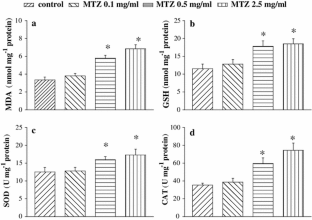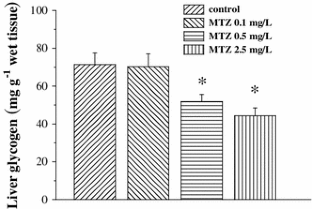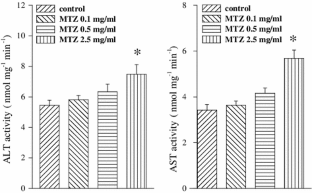 References
Ahmad A, Chaudhary M, Soni A, Payasi A, Dwivedi V (2010) Comparative toxicity profile study of mebatic vs. ofloxacin, ornidazole and metronidazole drugs in rat model. Asian J Biochem 5:78–88

Andrioli N, Sabatini SE, Mudry MD, Ríos de Molina MC (2012) Oxidative damage and antioxidant response of Allium cepa meristematic and elongation cells exposed to metronidazole. Environ Toxicol Chem 31:968–972

Bacchetta C, Cazenave J, Parma MJ, Biancucci GF (2011) Biochemical stress responses in tissues of the cichlid fsh Cichlasoma dimerus exposed to a commercial formulation of endosulfan. Arch Environ Contam Toxicol 61:453–460

Beauchamp C, Fridovich I (1971) Superoxide dismutase: improved assays and an assay applicable to acrylamide gels. Anal Biochem 44:276–287

Bradford MM (1976) A rapid and sensitive method for the quantitation of microgram quantities of protein utilizing the principle of protein-dye binding. Anal Biochem 72:248–254

Cavas T, Ergene-Gozukara S (2005) Genotoxicity evaluation of metronidazole using the piscine micronucleus test by acridine orange fluorescent staining. Environ Toxicol Pharmacol 19:107–111

Cho HY, Kleeberger SR (2007) Genetic mechanisms of susceptibility to oxidative lung injury in mice. Free Radic Biol Med 42:433–445

Claiborne A (1985) Catalase activity. In: Greenwald RA (ed) CRC handbook of methods for oxygen radical research. CRC Press, Boca Raton, FL

Fararjeh M, Mohammad MK, Bustanji Y, AlKhatib H, Abdalla S (2008) Evaluation of immunosuppression induced by metronidazole in Balb/c mice and human peripheral blood lymphocytes. Int Immunopharmacol 8:341–350

Isidori M, Nardelli A, Parrella A, Pascarella L, Previtera L (2006) A multispecies study to assess the toxic and genotoxic effect of pharmaceuticals: furosemide and its photoproduct. Chemosphere 63:785–793

Jenks PJ, Edwards DI (2002) Metronidazole resistance in Helicobacter pylori. Int J Antimicrob Agents 19:1–7

Köllner B, Wasserrab B, Kotterba G, Fischer U (2002) Evaluation of immune functions of rainbow trout (Oncorhynchus mykiss)—how can environmental influences be detected? Toxicol Lett 131:83–95

Langiano VC, Martinez CB (2008) Toxicity and effects of a glyphosate-based herbicide on the neotropical fish Prochilodus lineatu. Comp Biochem Physiol C 147:222–231

Lanzky PF, Halling-Sorensen B (1997) The toxic effect of the antibiotic metronidazole on aquatic organisms. Chemosphere 35:2553–2561

Li ZH, Zlabek V, Velisek J, Grabic R, Machova J, Randak T (2009) Responses of antioxidant status and Na+-K+-ATPase activity in gill of rainbow trout, Oncorhynchus mykiss, chronically treated with carbamazepine. Chemosphere 77:1476–1481

Li ZH, Zlabek V, Grabic R, Li P, Machova J, Velisek J et al (2010) Effects of exposure to sublethal propiconazole on intestine-related biochemical responses in rainbow trout, Oncorhynchus mykiss. Chem Biol Interact 185:241–246

Li ZH, Velisek J, Zlabek V, Grabic R, Machova J, Kolarova J et al (2011a) Chronic toxicity of verapamil on juvenile rainbow trout (Oncorhynchus mykiss): effects on morphological indices, hematological parameters and antioxidant responses. J Hazard Mater 185:870–880

Li ZH, Zlabek V, Velisek J, Grabic R, Machova J, Kolarova J et al (2011b) Acute toxicity of carbamazepine to juvenile rainbow trout (Oncorhynchus mykiss): effects on antioxidant responses, hematological parameters and hepatic EROD. Ecotoxicol Environ Saf 74:319–327

Lu G, Wang C, Zhu Z (2009) The dose–response relationships for EROD and GST induced by polyaromatic hydrocarbons in Carassius auratus. Bull Environ Contam Toxicol 82:194–199

Lushchak VI (2011) Environmentally induced oxidative stress in aquatic animals. Aquat Toxicol 101:13–30

Lushchak OV, Kubrak OI, Storey JM, Storey KB, Lushchak VI (2009) Low toxic herbicide roundup induces mild oxidative stress in goldfish tissues. Chemosphere 76:932–937

Maher HM, Youssef RM, Khalil RH, El-Bahr SM (2008) Simultaneous multiresidue determination of metronidazole and spiramycin in fish muscle using high performance liquid chromatography with UV detection. J Chromatogr B 876:175–181

Mansuy D (1998) The great diversity of reactions catalyzed by cytochromes P450. Comp Biochem Phys C 121:5–14

Nahrgang J, Jönsson M, Camus L (2010) EROD activity in liver and gills of polar cod (Boreogadus saida) exposed to waterborne and dietary crude oil. Mar Environ Res 70:120–123

Nayak A, Das B, Kohli M, Mukherjee S (2004) The immunosuppressive effect of α-permethrin on Indian major carp, rohu (Labeo rohita Ham.). Fish Shellfish Immunol 16:41–50

Nishimuta K, Ito Y (2003) Effects of metronidazole and tinidazole ointments on models for inflammatory dermatitis in mice. Arch Dermatol Res 294:544–551

Noorafshan A, Karbalay-Doust S, Valizadeh A, Aliabadi E (2011) Ameliorative effects of curcumin on the structural parameters of seminiferous tubules and Leydig cells in metronidazole-treated mice: a stereological approach. Exp Toxicol Pathol 63:627–633

Ortiz-Ordoñez E, Uría-Galicia E, Ruiz-Picos RA, Duran AGS, Trejo YH, Sedeño-Díaz JE et al (2011) Effect of yerbimat herbicide on lipid peroxidation, catalase activity, and histological damage in gills and liver of the freshwater fish goodea atripinnis. Arch Environ Contam Toxicol 61:443–452

Pena-Llopis S, Pena J, Sancho E, Fernandez-Vega C, Ferrando M (2001) Glutathione-dependent resistance of the European eel Anguilla anguilla to the herbicide molinate. Chemosphere 45:671–681

Pena-Llopis S, Ferrando MD, Peña JB (2003) Fish tolerance to organophosphate-induced oxidative stress is dependent on the glutathione metabolism and enhanced by N-acetylcysteine. Aquat Toxicol 65:337–360

Preiser JC (2012) Oxidative stress. J Parenter Enteral Nutr 36:147–154

Rizzo A, Paolillo R, Guida L, Annunziata M, Bevilacqua N, Tufano MA (2010) Effect of metronidazole and modulation of cytokine production on human periodontal ligament cells. Int Immunopharmacol 10:744–750

Rodriguez L, Livengood EJ, Miles RD, Chapman FA (2011) Uptake of metronidazole in Artemia at different developmental life stages. J Aquat Anim Health 23:100–102

Saleem M, Alam A, Sultana S (2000) Attenuation of benzoyl peroxide-mediated cutaneous oxidative stress and hyperproliferative response by the prophylactic treatment of mice with spearmint (Mentha spicata). Food Chem Toxicol 38:939–948

Shemer H, Kunukcu YK, Linden KG (2006) Degradation of the pharmaceutical metronidazole via UV, Fenton and photo-Fenton processes. Chemosphere 63:269–276

Talapatra SN, Dasgupta S, Guha G, Auddy M, Mukhopadhyay A (2010) Therapeutic efficacies of Coriandrum sativum aqueous extract against metronidazole-induced genotoxicity in Channa punctatus peripheral erythrocytes. Food Chem Toxicol 48:3458–3461

Wolf JC, Wolfe MJ (2005) A brief overview of nonneoplastic hepatic toxicity in fish. Toxicol Pathol 33:75–85

Zhang J, Shen H, Xu T, Wang X, Li W, Gu Y (2003) Effects of long-term exposure of low-level diesel oil on the antioxidant defense system of fish. Bull Environ Contam Toxicol 71:234–239
Acknowledgments
Financial support from the grants of Specialized Research Fund for the Doctoral Program of Liaoning Province (201201043) is gratefully acknowledged. We also would like to thank Editage for providing editorial assistance.
About this article
Cite this article
Han, J., Cai, H., Wang, J. et al. Detrimental Effects of Metronidazole on the Liver of Freshwater Common Carp (Cyprinus carpio L.). Bull Environ Contam Toxicol 91, 444–449 (2013). https://doi.org/10.1007/s00128-013-1059-7
Received:

Accepted:

Published:

Issue Date:
Keywords
Metronidazole

Oxidative stress

EROD

Fish

Pharmaceuticals