Abstract
This study compared the levels of the trace metals zinc (Zn), cadmium (Cd), lead (Pb) and copper (Cu) in the bivalve Lithophaga lithophaga from Izmir Bay (Aegean Sea) between 2001 and 2011. Comparisons were made on the basis of season, as well as year. All values were measured by voltammetry. Median values of trace metals for all seasons in 2011 were 244.67 μg Zn g−1, 1.09 μg Cd g−1, 7.64 μg Pb g−1 and 56.03 μg Cu g−1 as dry weight. The results showed a general trend of decreasing Zn, Pb and Cu concentrations over time, but an increasing trend for Cd. Mean trace metal concentrations in individuals of L. lithophaga in 2011 exceeded the permissible limit published in the Turkish Food Codex for Pb, and closely approached the limit for Zn. The mean Cd concentration was within the permissible limit of the Turkish Food Codex, but exceeded the limit of the World Health Organization. Levels of Cu were within permissible limits of published regulations.
Access options
Buy single article
Instant access to the full article PDF.
USD 39.95
Price includes VAT (USA)
Tax calculation will be finalised during checkout.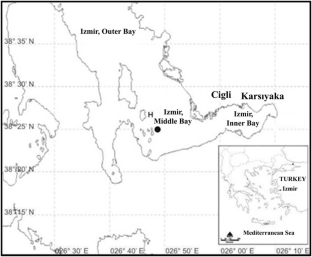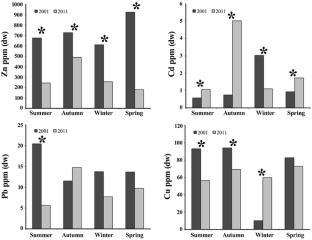 References
Aksu AE, Yasar D, Uslu O (1998) Assessment of marine pollution in Izmir Bay: heavy metal and organic compound concentrations in surficial sediments. Turk J Eng Environ Sci 22(1998):387–415

Ansari TM, Marr IL, Tariq N (2004) Heavy metals in marine pollution perspective—a mini review. J Appl Sci 4(1):1–20

Bernhard M (1976) Manual of methods in aquatic environment research. FAO Fish Tech Paper 58:1–123

COMMISSION REGULATION (EC) No 1881/2006 Maximum levels for certain contaminants in foodstuffs, OJ L 364, 20.12.2006, p 5

Deudero S, Box A, March D, Valencia JM, Grau AM, Tintore J, Benedicto J (2007) Temporal trends of metals in benthic invertebrate species from the Balearic Islands, Western Mediterranean. Mar Pollut Bull 54:1523–1558

Egemen O, Sunlu U, Kaymakcı A (1998) Heavy metal concentrations in some molluscs and in surficial sediments from Izmir Bay/Turkey. CIESM Congr Proc 35(1):250–251

Fang ZQ, Cheung RYH, Wong MH (2003) Heavy metals in oysters, mussels and clams collected from coastal sites along the Pearl River Delta, South China. J Environ Sci (Beijing, China) 15(1):9–24

FAO Fisheries Report (2004) No: 748, Expert advisory panel assessment report: Mediterranean date mussel, Appendix: G, 45–49

Katsanevakis S, Lefkaditou E, Galinou-Mitsoudi S, Koutsoubas D, Zenetos A (2008) Molluscan species of minor commercial interest in Hellenic seas: distribution, exploitation and conservation status. Mediterr Mar Sci 9(1):77–118

Kucuksezgin F, Kontas A, Uluturhan E (2011) Evaluations of heavy metal pollution in sediment and Mullus barbatus from the Izmir Bay (Eastern Aegean) during 1997–2009. Mar Pollut Bull 62:1562–1571

Maanan M (2008) Heavy metal concentrations in marine molluscs from the Moroccan coastal region. Environ Pollut 153:176–183

Marasabessy MD (2002) Kandungan logan berat Pb, Cd, Cu, Zn dalam beberapa jenis kerang dan ikan dı Perairan Raha. Pulau muna, Sulawesi, Tenggara, Seminar Nasional Perikanan, Indonesia

Ministry of Environment and Forestry of Turkey (MEFT), General Directorate of Nature Protection and National Parks (CITES Management Authority) (2004) Letter of 13 January 2004, signed by Mahir Küçük, Ph.D.

Muramoto S (1983) Elimination of copper from Cu-contaminated fish by long-term exposure to EDTA and freshwater. J Environ Sci Health 18:455–461

Natusch DFS, Bauer CF, Matusiewicz H Evens CA, Baker J, Loh A, Linton RW and Hopke PK (1975) Characterization of trace elements in fly ash. In: Proceedings of the international conference on heavy metals in environment, Toronto, Ontario, Canada, vol. 2, Part 2, pp 553–575

Rainbow TS (1995) Biomonitoring of heavy metal availability in the marine environment. Mar Pollut Bull 31:183–192

Rainbow PS, Phillips DJH (1993) Cosmopolitan biomonitors of trace metals. Mar Pollut Bull 26(11):593–601

Sunlu U (2002) Comparison of heavy metal levels in native and cultured mussel Mytilus galloprovincialis (L., 1758) from the Bay of Izmir. Mediterranean mussel watch-designing regional program for detecting radionuclides and trace-contaminants. CIESM, Workshop Series 15:101–103

Sunlu U (2006) Trace metal levels in mussels (Mytilus galloprovincialis L., 1758) from Turkish Aegean Sea coast. Environ Monit Assess 114:273–286

Taylan SD and Ozkoc Boke H (2007) Usability of aquatic organisms to determine pollution of trace metal. Univ. Balıkesir, J Sci Inst 9(11):17–33 (in Turkish)

Topcuoglu S, Kırbasoglu C, Gungor N (2002) Heavy metals in organisms and sediments from Turkish Coast of the Black Sea 1997–1998. Environ Int 27:521–526

Topcuoglu S, Kırbasoglu C, Yilmaz YZ (2003) Heavy metal levels in biota and sediments in the northern coast of the Marmara Sea. Environ Monit Assess 1996:183–189

Turkish Food Codex (2008) Fisheries regulations, Official Gazette, Number. 26879. Ankara, Turkey

Wang WX, Fisher NS (1999) Delineating metal accumulation pathways for marine invertebrate. Sci Total Environ 237:459–472

Wang XW, Rainbow PS (2008) Comparative approaches to understand metal bioaccumulation in aquatic animals. Comp Biochem Physiol Part C Toxicol Pharmacol 148(4):315–323

WHO (1973) Health hazards of the human environment. Switzerland, Geneva
Acknowledgments
This research was financially supported by the Foundation of Scientific Research of the Ege University (BAP Project Number: 2010/SUF/003) and special thanks are extended to Prof. Dr. Baha Buyukisik for scientific contributions.
About this article
Cite this article
Ozsuer, M., Sunlu, U. Temporal Trends of Some Trace Metals in Lithophaga lithophaga (L., 1758) from Izmir Bay (Eastern Aegean Sea). Bull Environ Contam Toxicol 91, 409–414 (2013). https://doi.org/10.1007/s00128-013-1051-2
Received:

Accepted:

Published:

Issue Date:
Keywords
Biomonitoring

Trace metals

Lithophaga lithophaga

Izmir Bay