Abstract
The effects of combustion of the fire crackers on the air quality in eastern Central India were studied for the first time during Diwali festival. This case study analyzes the size distribution and temporal variation of aerosols collected in the rural area of eastern Central India during pre-diwali, Diwali and post-diwali period for the year of 2011. Fifteen aerosol samples were collected during the special case study of Diwali period using Andersen sampler. The mean concentrations of PM10 (respirable particulate matter) were found to be 212.8 ± 4.2, 555.5 ± 20.2 and 284.4 ± 5.8 during pre-diwali, Diwali and post-diwali period, respectively. During Diwali festival PM10 concentration was about 2.6 and 1.9 times higher than pre-diwali and post-diwali period, respectively. PM2.5 (fine) and PM1 (submicron) concentrations during Diwali festival were more than 2 times higher than pre-diwali and post-diwali.
Access options
Buy single article
Instant access to the full article PDF.
USD 39.95
Price includes VAT (USA)
Tax calculation will be finalised during checkout.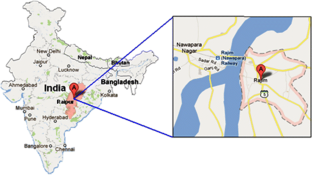 References
Balakrishnaiah G, Han W, Liu CN, Awasthi A, Hsu SC, Tsai CJ, Roam GD, Wu YC, Chen CF (2012) Source characterization and apportionment of PM10, PM2.5 and PM0.1 by using positive matrix factorization. Aerosol Air Qual Res 12:476–491

Chelani AB, Gajghate DG, Rao CVC, Devottan S (2010) Particle size distribution in ambient air of Delhi and its statistical analysis. Bull Environ Contam Toxicol 85:22–27

CPCB (2009) Central pollution control board, India. National ambient air quality standards (NAAQS). Gazette notification, New Delhi, 18 November 2009

Deshmukh DK, Tsai YI, Deb MK, Zarmpas P (2012a) Characteristics and sources of water-soluble ionic species associated with PM10 particles in the ambient air of central India. Bull Environ Contam Toxicol. doi:10.1007/s00128-012-0806-5

Deshmukh DK, Deb MK, Verma D, Verma SK, Nirmalkar J (2012b) Aerosol size distribution and seasonal variation in an urban area of an industrial city in eastern central India. Bull Environ Contam Toxicol. doi:10.1007/s00128-0834-1

Firdaus G, Ahmad A (2011) Changing air quality in Delhi, India: determinants, trends, and policy implications. Reg Environ Change 11:743–752

Godec R, Cackovic M, Sega K, Beslic I (2012) Winter mass concentrations of carbon species in PM10, PM2.5 and PM1 in zagreb air, Croatia. Bull Environ Contam Toxicol. doi:10.1007/s00128-012-0787-4

Godri K, Green D, Fuller G, Osto MD, Beddows D, Harrison R, Mudway I (2010) Particulate oxidative burden associated with fireworks activity. Environ Sci Technol 44:8295–8301

Joly A, Smargiassi A, Kosatsky T, Fournier M, Zlotorzynska ED, Celo V, Mathieu D, Servranckx R, Damours R, Malo A, Brook J (2010) Characterization of particulate exposure during fireworks displays. Atmos Environ 44:4325–4329

Pandey P, Khan AH, Verma AK, Singh AK, Mathur N, Kisku C, Barman SC (2012) Seasonal trends of PM2.5 and PM10 in ambient air and their correlation in ambient air of Lucknow city. India. Bull Environ Contam Toxicol 88:265–270

Pipalatkar PP, Gajghate DG, Khaparde VV (2012) Source identification of different size fraction of PM10 using factor analysis at residential cum commercial area of Nagpur City. Bull Environ Contam Toxicol 88:260–264

Pope CA III, Brook RD, Burnett RT, Dockery DW (2011) How is cardiovascular disease mortality risk affected by duration and intensity of fine particulate matter exposure ? An integration of the epidemiologic evidence. Air Qual Atmos Health 4:5–14

Rao PSD, Gajghate G, Gavane AG, Suryawanshi P, Chauhan C, Mishra S, Gupta N, Rao CVC, Wate SR (2012) Air quality status during diwali festival of india, a case study. Bull Environ Contam Toxicol 89:376–379

Ravindra K, Mor S, Kaushik CP (2003) Short-term variation in air quality associated with firework events: a case study. J Environ Monit 5:260–264

Singh AK, Gupta HK, Gupta K, Singh P, Gupta VB, Sharma RC (2007) A comparative study of air pollution in indian cities. Bull Environ Contam Toxicol 78:411–416

Tiwari S, Chata DM, Srivastava MK, Safai PD, Bisht DS (2012) Statistical evaluation of PM10 and distribution of PM1, PM2.5 and PM10 in ambient air due to extreme fireworks episodes (Deepawali festivals) in megacity Delhi. Naturals Hazards 61:521–531

US EPA (2009) United state environment protection agency national ambient air quality standards. government notification, United state, 17 october 2006

Vecchi R, Bernardoni V, Cricchio D, Alessandro AD, Fermo P, Lucarelli F, Nava S, Valli G (2007) The impact of fireworks on airborne particles. Atmos Environ 42:1121–1132

Wang Y, Zhuanga G, Xu C, An Z (2007) The air pollution caused by the burning of fireworks during the lantern festival in Beijing. Atmos Environ 41:417–431

World Health Organization (2005) Air quality guidelines global update published by World Health Organization. 803 Available at, http://www.euro.who.int/Documents/E87950.pdf
Acknowledgments
The authors are grateful to Head, School of Studies in Chemistry, Pt. Ravishankar Shukla University Raipur, Chhattisgarh, India for providing necessary laboratory supports.
About this article
Cite this article
Nirmalkar, J., Deb, M.K., Deshmukh, D.K. et al. Mass Loading of Size-Segregated Atmospheric Aerosols in the Ambient Air During Fireworks Episodes in Eastern Central India. Bull Environ Contam Toxicol 90, 434–439 (2013). https://doi.org/10.1007/s00128-012-0938-7
Received:

Accepted:

Published:

Issue Date:
Keywords
Diwali festival

PM concentration

Size distribution

Spearman correlation