Abstract
The dissipation and residues of flutriafol in wheat and soil under field conditions in Beijing, Anhui and Shandong in China were determined based on high performance liquid chromatography. Flutriafol were extracted with acetonitrile and cleaned up by solid-phase extraction with florisil cartridges before UV detection. The limits of detection and quantification of flutriafol were 0.04 ng and 0.01 mg/kg for both wheat and soil samples, respectively. The mean recoveries ranged from 93.4% to 96.4%, with relative standard deviation between 3.8% and 6.8% at three spiked levels (0.01, 0.1, 1.0 mg/kg). Half-lives were 13.3, 9.9 and 13.6 days in soil, while 15.2, 10.8 and 9.2 days in wheat plant in Beijing, Anhui and Shandong, respectively. The terminal residues of flutriafol were below the maximum residue limit 0.02 mg/kg set by Japan in wheat when pre-harvest interval were 35 days.
Access options
Buy single article
Instant access to the full article PDF.
USD 39.95
Price includes VAT (USA)
Tax calculation will be finalised during checkout.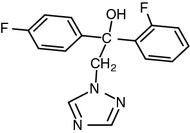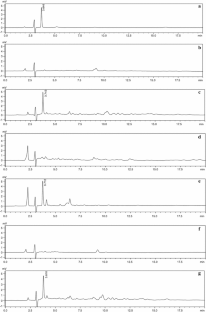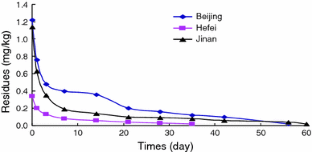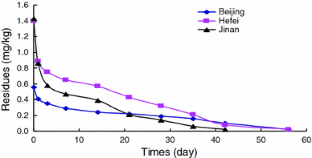 References
Anagnostopoulos CJ, Aplada Sarli P, Liapis K, Haroutounian SA, Miliadis GE (2012) Validation of two variations of the QuEChERS method for the determination of multiclass pesticide residues in cereal-based infant foods by LC–MS/MS. Food Anal Methods 5:664–683

Bolyg Elek, Atreya NC (1991) Solid-phase extraction for multi-residue analysis of some triazole and pyrimidine pesticides in water. Fresen J Anal Chem 339:423–430

Brown MC, Waller CD, Charlet C, Palmer R (1986) The use of flutriafol-based fungicides for the control of sugar beet diseases in Europe. Brighton Crop Prot Conf Pests Dis 102:1055–1061

Dhananjay KT, Vipin K, Ravindranath SD, Adarsh S (2005) Dissipation behavior of bifenthrin residues in tea and its brew. Food Control 16:231–237

Greulich K, Alder L (2008) Fast multiresidue screening of 300 pesticides in water for human consumption by LC-MS/MS. Anal Bioanal Chem 391:183–197

Insam H, Domsch KH (1988) Relationship between soil organic carbon and microbial biomass on chronosequences of reclamation sites. Microb Ecol 15:177–188

Karaoglanidis GS, Karadimos DA, Ioannidis PM, Ioanni-dis PI (2003) Sensitivity of Cercospora beticola populations to fentin-acetate, benomyl and flutriafol in Greece. Crop Prot 22:735–740

Pateiro-Moure M (2008) Occurrence and downslope mobilization of quaternary herbicide residues in vineyard-devoted soils. Bull Environ Contam Toxicol 80:407–411

Wang J, Chow W, Leung D (2010) Applications of LC/ESI-MS/MS and UPLC QqTOF MS for the determination of 148 pesticides in fruits and vegetables. Anal Bioanal Chem 396:1513–1538
Acknowledgments
This study were supported by Youth Fund of Beijing Academy of Agriculture and Forestry Sciences (2009) and National Key Technology R&D Program in the 11th 5 year Plan of China(2009BADB7B03).
About this article
Cite this article
Yu, P., Jia, C., Song, W. et al. Dissipation and Residues of Flutriafol in Wheat and Soil Under Field Conditions. Bull Environ Contam Toxicol 89, 1040–1045 (2012). https://doi.org/10.1007/s00128-012-0810-9
Received:

Accepted:

Published:

Issue Date:
Keywords
Flutriafol

Wheat

Soil

Dissipation