Abstract
The characteristic distributions of 12 metals (Al, Ti, Cr, Mn, Fe, Co, Ni, Cu, Zn, Sr, Cd and Pb) were investigated in surface sediments from a small river (Niitsu River) flowing through both urban and agricultural areas by comparison with those from the upper main stream (Nodai River). Among the investigated metals, the mean concentrations of Al, Cr, Fe, Zn, Cd and Pb in the Niitsu River were significantly higher than those in the Nodai River. The investigated sites can be characterized by the principal components 1–3.
Access options
Buy single article
Instant access to the full article PDF.
USD 39.95
Price includes VAT (USA)
Tax calculation will be finalised during checkout.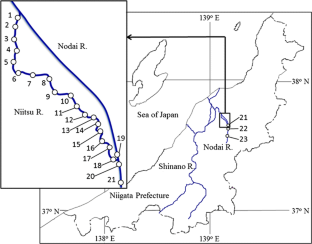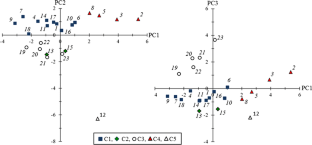 References
Amoli HS, Porgam A, Sadr ZB, Mohanazadeh F (2006) Analysis of metal ions in crude oil by reversed-phase high performance liquid chromatography using short column. J Chromatogr A 1118:82–84

Balogh SJ, Engstrom DR, Almendinger JE, McDermott C, Hu J, Nollet YH, Meyer ML, Johnson DK (2009) A sediment record of trace metal loadings in the upper Mississippi River. J Paleolimnol 41:623–639

Birmili W, Allen AG, Bary F, Harrison RM (2006) Trace metal concentrations and water solubility in size-fractionated atmospheric particles and influence of road traffic. Environ Sci Technol 40:1144–1153

Datangel B, Goldfarb LJ (2011) Heavy metals in Colorado and Chinese oil shale semicoke: disposal issues, impediments to byproduct conversion. Energy Fuel 25:3522–3529

Demirak A, Yilmaz F, Tuna AL, Ozdemir N (2006) Heavy metals in water, sediment and tissues of Leuciscus cephalus from a stream in southwestern Turkey. Chemosphere 63:1451–1458

Emilsson T, Rolf K (2005) Comparison of establishment methods for extensive green roofs in southern Sweden. Urban Forestry Urban Green 3:103–111

Haus N, Zimmermann S, Wiegand J, Sures B (2007) Occurrence of platinum and additional traffic related heavy metals in sediments and biota. Chemosphere 66:619–629

Hayashi K, Yoshid K, Koike J, Chimuro M (2005) Measurement results of heavy metals of sediment and fishes at Kawasaki City. Ann Rep Kawasaki Mun Res Inst Environ Protect 32:103–107

Huang K-M, Lin S (2003) Consequences and implication of heavy metal spatial variations in sediments of the Keelung River drainage basin Taiwan. Chemosphere 53:1113–1121

Komai Y, Takeda Y, Umemoto S (2005) Long-term changes and evaluation of heavy metal concentrations in river bottom sediments of Hyogo Prefecture. Bull Hyogo Pref Inst Environ Sci 2:72–80

Liu C, Xu J, Liu C, Zhang P, Dai M (2009) Heavy metals in the surface sediments in Lanzhou Reach of Yellow River, China. Bull Environ Contam Toxicol 82:26–30

Lough GC, Schauer JJ, Park J-S, Shafer MM, DeMinter JT, Weinstein JP (2005) Emissions of metals associated with motor vehicle roadways. Environ Sci Technol 39:826–836

Mei J, Li Z, Sun L, Gui H, Wang X (2011) Assessment of heavy metals in the urban river sediments in Suzhou City, Northern Anhui Province, China. Procedia Environ Sci 10:2547–2553

Ministry of Environment (2001) Bottom sediment survey methods. http://db-out3.nies.go.jp/emdb/pdfs/water/teisitutyousa/0103teisitutyousahouhou.pdf

Woitke P, Wellmitz J, Helm D, Kube P, Lepom P, Litheraty P (2003) Analysis and assessment of heavy metal pollution in suspended solids and sediments of the river Danube. Chemosphere 51:633–642

Yasuda M, Yustiawati, Syawal MS, Sikder MT, Hosokawa T, Saito T, Tanaka S, Kurasaki M (2011) Metal Concentrations of river water and sediments in West Java, Indonesia. Bull Environ Contam Toxicol 87:669–673
About this article
Cite this article
Igari, Y., Tamura, T., Ohno, M. et al. Distribution of Metals in Surface Sediments from a Small River Flowing Through Urban and Agricultural Areas. Bull Environ Contam Toxicol 89, 770–774 (2012). https://doi.org/10.1007/s00128-012-0797-2
Received:

Accepted:

Published:

Issue Date:
Keywords
Surface sediment

Metal

River

Principal component analysis

Cluster analysis