Abstract
Behavior of the herbicide pyrazolynate, 4-(2,4-dichlorobenzoyl)-1,3-dimethylpyrazol-5-yl p-toluenesulfonate, in paddy water and soil after application to paddy fields was investigated to evaluate the hydrolyzation to destosyl pyrazolynate (DTP), 4-(2,4-dichlorobenzoyl)-1,3-dimethyl-5-hydroxypyrazole. The respective maximum concentrations of pyrazolynate and DTP were 440–1,240 and 200–260 μg/L, respectively, in the paddy water, and 610–860 μg/kg dry and 460–730 μg/kg dry in the paddy soil. The applied pyrazolynate was drained from the paddy fields as DTP. The runoff ratios of DTP from the paddy fields were calculated as 19 % ± 14 %. The respective mean values of the half-lives of pyrazolynate and DTP were 0.87 ± 0.091 and 17 ± 1.4 days in the paddy water and 2.2 ± 0.70 and 26 ± 2.1 days in the paddy soil, respectively.
Access options
Buy single article
Instant access to the full article PDF.
USD 39.95
Price includes VAT (USA)
Tax calculation will be finalised during checkout.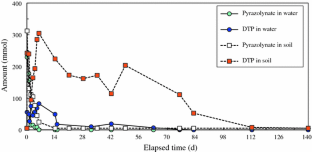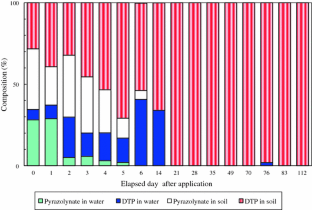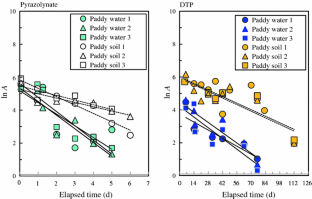 References
Iwafune T, Inao K, Horio T, Iwasaki N, Yokoyama A, Nagai T (2010) Behavior of paddy pesticides and major metabolites in the Sakura River Ibaraki, Japan. J Pestic Sci 35:114–123

Matsui Y, Narita K, Inoue T, Matsushita T (2006) Screening level analysis for monitoring pesticide in river water using a hydrological diffuse pollution model with limited input data. Water Sci Technol 53:173–181

Morohashi M, Nagasawa S, Enya N, Ohno M, Suzuki K, Kose T, Kawata K (2012a) Decrease of herbicide bromobutide and its debromo metabolite in paddy field soil during 24 weeks after application. Bull Environ Contam Toxicol. doi:10.1007/s00128-012-0625-8

Morohashi M, Nagasawa S, Enya N, Suzuki K, Kose T, Kawata K (2012b) Behavior of bromobutide in paddy water and soil after application. Bull Environ Contam Toxicol 88:521–525

Tanizawa K, Kawakubo K, Kasai F, Nakamura T, Ishida M (1987) Relationship between herbicidal efficacy of pyrazolate formulations and concentration of destosylpyrazolate in paddy water. J Pestic Sci 12:651–658

Tanizawa K, Honma T, Kasai F, Nakamura T, Ishida M (1988) Chemical and physical release control of destosyl pyrazolate (DTP) in paddy fields by pyrazolate granules. J Pestic Sci 13:77–84

Yamaoka K, Nakagawa M, Ishida M (1987) Hydrolysis of the rice herbicide pyrazolate in aqueous solutions. J Pestic Sci 12:209–212

Yamaoka K, Shigematsu Y, Ando M, Tohjigamori M, Nakagawa M, Ishida M (1988a) Degradation of the herbicide pyrazolate in rice paddy soils. J Pestic Sci 13:571–577

Yamaoka K, Tohjigamori M, Tsujino Y, Nakagawa M, Ishida M (1988b) Adsorption and desorption of DTP, the herbicidal entity of pyrazolate, by soils and vertical mobility of pyrazolate and DTP in paddy fields. J Pestic Sci 13:261–268

Yamaoka K, Tsujino Y, Ando M, Nakagawa M, Ishida M (1988c) Photolysis of DTP, the herbicidal entity of pyrazolate, in water and on soil surface. J Pestic Sci 13:29–37
About this article
Cite this article
Kubo, T., Ohno, M., Nagasawa, S. et al. Behavior of Herbicide Pyrazolynate and its Hydrolysate in Paddy Fields after Application. Bull Environ Contam Toxicol 89, 985–989 (2012). https://doi.org/10.1007/s00128-012-0793-6
Received:

Accepted:

Published:

Issue Date:
Keywords
Herbicide

Pyrazolate

Hydrolysate

Paddy water

Paddy soil

Runoff

Half-life