Abstract
We investigated the effects of sodium sulfite (Na2SO3) on rhinovirus (RV)-induced chemokine production in A549 airway epithelial cells. Our results demonstrated that the treatment of A549 cells with 2,500 μM Na2SO3 enhanced the mRNA expression of RV-induced interleukin (IL)-8 1.8 fold (p = 0.025); and regulated on activation, normal T cell expressed and secreted (RANTES), 2.9 fold (p = 0.025). Moreover, the secretion of IL-8, RANTES, and interferon-γ-inducible protein (IP)-10 was increased in a statistically significant manner without affecting cell viability and RV replication. Our results suggest that Na2SO3 may potentiate RV infection by enhancing chemokine production.
Access options
Buy single article
Instant access to the full article PDF.
USD 39.95
Price includes VAT (USA)
Tax calculation will be finalised during checkout.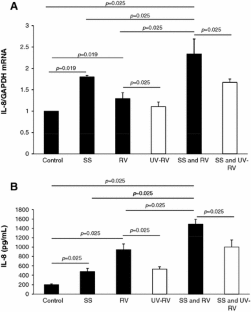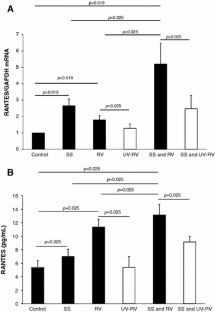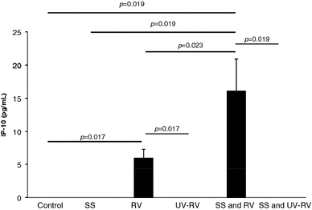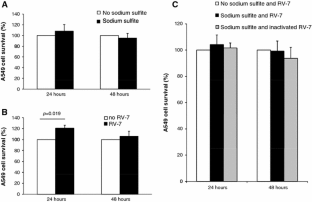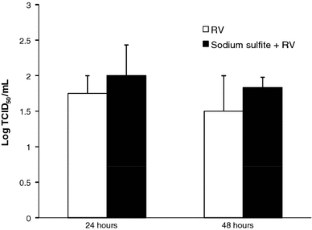 References
Arruda E, Pitkäranta A, Witek TJ Jr, Doyle CA, Hayden FG (1997) Frequency and natural history of rhinovirus infections in adults during autumn. J Clin Microbiol 35:2864–2868

Balmes JR, Fine JM, Gordon T, Sheppard D (1989) Potential bronchoconstrictor stimuli in acid fog. Environ Health Perspect 79:163–166

Barnett AG, Williams GM, Schwartz J, Neller AH, Best TL, Petroeschevsky AL, Simpson RW (2005) Air pollution and child respiratory health: a case-crossover study in Australia and New Zealand. Am J Respir Crit Care Med 171:1272–1278

Bartlett NW, Walton RP, Edwards MR, Aniscenko J, Caramori G, Zhu J, Glanville N, Choy KJ, Jourdan P, Burnet J, Tuthill TJ, Pedrick MS, Hurle MJ, Plumpton C, Sharp NA, Bussell JN, Swallow DM, Schwarze J, Guy B, Almond JW, Jeffery PK, Lloyd CM, Papi A, Killington RA, Rowlands DJ, Blair ED, Clarke NJ, Johnston SL (2008) Mouse models of rhinovirus-induced disease and exacerbation of allergic airway inflammation. Nat Med 14:199–204

Basbaum C, Gallup M, Gum J, Kim Y, Jany B (1990) Modification of mucin gene expression in the airways of rats exposed to sulfur dioxide. Biorheology 27:485–489

Bayram H, Ito K, Issa R, Ito M, Sukkar M, Chung KF (2006) Regulation of human lung epithelial cell numbers by diesel exhaust particles. Eur Respir J 27:705–713

Corne JM, Marshall C, Smith S, Schreiber J, Sanderson G, Holgate ST, Johnston SL (2002) Frequency, severity, and duration of rhinovirus infections in asthmatic and non-asthmatic individuals: a longitudinal cohort study. Lancet 359:831–834

Edwards MR, Hewson CA, Laza-Stanca V, Lau HTH, Mukaida N, Hershenson MB, Johnston SL (2007) Protein kinase R, IkappaB kinase-beta and NF-kappaB are required for human rhinovirus induced pro-inflammatory cytokine production in bronchial epithelial cells. Mol Immunol 44:1587–1597

Jackson DJ, Johnston SL (2010) The role of viruses in acute exacerbations of asthma. J Allergy Clin Immunol 125:1178–1187

Love GT, Lan SP, Shy CM, Struba RJ (1981) The incidence and severity of acute respiratory illness in families exposed to different levels of air pollution, New York metropolitan area 1971–1972. Arch Environ Health 36:66–74

Luginaah IN, Fung KY, Gorey KM, Webster G, Wills C (2005) Association of ambient air pollution with respiratory hospitalization in a government-designated 'area of concern': the case of Windsor, Ontario. Environ Health Perspect 113:290–296

Papi A, Bellettato CM, Braccioni F, Romagnoli M, Casolari P, Caramori G, Fabbri LM, Johnston SL (2006) Infections and airway inflammation in chronic obstructive pulmonary disease severe exacerbations. Am J Respir Crit Care Med 173:1114–1121

Spannhake EW, Reddy SPM, Jacoby DB, Yu XY, Saatian B, Tian J (2002) Synergism between rhinovirus infection and oxidant pollutant exposure enhances airway epithelial cell cytokine production. Environ Health Perspect 110:665–670

Wang JH, Kim H, Jang YJ (2009) Cigarette smoke extract enhances rhinovirus-induced toll-like receptor 3 expression and interleukin-8 secretion in A549 cells. Am J Rhinol Allergy 23:e5–e9

Wilson AM, Wake CP, Kelly T, Salloway JC (2005) Air pollution, weather, and respiratory emergency room visits in two northern New England cities: an ecological time-series study. Environ Res 97:312–321

Yang YF, Hsu JY, Fu LS, Weng YS, Chu JJ (2009) Asthma drugs counter-regulate interleukin-8 release stimulated by sodium sulfite in an A549 cell line. J Asthma 46:238–243
Acknowledgments
This work was supported by a Korea Research Foundation (KRF) grant, funded by the Korean Government (MEST) (No. 2009-0066649) and by Seoul St. Mary's Clinical Medicine Research Program (2009) through the Catholic University of Korea.
About this article
Cite this article
Chun, Y.H., Kim, H.S., Lee, H. et al. Sodium Sulfite Enhances Rhinovirus-Induced Chemokine Production in Airway Epithelial Cells. Bull Environ Contam Toxicol 89, 718–722 (2012). https://doi.org/10.1007/s00128-012-0786-5
Received:

Accepted:

Published:

Issue Date:
Keywords
Sodium sulfite

Rhinovirus

Chemokines

Epithelial cells