Abstract
Uptake rates for dissolved nitrogen (DN) by a marine alga (Oocystis borgei) were examined in a 15N tracer experiment. Maximal uptake rates for all forms of DN were observed at temperatures between 25 and 30°C and at algal concentrations between 3.22 × 108 and 4.78 × 108 cell L−1. Light intensity required to achieve the maximal uptake rate was 45 μmol m−2 s−1 for dissolved inorganic nitrogen (DIN = NO3 −, NO2 −, NH4 +) and methionine, and 126 μmol m−2 s−1 for urea. Salinity required to achieve the maximal uptake rate was 12.85 ppt for DIN, 19.89 ppt for urea and 26.2 ppt for methionine.
Access options
Buy single article
Instant access to the full article PDF.
USD 39.95
Price includes VAT (USA)
Tax calculation will be finalised during checkout.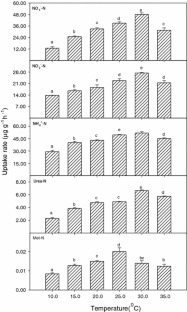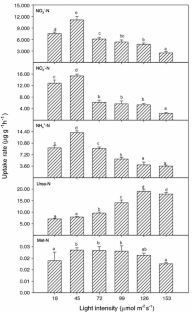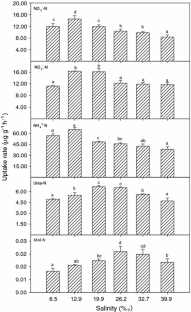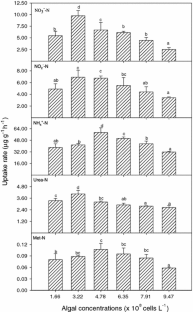 References
Benjamas C, Sorawit P, Piamasak M (2003) Water quality control using Spirulina platensis in shrimp culture tanks. Aquaculture 220:355–366

Berman T, Bronk DA (2003) Dissolved organic nitrogen: dynamic participant in aquatic ecosystems. Aquat Microb Ecol 31:279–305

Chen BZ, Wang ZL, Zhu MY (2005) Effects of temperature and salinity on growth of Prorocentrum dentatum and comparisons between growths of Prorocentrum dentatum and Skeletonema costatum. Adv Mar Sci 23:60–64 (in Chinese)

Collos Y, Vaquer A, Laabir M, Eric A, Thierry L, Annie P, Philippe S (2007) Contribution of several nitrogen sources to growth of Alexandrium catenella during blooms in Thau lagoon, Southern France. Harmful Algae 6:781–789

Dugdale VA, Dugdale RC (1965) Nitrogen metabolism in lakes III. Tracer studies of the assimilation of inorganic nitrogen sources. Limnol Oceanogr 63:75–79

Dugdale R, Wilkerson F (1986) The use of 15N to measure nitrogen uptake in eutrophic oceans; experimental considerations. Limnol Oceanogr 31:673–689

Glibert PM, Harrison J, Heil CA (2006) Escalating worldwide use of urea-a global change contributing to coastal eutrophication. Biogeochem 77:441–463

Gu B, Alexander V (1993) Seasonal variations in dissolved nitrogen utilization by phytoplankton in a subarctic Alaskan lake. Arch Hydrobiol 126:273–288

Hanisak MD, Harlin MM (1978) Uptake of inorganic N by Lodium fragile. Phycology 14:450–454

Harris GP (1978) Photosynthesis, productivity and growth: the physiological ecology and phytoplankton. Schweizerbart (Stuttgart) 171p

Huang XH, Wang QH (2002) A study on dominant phytoplankton species in high-level prawn ponds and its formation cause. J Trop Oceanogr 21:36–44 (in Chinese)

Joel CG (1976) Phytoplankton response to waste-water nutrient enrichment in continuous culture. J Exp Mar Biol Ecol 23:31–43

Lartigue J, Neill A, Hayden BL, Pulfer J, Cebrian J (2003) The impact of salinity fluctuations on net oxygen production and inorganic nitrogen uptake by Ulvalactuca (Chlorophyceae). Aquat Bot 75:339–350

Mallick N, Rai LC (2007) Influence of culture density, pH, organic acid and divalent cations on the removal of nutrients and metals by immobilized Anabaena doliolium and Chlorella vulgaris. World J Microb Biotech 9:196–201

Mao H, Xu H, Liu ZP (2007) Effects of water temperature, illumination, salinity and pH on the growth of Chaetoceros curvisetus. Ecol Sci 26:432–436 (in Chinese)

Presing M, Herodek S, Preston T, Voros L (2001) Nitrogen uptake and the importance of internal nitrogen loading in Lake Balaton. Freshw Biol 46:125–139

Racotta IS, Hernández-Herrera R (2000) Metabolic responses of the white shrimp, Penaeus vannamei, to ambient ammonia. Comp Biochem Physiol 125:437–443

Roselien C, Yoram A, Tom D, Peter B, Willy V (2007) Nitrogen removal techniques in aquaculture for a sustainable production. Aquaculture 270:1–14

Schell DM (1974) Uptake and regeneration of free amino acids in marine waters of Southeast Alaska. Limnol Oceanogr 19:260–270

Talbot P, de la Noüe J (2010) Tertiary treatment of wastewater with Phormidium bohneri (Schmidle) under various light and temperature conditions. Water Res 27:153–159

Talbot P, Thébault JM, Dauta A, de la Noüe J (2008) A comparative study and mathematical modeling of temperature, light and growth of three microalgae potentially useful for wastewater treatment. Water Res 25:465–472

Tonis P, Serge YM (2003) The role of inorganic and organic nutrients on the development of phytoplankton along a transect from the Daugava River mouth to the Open Baltic, in spring and summer. ICES J Mar Sci 60:827–835

Wang ZF, Zhang Q, Lv HY (2001) Effects of temperature, salinity, light and pH on the growth of red organisms Prorocentrum micans. Oceanol Limnol Sin 32:15–18 (in Chinese)
Acknowledgments
This study was supported by the Ministry of Science and Technology of China (Grant #2010GB2E000351) and Science and Technology Program of Guangdong Province of China (Grant #2010B060200011, 2009B020312013 and 2006A20305003).
About this article
Cite this article
Huang, X., Li, X., Wang, Y. et al. Effects of Environmental Factors on the Uptake Rates of Dissolved Nitrogen by a Salt-water Green Alga (Oocystis borgei Snow). Bull Environ Contam Toxicol 89, 905–909 (2012). https://doi.org/10.1007/s00128-012-0767-8
Received:

Accepted:

Published:

Issue Date:
Keywords
Dissolved nitrogen

Environmental factors

Oocystis borgei

Uptake rate