Abstract
Isoprocarb, hexaflumuron and difenoconazole were used in Perilla frutescens at 600, 60 and 75 g a.i./ha respectively. High performance liquid chromatography-tandem mass spectrometry was used for residue determination because of high selectivity and simple treatment. The results showed that the half-lives of isoprocarb, hexaflumuron and difenoconazole at greenhouse condition were 0.71, 1.63 and 1.21 days respectively, and at field condition, the values were 1.13, 1.07 and 0.92 days respectively.
Access options
Buy single article
Instant access to the full article PDF.
USD 39.95
Price includes VAT (USA)
Tax calculation will be finalised during checkout.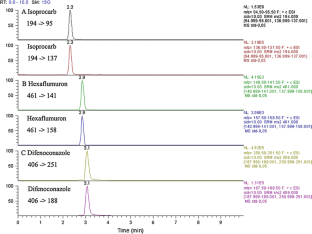 References
Fernandez M, Pico Y, Manes J (2000) Determination of carbamate residues in fruits and vegetables by matrix solid-phase dispersion and liquid chromatography—mass spectrometry. J Chromatogr A 871:43–56

Henson S, Loader R (2001) Barriers to agricultural exports from developing countries: the role of sanitary and phytosanitary requirements. World Dev 29:85–102

Kong ZQ, Dong FS, Xu J, Liu XG, Zhang CP, Li J, Li YB, Chen X, Shan WL, Zheng YQ (2012) Determination of difenoconazole residue in tomato during home canning by UPLC-MS/MS. Food Control 23:542–546

Liu M, Hashi Y, Song YY, Lin JM (2005) Simultaneous determination of carbamate and organophosphorus pesticides in fruits and vegetables by liquid chromatography—mass spectrometry. J Chromatogr A 1097:183–187

Qian MR, Wu LQ, Zhang H, Wang JW, Li R, Wang XY, Chen ZM (2011) Stereoselective determination of famoxadone enantiomers with HPLC-MS/MS and evaluation of their dissipation process in spinach. J Sep Sci 34:1236–1243

Rueegg J, Siegfried W (1996) Residues of difenoconazole and penconazole on apple leaves and grass and soil in an apple orchard in North-Eastern Switzerland. Crop prot 15:27–31

Wang ZH, Yang T, Qin DM, Gong Y, Ji Y (2008) Determination and dynamics of difenoconazole residues in Chinese cabbage and soil. Chin Chem Lett 19:969–972

Zhang H, Wang XQ, Qian MR, Wang XY, Xu H, Xu MF, Wang Q (2011) Residue analysis and degradation studies of fenbuconazole and myclobutanil in strawberry by chiral high-performance liquid chromatography-tandem mass spectrometry. J Agri Food Chem 59:12012–12017
Acknowledgments
This work was supported by The Key SQT Innovation Team of Zhejiang Province for Agro-Products Standards and Testing Technology (Grant No. 2010R50028).
Additional information
The authors Sun Caixia and Zhang Hu contributed equally to this work.
About this article
Cite this article
Sun, C., Zhang, H., Tang, T. et al. Comparison of Greenhouse and Field Degradation Behaviour of Isoprocarb, Hexaflumuron and Difenoconazole in Perilla frutescens . Bull Environ Contam Toxicol 89, 868–872 (2012). https://doi.org/10.1007/s00128-012-0765-x
Received:

Accepted:

Published:

Issue Date:
Keywords
Isoprocarb

Hexaflumuron

Difenoconazole

Perilla frutescens