Abstract
Thirty six samples of bovine milk were collected from Chiapas State, Mexico between January 2011 and December 2011 with the intention of identifying and quantifying organochlorine pesticide residues in organic farms. The analyses were done using gas chromatography with an electron capture detector (Ni63). In general the values found in raw milk were lower than the permissible limit proposed by FAO/WHO/Codex Alimentarius 2006. Average concentrations for alpha + beta HCH were 3.62 ng/g, gamma HCH 0.34 ng/g, heptachlor + epoxide 0.67 ng/g, DDT and isomers 1.53 ng/g, aldrin + dieldrin 0.77 ng/g, and endrin 0.66 ng/g (only present in samples from farm 2). The organic milk from Chiapas has shown low concentrations of pesticide residues in recent years and satisfies international and national regulations for commercialization.
Access options
Buy single article
Instant access to the full article PDF.
USD 39.95
Price includes VAT (USA)
Tax calculation will be finalised during checkout.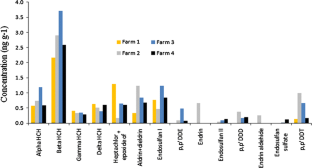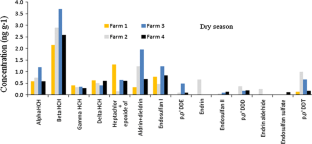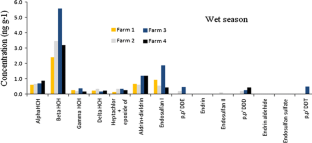 References
Aktar W, Sengupta D, Chowdhury A (2009) Impact of pesticides use in agriculture: their benefits and hazards. Interdiscip Toxicol 2:1–12

Ashnagar A, Naseri NG, Farmad MC (2009) Determination of organochlorine pesticide residues in cow's milk marketed in Ahwaz city of Iran. Int J Pharm Tech Res 1:247–251

Bulut S, Akkaya L, Gök V, Konuk M (2011) Organochlorine pesticide (OCP) residues in cow's, buffalo's, and sheep's milk from Afyonkarahisar region. Turkey Environ Monit Assess 181:555–562

FAO/WHO/Codex Alimentarius (2006) Codex maximum limits for pesticides residues. Codex Alimentarius Commission, FAO and WHO, Rome

Frank R, Smith EH, Braun HE, Holdrinet M, McWade JW (1975) Organochlorine insecticides and industrial pollutants in the milk supply of the Southern Region of Ontario. Canada J Milk Food Technol 38:65–72

Hernández M, Vidal JV, Marrugo JL (2010) Plaguicidas organoclorados en leche de bovinos suplementados con residuos de algodón en San Pedro, Colombia. Revista de Salud pública 12:982–989

Kampire E, Kiremire BT, Nyanzi SA, Kishimba M (2011) Organochlorine pesticide in fresh and pasteurized cow's milk from Kampala markets. Chemosphere 84:923–927

KaushiK CP, Rai SH, Gulati D, Kaushik A (2011) Changing patterns of organochlorine pesticide residues in raw bovine milk from Haryana. India Environ Monit Assess 182:467–475

Ocampo-Camberos L, Rosiles-Martínez R, Tapia-Pérez G, Sumano-López H (2010) Elimination kinetics of lindane at three doses in cow's milk fat. Agrociencia 44:461–469

Radzymińska M, Smoczyński SS, Kopeć M (2008) Persistent organochlorine pesticide, lead, cadmium, nitrate (V) and nitrate (III) in polish milk and dairy products. Polish J Environ Stud 17:95–100

Real M, Ramírez A, Pérez E, Noa M (2005) Residuos organoclorados en leche cruda y pasteurizada de la zona metropolitana de Guadalajara. México Rev Salud Anim 27:48–54

Sharma HR, Kaushik A, Kaushik CP (2007) Pesticide residues in bovine milk from a predominantly agricultural state of Haryana. India Environ Monit Assess 129:349–357

Subir KN, Mukesh KR (2008) Organochlorine pesticide residues in bovine milk. Bull Environ Contam Toxicol 80:5–9

USEPA (United States Environmental Protection Agency) (1981) Manual for analytical quality control for pesticides and related compounds in human and environmental samples. Second revision. EPA-600/2 81-059

Waliszewki S, Villalobos PR, Gómez AS, Infanzón RM (2003) Persistent organochlorine pesticides levels in cow's milk samples from tropical regions of Mexico. Food Addit Contam 20:270–275
Acknowledgments
We thank UAM Xochimilco Campus for financial support of this research and the organic farmers in Chiapas together with the Universidad Autónoma de Chiapas, Facultad de Medicina Veterinaria y Zootecnia for their contributions to the study.
About this article
Cite this article
Gutiérrez, R., Ruíz, J.L., Ortiz, R. et al. Organochlorine Pesticide Residues in Bovine Milk from Organic Farms in Chiapas, Mexico. Bull Environ Contam Toxicol 89, 882–887 (2012). https://doi.org/10.1007/s00128-012-0764-y
Received:

Accepted:

Published:

Issue Date:
Keywords
Pesticides

Residues

Organic milk

Warm climate