Abstract
Gamma-ray treatment of phenol was studied in terms of both chemical degradation and toxicological change. About 90 % of phenol (5.0 × 10−4 M) in ultrapure water (UW) was eliminated by gamma-irradiation at a dose of 10 kGy, but acute toxicity was dramatically increased, particularly for dose of 1 kGy, due to the formation of more toxic by-products such as hydroquinone, benzoquinone, resorcinol and catechol. The addition of TiO2 nanoparticles had little effect on the removal of phenol in UW, but substantially enhanced the mineralization of phenol compared with gamma-irradiation alone. Additionally, degradation of phenol by gamma-irradiation was inhibited in a wastewater effluent (WE) matrix, likely due to the presence of dissolved organic carbon (22.06 mg L−1). Furthermore, lower concentrations of toxic by-products were generated both in WE and in the presence of TiO2 nanoparticles, resulting in reduction of toxicity increase by gamma-irradiation. Meanwhile, the toxicity of gamma-ray treated phenol in WE was well estimated with simple summation of individual toxicity of phenol and by-products (R 2 = 0.9678).
Access options
Buy single article
Instant access to the full article PDF.
USD 39.95
Price includes VAT (USA)
Tax calculation will be finalised during checkout.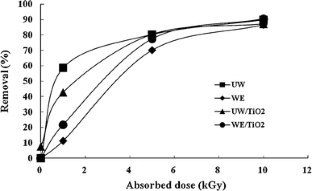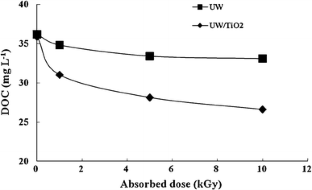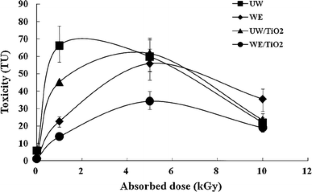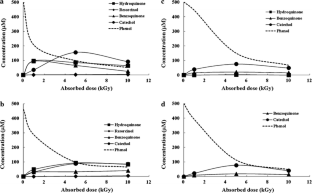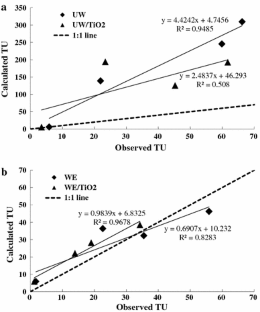 References
Borrely SI, Goncalves AA, Oikawa H, Duarte CL, Rocha FR (2004) Electron beam accelerator for detoxification of effluents. When radiation processing can enhance the acute toxicity? Radiat Phys Chem 71:453–456

Chitose N, Ueta S, Seino S, Yamamoto TA (2003) Radiolysis of aqueous phenol solutions with nanoparticles. 1. Phenol degradation and TOC removal in solutions containing TiO2 induced by UV, γ-ray and electron beams. Chemosphere 50:1007–1013

Follut F, Karpel Vel Leitner N (2007) Radiolysis of aqueous 4-nitrophenol solution with Al2O3 or TiO2 nanoparticles. Chemosphere 66:2114–2119

Gonzalez-Juares JC, Jimenez-Becerril J (2006) Gamma radiation-induced catalytic degradation of 4-chlorophenol using SiO2, TiO2, and Al2O3. Radiat Phys Chem 75:768–772

Guerra R (2001) Ecotoxicological and chemical evaluation of phenolic compounds in industrial effluents. Chemosphere 44:1737–1747

ISO (1996) Water quality—determination of the inhibition of the mobility of Daphnia magna Straus (Cladocera, Crustacea)—acute toxicity test. Third edition. ISO 6341:1996(E). ISO, Geneva

Jo HJ, Lee SM, Kim HJ, Park EJ, Kim JG, Chung HH, Jung J (2006) Modification of textile wastewater treatment system by gamma-irradiation. J Ind Eng Chem 12:615–619

Jo HJ, Park EJ, Cho K, Kim EH, Jung J (2008) Toxicity identification and reduction of wastewaters from a pigment manufacturing factory. Chemosphere 70:949–957

Jung J, Lee MJ (2002) EPR investigation on the efficiency of hydroxyl radical production of gamma-irradiated anatase and bentonite. Water Res 36:3359–3363

Jung J, Yoo DH, Lee MJ (2002) Radiation treatment of TCE and PCE in the presence of anatase, P25 and bentonite. J Radioanal Nucl Chem 251:425–432

Kang SW, Shim SB, Park YK, Jung J (2011) Chemical degradation and toxicity reduction of 4-chlorophenol in different matrices by gamma-ray treatment. Radiat Phys Chem 80:487–490

Krapfenbauer KF, Getoff N (1999) Comparative studies of photo- and radiation-induced degradation of aqueous EDTA. Synergistic effects of oxygen, ozone and TiO2 (acronym: CoPhoRaDe/EDTA). Radiat Phys Chem 55:385–393

OECD (2004) Daphnia sp. acute immobilization test. Guideline for testing of chemicals no. 202. OECD, Paris

Oller I, Malato S, Sanchez-Perez JA (2011) Combination of advanced oxidation processes and biological treatments for wastewater decontamination—a review. Sci Total Environ 409:4141–4166

Pikaev K (1994) Environmental applications of radiation technology. High Energy Chem 28:5–16

Shim SB, Jo HJ, Jung J (2009) Toxicity identification of gamma-ray treated phenol and chlorophenols. J Radioanal Nucl Chem 280:41–46

USEPA (2000) Method guidance and recommendations for Whole Effluent Toxicity (WET) testing. USEPA, Washington

USEPA (2002) Methods for measuring the acute toxicity of effluents and receiving waters to freshwater and marine organisms. USEPA, Washington

Westerhoff P, Mezyk SP, Cooper WJ, Minakata D (2007) Electron pulse radiolysis determination of hydroxyl radical rate constants with Suwannee River fulvic acid and other dissolved organic matter isolates. Environ Sci Technol 41:4640–4646

Yi X, Kim E, Jo HJ, Han T, Jung J (2011) A comparative study on toxicity identification of industrial effluents using Daphnia magna. Bull Environ Contam Toxicol 87:319–323

Zazo JA, Casas JA, Molina CB, Quintanilla A, Rodriguez JJ (2007) Evolution of ecotoxicity upon Fenton's oxidation of phenol in water. Environ Sci Technol 41:7164–7170
Acknowledgments
This work was supported by the National Research Foundation of Korea (NRF) grant (Grant code: 2009-0078350) funded by the Korean government (MEST).
About this article
Cite this article
Kang, SW., Shim, SB., Yoo, J. et al. Effect of Titanium Dioxide Nanoparticles on Gamma-Ray Treatment of Phenol in Different Matrices: Implications in Toxicity Toward Daphnia magna . Bull Environ Contam Toxicol 89, 893–897 (2012). https://doi.org/10.1007/s00128-012-0759-8
Received:

Accepted:

Published:

Issue Date:
Keywords
Acute toxicity

Daphnia magna

Effluent

Gamma rays

Radiation treatment

Titanium dioxide