Abstract
A rapid, simple and reliable analytical method was developed for the determination of cyantraniliprole and its major metabolite J9Z38 in pakchoi and soil by using ultra-performance liquid chromatography–tandem mass spectrometry (UPLC–MS/MS). The sample preparation approach is known as QuEChERS, which stands for quick, easy, cheap, effective, rugged and safe. Samples were extracted with acetonitrile, and cleaned up with dispersive primary and secondary amine sorbent before analysis by UPLC–MS/MS. The limit of quantitation for cyantraniliprole and J9Z38 was 0.01 mg/kg in both pakchoi and soil. Average recoveries of cyantraniliprole and J9Z38 at three fortified levels (0.01, 0.05, 0.1 mg/kg) ranged from 77.8 % to 102.5 % with relative standard deviation of 1.6 %–8.9 %. This method has been applied to the analysis of cyantraniliprole and J9Z38 residues in real pakchoi and soil samples selected from field. The results of the residue dynamic experiment showed that the half-life of cyantraniliprole ranged from 2.9 to 6.4 days in pakchoi and 8.7 to 18.2 days in soil, respectively. The final residual levels of cyantraniliprole in pakchoi and soil from Guangdong and Shanghai were below 0.20 and 0.10 mg/kg, respectively; similarly, the final residual levels of J9Z38 in pakchoi and soil from Guangdong and Shanghai were <0.07 and 0.01 mg/kg. These results will be helpful in setting maximum residue limit guidance for cyantraniliprole in pakchoi in China.
Access options
Buy single article
Instant access to the full article PDF.
USD 39.95
Price includes VAT (USA)
Tax calculation will be finalised during checkout.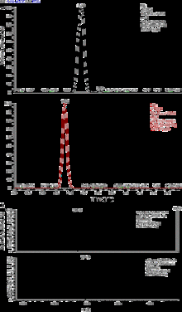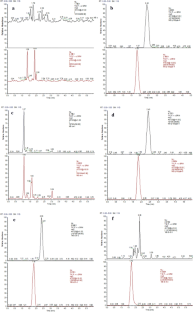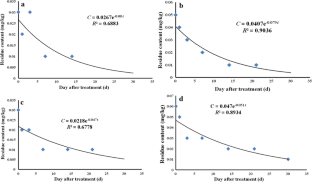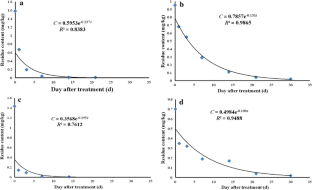 References
Chai BS, He XM, Wang JF, Li ZN, Liu CL (2010) Synthesis of cyantraniliprole and its bioactivity. Agrochemicals 49:167–169

Dong FS, Liu XG, Xu J, Li J, Li YB, Shan WL, Song WC, Zheng YQ (2012) Determination of cyantraniliprole and its major metabolite residues in vegetable and soil using ultra-performance liquid chromatography/tandem mass spectrometry. Biomed Chromatogr 26:37–383

Jacobson AL, Kennedy GG (2011) The effect of three rates of cyantraniliprole on the transmission of tomato spotted wilt virus by Frankliniella occidentalis and Frankliniella fusca (Thysanoptera: Thripidae) to Capsicum annuum. Crop Prot 30:512–515

Sergio CN (2011) High-throughput chemical residue analysis by fast extraction and dilution flow injection mass spectrometry. Analyst 136:285–287

Sergio CN, James JS, Anne MP, Joseph PM, John HM (2011) Fast extraction and dilution flow injection mass spectrometry method for quantitative chemical residue screening in food. J Agric Food Chem 59:7557–7568

Timo S, Timothy AS, Christopher JS, Christopher CM, Thomas C, Michael P, Sergio CN (2011) QuEChERS multiresidue method validation and mass spectrometric assessment for the novel anthranilic diamide insecticides chlorantraniliprole and cyantraniliprole. J Agric Food Chem 59:814–821
About this article
Cite this article
Sun, J., Feng, N., Tang, C. et al. Determination of Cyantraniliprole and its Major Metabolite Residues in Pakchoi and Soil Using Ultra-Performance Liquid Chromatography–Tandem Mass Spectrometry. Bull Environ Contam Toxicol 89, 845–852 (2012). https://doi.org/10.1007/s00128-012-0752-2
Received:

Accepted:

Published:

Issue Date:
Keywords
Cyantraniliprole

J9Z38

UPLC–MS/MS

Residue

Pakchoi