Abstract
Cadmium and lead levels were evaluated in water and sediment along the estuarine ecosystem of Tigre River-San Andres Lagoon (Gulf of Mexico) during September to December 2009. Significant highest metal concentration in water (0.45 mg L−1 Cd and 3.94 mg L−1 Pb) and sediment (2.83 mg kg−1 Cd and 6.61 mg kg−1 Pb) were found at the mouth of the Tigre River, where the fishing town of El Moron is located. Cadmium levels in sediment were above limits associated with adverse biological effects on aquatic fauna, so negative impacts on natural populations of aquatic organisms would be expected to occur. This in turn could affect the fishery resources inhabiting this ecosystem.
Access options
Buy single article
Instant access to the full article PDF.
USD 39.95
Price includes VAT (USA)
Tax calculation will be finalised during checkout.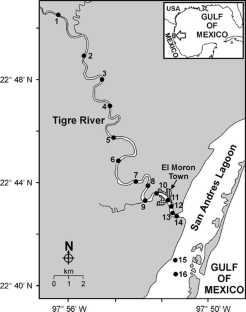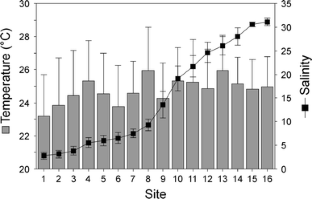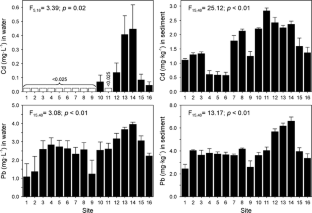 References
Cook ME, Morrow H (1995) Anthropogenic sources of cadmium in Canada. National workshop on cadmium transport into plants. Canadian Network of Toxicology Centres, Ottawa

Dauvin JC (2008) Effects of heavy metal contamination on the macrobenthic fauna in estuaries: the case of the Seine estuary. Mar Pollut Bull 57:160–169

Frías-Espericueta MG, Osuna-López I, Bañuelos-Vargas I, López-López G, Muy-Rangel MD, Izaguirre-Fierro G, Rubio-Carrasco W, Meza-Guerrero PC, Voltolina D (2009) Cadmium, copper, lead and zinc contents of the mangrove oyster, Crassostrea corteziensis, of seven coastal lagoons of NW Mexico. Bull Environ Contam Toxicol 83:595–599

Gillet P, Mouloud M, Durou C, Deutsch B (2008) Response of Nereis diversicolor population (Polychaeta, Nereididae) to the pollution impact—Authie and Seine estuaries (France). Estuar Coast Shelf Sci 76:201–210

Green-Ruiz C, Páez-Osuna F (2003) Heavy metal distribution in surface sediments from a subtropical coastal lagoon system associated with an agricultural basin. Bull Environ Contam Toxicol 71:52–59

Lawrence A, Hemingway K (2003) Effects of pollution on fish. Molecular effects and population responses. Blackwell Science Ltd, Iowa

Long ER, Macdonald DD, Smith SL, Calder FD (1995) Incidence of adverse biological effects within ranges of chemical concentrations in marine and estuarine sediments. Environ Manage 19:81–97

Sadiq M (1992) Cadmium in the marine environment. In: Sadiq M (ed) Toxic metal chemistry in marine environments. Marcel Dekker, New York, p 390

Sharma VK, Rhudy KV, Koening R, Vazquez FG (1999) Metals in sediments of the upper Laguna Madre. Mar Pollut Bull 38:1221–1226

Sheehan PJ (1984) Effects on individuals and populations. In: Sheehan PJ, Miller DR, Butler GC, Bourdeau P (eds) Effects of pollutants at the ecosystem level. Wiley, New York, p 443

Vazquez FG, Sharma VK (2004) Major and trace elements in sediments of the Campeche Sound, southeast Gulf of Mexico. Mar Pollut Bull 48:87–90

Vázquez-Sauceda ML, Aguirre-Guzmán G, Sánchez-Martínez JG, Pérez-Castañeda R (2011) Cadmium, lead and zinc concentrations in water, sediment and oyster (Crassostrea virginica) of San Andres Lagoon, Mexico. Bull Environ Contam Toxicol 86:410–414

Villanueva FS, Botello AV (1998) Metal pollution in coastal areas of Mexico. Rev Environ Contam Toxicol 157:53–94
Acknowledgments
This work is part of the doctoral thesis of M.L.V.-S. at Universidad Autónoma de Tamaulipas. Financial support from FOMIX (CONACYT-Gobierno del Estado de Tamaulipas: Project TAMPS-2008-C17-107382) and CONACYT (grant to M.L.V.-S.) is acknowledged.
About this article
Cite this article
Vázquez-Sauceda, M.L., Pérez-Castañeda, R., Sánchez-Martínez, J.G. et al. Cadmium and Lead Levels Along the Estuarine Ecosystem of Tigre River-San Andres Lagoon, Tamaulipas, Mexico. Bull Environ Contam Toxicol 89, 782–785 (2012). https://doi.org/10.1007/s00128-012-0750-4
Received:

Accepted:

Published:

Issue Date:
Keywords
Cadmium

Lead

Estuary

Gulf of Mexico