Abstract
Concentrations of Cd, Co, Cu, Ni, Pb, Fe and Zn were determined in the muscle, liver and gills of three commercial benthic and pelagic fish species (Johnius belangerii, Euryglossa orientalis and Cynoglossus arel) from three estuaries in the northwest Persian Gulf. Metals levels varied significantly depending on the tissues, species and locations. Generally, the results showed that liver accumulate higher concentrations of the metals in comparison to muscle and gills, except in few cases. Among the species, E. orientalis showed the highest levels of Co, Cu, Ni and Fe, while the highest concentrations of Pb and Zn were observed in C. arel. J. belangerii accumulated the highest level of Pb element.
Access options
Buy single article
Instant access to the full article PDF.
USD 39.95
Price includes VAT (USA)
Tax calculation will be finalised during checkout.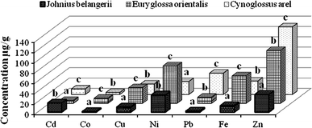 References
Agah H, Leermakers M, Elskens M, Fatemi SMR, Baeyens W (2009) Accumulation of trace metals in the muscle and liver tissues of five fish species from the Persian Gulf. Environ Monit Assess 157:499–514

Allen-Gil SM, Martynov VG (1995) Heavy metals burdens in nine species of freshwater and anadromous fish from the Pechora River, northern Russia. Sci Total Environ 160–161:653–659

Al-Saad HT, Shamshoom SM, Abaychi JK (1998) Seasonal distribution of dissolved and particulate hydrocarbons in Shatt Al-Arab Estuary and the North-West Persian Gulf. Mar Pollut Bull 36:850–855

Al-Saleh I, Shinwari N (2002) Preliminary report on the levels of elements in four fish species from the Arabian Gulf of Saudi Arabia. Chemosphere 48:749–755

Al-Yousuf MH, El-Shahawi MS, Al-Ghais SM (2000) Trace metals in liver, skin and muscle of Lethrinus lentjan fish species in relation to body length and sex. Sci Total Environ 256:87–94

Bowen HJM (1979) Environmental chemistry of the elements. Academic Press, London, p 269

Bustamante P, Bocher P, Cherel Y, Miramand P, Caurant F (2003) Distribution of trace elements in the tissues of benthic and pelagic fish from the Kerguelen Islands. Sci Total Environ 313:25–39

Chen MH, Chen CY (1999) Bioaccumulation of sediment-bound heavy metal in grey Mullet, Liza macrolepis. Mar Pollut Bull 39:239–244

De Mora S, Fowler S, Wyse E, Azemard S (2004) Distribution of heavy metals in marine bivalves, fish and coastal sediments in Persian Gulf and Gulf of Oman. Mar Pollut Bull 49:410–424

FAO (Food and Agriculture Organization) (1983) Compilation of legal limits for hazardous substances in fish and fishery products. FAO Fishery Circular, 464, pp 5–10. Food and Agriculture Organization of the United Nations, Rome

Farkas A, Salanki J, Specziar A (2003) Age- and size-specific patterns of heavy metals in the organs of freshwater fish Abramis brama L. populating a low-contaminated site. Water Res 37:959–964

Henry F, Amara R, Courcot L, Lacouture D, Bertho ML (2004) Heavy metals in four fish species from the French coast of the Eastern English Channel and Southern Bight of the North Sea. Environ Int 30:675–683

Huang WB (2003) Heavy metal concentration in the common benthic fishes caught from the coastal waters of Eastern Taiwan. J Food Drug Anal 11:324–330

Karadede HL, Oymak SA, Unlu E (2004) Heavy metals in mullet, Liza abu, and catfish, Silurus triostegus, from the Ataturk Dam Lake (Euphrates), Turkey. Environ Int 30:183–188

Navarro MC, Perez-Sirvent C, Martınez-Sanchez MJ, Vidal J, Marimon J (2006) Lead, cadmium and arsenic bioavailability in the abandoned mine site of Cabezo Rajao (Murcia, SE Spain). Chemosphere 63:484–489

Pourang N, Nikouyan A, Dennis JH (2005) Trace element concentrations in fish, surficial sediments and water from northern part of the Persian Gulf. Environ Monit Assess 109:293–316

Safahieh A, Abdolahpur Monikh F, Savari A (2011) Heavy metals contamination in sediment and Sole fish (Euryglossa orientalis) from Musa estuary (Persian Gulf). W J Fish Mar Sci 3:290–297

Sen A, Semiz A (2007) Effects of metals and detergents on biotransformation and detoxification enzymes of leaping mullet (Liza saliens). Ecotoxicol Environ Saf 68:405–411

Sheppard C, Al-Husiani M, Al-Jamali F, Al-Yamani F, Baldwin R, Bishop J, Benzoni F, Dutrieux E, Dulvy NK, Durvasula SRV, Jones DA, Loughland R, Medio D, Nithyanandan M, Pillingm GM, Polikarpov I, Price ARG, Purkis S, Riegl B, Saburova M, Samimi Namin K, Taylor O, Wilson S, Zainal Z (2010) The Gulf: a young sea in decline. Mar Pollut Bull 60:13–38

Svensson BG, Schutz A, Nilsson A, Akesson I, Akesson B, Skerfving S (1992) Fish as a source of exposure to mercury and selenium. Sci Total Environ 126:61–74

Tuzen M (2009) Toxic and essential trace elemental contents in fish species from the Black Sea, Turkey. Food Chem Toxicol 47:1785–1790

WHO (World Health Organization) (1996) Health criteria other supporting information. In: Guidelines for drinking water quality, 2nd ed, pp 31–388, Geneva

Yi Y, Wang Z, Zhang K, Yu G, Duan X (2008) Sediment pollution and its effect on fish through food chain in the Yangtze River. Int J Sediment Res 23:338–347

Yilmaz AB (2003) Levels of heavy metals (Fe, Cu, Ni, Cr, Pb and Zn) in tissue of Mugil cephalus and Trachurus mediterraneus from Iskenderun Bay, Turkey. Environ Res 92:277–281

Yilmaz AB, Yilmaz L (2007) Influences of sex and seasons on levels of heavy metals in tissues of green tiger shrimp (Penaeus semisulcatus). Food Chem 101:1664–1669

Yilmaz F, Ozdemir N, Demirak A, Levent Tuna A (2007) Heavy metal levels in two fish species Leuciscus cephalus and Lepomis gibbosus. Food Chem 100:830–835
Acknowledgments
This study was supported by Toseeye Manabe Tabieie Paydar institute.
About this article
Cite this article
Abdolahpur Monikh, F., Peery, S., Karami, O. et al. Distribution of Metals in the Tissues of Benthic, Euryglossa orientalis and Cynoglossus arel., and Bentho-Pelagic, Johnius belangerii., Fish from Three Estuaries, Persian Gulf. Bull Environ Contam Toxicol 89, 489–494 (2012). https://doi.org/10.1007/s00128-012-0747-z
Received:

Accepted:

Published:

Issue Date:
Keywords
Persian Gulf

Musa estuary

Benthic

Benthopelagic

Pelagic