Abstract
The effect of mercuric chloride on the histo-morphology and bioaccumulation in the kidney of an Indian major carp, Labeo rohita (Hamilton) were examined after exposing the fish (15–20 cm) to three sublethal concentrations (0.033, 0.066 and 0.132 mg/L) of HgCl2 for 30 days. Mercury deposition in kidney tissues had increased significantly with dose and exposure duration dependant manner. Several histological changes were noted in the kidney of all treated groups in compare to control group.
Access options
Buy single article
Instant access to the full article PDF.
USD 39.95
Price includes VAT (USA)
Tax calculation will be finalised during checkout.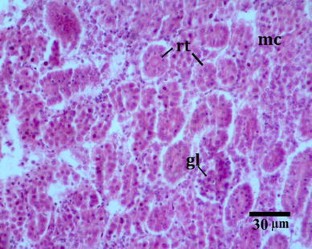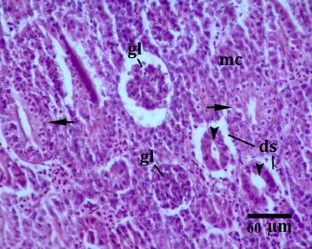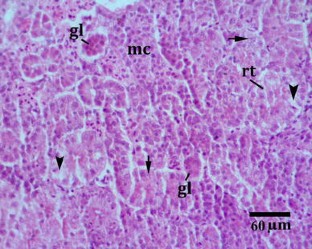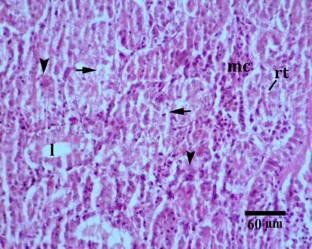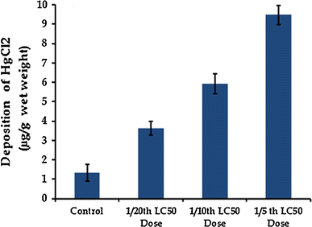 References
APHA (2010) Standard methods for the examination of water and wastewater. In: Clesceri LS, Greenberg AE, Eaton AD, 20th edn.

Bäckström J (1969) Distribution studies of mercuric pesticides in quail and some freshwater fishes. Acta Pharmacol Toxicol 27:5–103

Bakshi N (1991) Toxicity effect of copper on the survival, behaviour and histopathological changes in the liver, intestine and kidney in a freshwater teleost, Heteropneustes fossilis (Bloch). Uttar Pradesh J Zool 11:117–120

Banerjee S, Bhattacharya S (1994) Histopathology of kidney of Channa punctatus exposed to chronic non-lethal levels of elsan, mercury and ammonia. Ecotoxicol Environ Safe 29:265–275

Clarkson TW, Magos L (2006) The toxicology of mercury and its chemical compounds. Crit Rev Toxicol 36:609–662

Dallinger R, Prosi F, Segner H, Back H (1987) Contaminated food and uptake of heavy metals by fish: a review and a proposal for further research. Oecologia 73:91–98

Finney DJ (1971) Probit analysis, 3rd edn. Cambridge University Press, Cambridge, pp 25–26

Ghosh A, Sil PC (2008) A protein from Cajanus indicus Spreng protects liver and kidney against mercuric chloride-induced oxidative stress. Biol Pharm Bull 31:1651–1658

Gill TS, Pant JC, Pant J (1988) Gill, liver, and kidney lesions associated with experimental exposures to carbaryl and dimethoate in the fish (Puntius conchonius ham.). Bull Environ Contam Toxicol 41:71–78

Gill TS, Pant JC, Tewari H (1989) Cadmium nephropathy in a freshwater fish, Puntius conchonius hamilton. Ecotoxicol Environ Safe 18:165–172

Gupta P, Srivastava N (2006) Effects of sublethal concentrations of zinc on histological changes and bioaccumulation of zinc by kidney of fish Channa punctatus (Bloch). J Environ Bio 27:211–215

Jernelöv A, Lann H (1971) Mercury accumulation in food chain. Oikos 22:403–406

Kaoud HA, El-dahshan AR (2010) Bioaccumulation and histopathological alterations of the heavy metals in Oreochromis niloticus fish. Nat Sci 8:147–156

Kirubagaran R, Joy KP (1988) Toxic effects of three mercurial compounds on survival, and histology of the kidney of the catfish Clarias batrachus (L.). Ecotoxicol Environ Safe 15:171–179

McCoy CP, O'Hara TM, Bennett LW, Boyle CR, Lynn BC (1995) Liver and kidney concentrations of zinc, copper and cadmium in channel catfish (Ictalurus punctatus): variations due to size, season and health status. Vet Human Toxicol 37:11–15

Ortiz JB, Canales MLGD, Sarasquete C (2003) Histopathological changes induced by lindane (γ-HCH) in various organs of fishes. Sci Mar 67:53–61

Passow HA, Rothstein H, Clarkson TW (1961) The general pharmacology of the heavy metals. Pharmacol Rev 13:185–225

Prashanth MS (2011) Histopathological changes observed in the kidney of freshwater fish Cirrhinus mrigala (Hamilton) exposed to cypermethrin. Rec Res in Sci Tech 3:59–65

Ram RN, Sathyanesan AG (1986) Effect of mercurial fungicide on the gonadal development of the teleostean fish Channa punctatus(Bloch). Ecotoxicol Environ Safe 11:352–360

Thophon S, Kruatrachue M, Upatham ES, Pokethitiyook P, Sahaphong S, Jaritkhuan S (2003) Histopathological alterations of white seabass, Lates calcarifer, in acute and subchronic cadmium exposure. Environ Poll 121:307–320

Vahter M, Åkesson A, Lind B, Björs U, Schütz A, Berglund M (2000) Longitudinal study of methylmercury and inorganic mercury in blood and urine of pregnant and lactating women, as well as in umbilical cord blood. Environ Res Section A 84:186–194

WHO (1991) Inorganic mercury. Environmental health criteria 118. International programme on Chemical Safety, World health Organization, Geneva
Acknowledgments
The authors are thankful to the University Grant Commission, New Delhi, India for financial support and to the Head, Department of Zoology, Visva-Bharati University, Santiniketan, West Bengal for providing the laboratory facilities. We are also thankful to Mr. Amitabha Ghosh, Metallurgy Department, Jadavpur University for his assistance during atomic absorption spectrophotometry study.
About this article
Cite this article
Ghosh, D., Mandal, D.K. Histopathological Effects and Bioaccumulation of Mercury in the Kidney of an Indian Major Carp, Labeo rohita (Hamilton). Bull Environ Contam Toxicol 89, 479–483 (2012). https://doi.org/10.1007/s00128-012-0743-3
Received:

Accepted:

Published:

Issue Date:
Keywords
Labeo rohita

Mercuric chloride

Kidney

Bioaccumulation

Histopathology