Abstract
In the present study, concentrations of organochlorine pesticide residues viz. Dichlorodiphenyltrichloroethane and its metabolites (DDTs) and Hexachlorocyclohexane isomers (HCHs) in human breast milk and human blood samples, collected from several high altitude regions of Garhwal Himalaya in Uttarakhand, India viz. Devprayag, Chamoli, Uttarkashi, Joshimath, Bhatwari and Gangnani (altitude ranging from 472 to 1,982 m above sea level) were determined. Mean concentrations of HCH and DDT in human milk samples ranged from 4.53 to 34.32 mg/kg and 6.09 to 12.98 mg/kg, respectively. While the human blood showed mean values ranging from 6.64 to 281.7 μg/L and 12.37 to 104.10 μg/L for HCH and DDT, respectively. The study showed much higher concentrations of organochlorine residue contamination in the Garhwal region as compared to other parts of India. Risk assessments for infants were also calculated and were found within WHO limits.
Access options
Buy single article
Instant access to the full article PDF.
USD 39.95
Price includes VAT (USA)
Tax calculation will be finalised during checkout.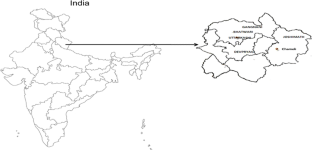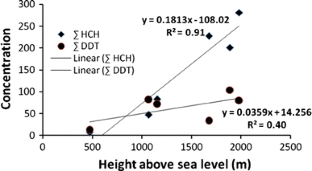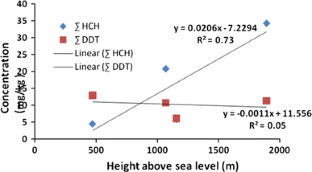 References
Banerjee BD, Zaidi SS, Pasha ST, Rawat DS, Koner BC, Hussain QZ (1997) Levels of HCH residues in human milk samples from Delhi, India. Bull Environ Contam Toxicol 59(3):403–406

Bhatnagar VK (2001) Pesticide pollution: trends and perspective. ICMR Bull 31:85–93

Blais JM, Schindler DW, Muir DCG, Kimpe LE, Donald DB, Rosenberg B (1998) Accumulation of persistent organochlorine compounds in mountains of Western Canada. Nature 395:585–588

Czaja K, ludwicki JK, Goraiczy KK (1997) Effect of age and number of deliveries on mean concentration of OC compounds in human breast milk in Poland. Bull Environ Contam Toxicol 59:407

Dua VK, Pant CS, Sharma VP, Pathak GK (1996) Determination of HCH and DDT in finger-prick whole blood dried on filter paper and its field application for monitoring concentration in blood. Bull Environ Contam Toxicol 56:50–57

Dua VK, Kumari R, Sharma VP, Subbarao SK (2001) Organochlorine residues in human blood from Nainital (U.P.), India. Bull Environ Contam Toxicol 67(1):42–45

Hooper K, Hopper K, Petreas MX, She J, Visita P, Winkler J, McKinney M, Mok M, Sy F, Garcha J, Gill M, Stephens RD, Semenova G, Sharmanov T, Chuvakova T, Hopper K (1997) Analysis of breast milk to assess exposure to chlorinated contaminants in Kazakstan: PCBs and organochlorine pesticides in southern Kazakstan. Environ Health Perspect 105(11):1250–1254

Jensen AA (1983) Chemical contaminants in human milk. Residue Rev 89:1

Jensen AA, Slorach SA (1991) Chemical contaminants in human milk. CRC Press, Boston

Klumpp DW, Huasheng H, Humphrey C, Xinhong W, Codi S (2002) Toxic contaminants and their biological effects in coastal waters of Xiamen, China. I. Organic pollutants in mussel and fish tissues. Mar Pollut Bull 44:752–760

Kunisue T, Someya M, Kayama F, Jin Y, Tanabe S (2004) Persistent organochlorines in human breast milk collected from primiparae in Dalian and Shenyang, China. Environ Pollut 131:381–392

Minh NH, Someya M, Minh TB, Kunisue T, Iwata H, Watanabe M, Tanabe S, Viet PH, Tuyen BC (2004) Persistent organochlorine residues in human breast milk from Hanoi and Hochiminh City, Vietnam: contamination, accumulation kinetics and risk assessment for infants. Environ Pollut 129(3):431–441

Ntow WJ, Tagoe LM, Drechsel P, Kelderman P, Gijzen HJ, Nyarko E (2008) Accumulation of persistent organochlorine contaminants in milk and serum of farmers from Ghana. Environ Res 106:17–26

Pfeilsticker K (1973) Pesticides in children food. Monat Kinder 121(8):551–553

Sharma M, Bhatnagar P (1996) Organochlorine pesticides and preterm labour in human beings. Curr Sci 71(8):628–631

Slorach SA, Vaz R (1985) PCB levels in breast milk: data from the UNEP/WHO pilot project on biological monitoring and some other recent studies. Environ Health Perspect 60:121–126

Steinwandter H, Schlüter H (1978) Experiments on lindane metabolism in plants. IV: A kinetic investigation. Bull Environ Contam Toxicol 20(2):174–179

Subramaniam K, Solomon RDJ (2006) Organochlorine pesticides BHC and DDE in human blood in and around Madurai, India. Indian J Clin Biochem 21(2):169–172

Sudaryanto A, Kunisue T, Kajiwara N, Iwata H, Adibroto TA, Hartona P, Tanabe S (2006) Specific accumulation of organochlorines in human breast milk from Indonesia: levels, distribution, accumulation kinetics and infant health risk. Environ Pollut 139:107–117

Szokolay A, Madaric A, Uhnak J (1977) Relative accumulation of beta-BHC in ecological and biological system. J Environ Sci Health B 12(3):193–212

Wania F, Mackay D (1996) Tracking the distribution of persistent organic pollutants. Environ Sci 30:390–396

Wong CKC, Leung KM, Poon BHT, Lan CY, Wong MH (2002) Organochlorine hydrocarbons in human breast milk collected in Hong Kong and Guangzhou. Arch Environ Cont Toxicol 43:364–372

Yu HF, Zhu ZQ (2001) Pollution level of organochlorine (DDT, HCHs) in human milk of Beijing City 1998. China Public Health 17:735 (Chinese)
Acknowledgments
The authors are grateful to the G.B. Pant Institute of Himalayan Environment and Development Kosi Katarmal, Almora, Uttarakhand India for financial assistance for present study.
About this article
Cite this article
Rai, S., Dua, V.K. & Chopra, A.K. Bio-monitoring of Persistent Organochlorines in Human Milk and Blood Samples from Sub-Himalayan Region of India. Bull Environ Contam Toxicol 89, 592–597 (2012). https://doi.org/10.1007/s00128-012-0741-5
Received:

Accepted:

Published:

Issue Date:
Keywords
DDT

HCH

Organochlorines

Persistent

Residues