Abstract
Thiacloprid residues were estimated in green tea leaves, processed tea and tea infusion by HPLC-Diode Array detection. The average initial deposits of thiacloprid (Alanto 240 SC) on the green tea leaves were found to be 3.72 and 6.77 μg g−1 at single and double doses, respectively. The results showed that thiacloprid dissipated faster in green tea leaves following a first order reaction kinetics at both application rates. The amount of dissipation in 14 days was 93.37 % and 91.62 % for single and double doses respectively. Half life (T1/2) for degradation of thiacloprid in green tea leaves were observed to be 3.34 and 3.58 days at single and double doses respectively. Thiacloprid residues in processed tea ranged from 0.16 to 0.63 μg g−1 on seventh day and no residues could be detected on 14th day at single dose. Infusion study indicated that thiacloprid did not infuse into tea liquor from processed tea. The limit of determination was found to be 0.05 μg g−1.
Access options
Buy single article
Instant access to the full article PDF.
USD 39.95
Price includes VAT (USA)
Tax calculation will be finalised during checkout.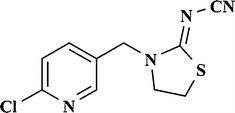 References
Banerjee H, Ganguly P, Roy S, Banerjee D, Paramasivam M, Banerjee T, Sharma KK (2010) Persistence and safety risk assessment of propineb in Indian tea. Environ Monit Assess 170:311–314

Biswas PK, Pramanik SK, Mitra SR, Bhattacharyya A (2007) Persistence of Napropamide in/on tea under North-East Indian climatic condition. Bull Environ Contam Toxicol 79:566–569

Gupta M, Shanker A (2008) Persistence of acetamiprid in tea and its transfer from made tea to infusion. Food Chem 111:805–810

Gupta S, Gajbhiye VT, Gupta RK (2008) Effect of light on the degradation of two Neonicotinoids viz Acetamiprid and Thiacloprid in Soil. Bull Environ Contam Toxicol 81:185–189

Tomlin CDS (2006) The pesticide smanual: a world compendium. British crop protection council, Alton, Hampshire, UK
Acknowledgments
The authors are indebted to Department of Agricultural Entomology for providing infrastructural facilities, Tamil Nadu Agricultural University, Coimbatore, India for conduct the experiment and M/S Bayer CropScience, India for providing the necessary financial support to accomplish this project.
About this article
Cite this article
Paramasivam, M., Kavitha, J. & Chandrasekaran, S. Persistence Behaviour of Thiacloprid Residues in/on Green Tea Leaves, Processed Tea and Tea Infusion. Bull Environ Contam Toxicol 89, 602–605 (2012). https://doi.org/10.1007/s00128-012-0732-6
Received:

Accepted:

Published:

Issue Date:
Keywords
Thiacloprid

HPLC

Residues

Tea

Tea infusion