Abstract
Mean Cd trend in the muscle of omnivorous (O), planktivorous (P), benthopelagic-carnivorous (BPC), and benthic carnivorous (BC) fish of one lagoon of NW Mexico was BPC > BC > P > O (0.89, 0.59, 0.55 and 0.24 μg g−1). That of Pb was P > BC > O > BPC (1.07, 0.48, 0.17 and 0.04 μg g−1). In the liver Cd was P > BPC > O > BC (5.09, 2.40, 2.07 and 1.95 μg g−1). Pb was P > O > BPC > BC (0.63, 0.40, 0.13 and 0.07 μg g−1). There were no differences in Cd and Pb contents due to feeding habits, and the correlations between metals and troph level were not significant (p > 0.05 in all cases).
Access options
Buy single article
Instant access to the full article PDF.
USD 39.95
Price includes VAT (USA)
Tax calculation will be finalised during checkout.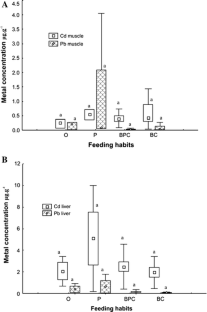 References
Amezcua F, Madrid-Vera J, Aguirre H (2009) Incidental capture of juvenile fish from an artisanal fishery in a coastal lagoon in the Gulf of California. N Am J Fish Manag 29:245–255

Amezcua-Linares F (2009) Peces demersales del Pacífico Mexicano. Editores de la Noche, Guadalajara

Bryan GW, Langston WJ (1992) Bioavailability, accumulation and effects of heavy metals in sediments to United Kingdom estuaries: a review. Environ Pollut 76:89–131

Bustamante P, Bocher P, Chérel Y, Miramand P, Caurant F (2003) Distribution of trace elements in the tissues of benthic and pelagic fish from the Kerguelen Islands. Sci Tot Environ 313:25–39

Eggold BT, Motta PJ (1992) Ontogenetic dietary shifts and morphological correlates in striped mullet, Mugil cephalus. Environ Biol Fishes 34:139–158

Fisher NS, Hook SE (2002) Toxicology tests with aquatic animals need to consider the trophic transfer of metals. Toxicology 181:531–536

Frías-Espericueta MG, Osuna-López JI, Izaguirre-Fierro G, Aguilar-Juárez M, Voltolina D (2010a) Cadmio y plomo en organismos de importancia comercial de la zona costera de Sinaloa, México: 20 años de estudios. Oceánides 25:27–39

Frías-Espericueta MG, Quintero-Álvarez JM, Osuna-López JI, Sánchez-Gaxiola CM, López-López G, Izaguirre-Fierro G, Voltolina D (2010b) Metal contents of four commercial fish species of NW Mexico. Bull Environ Contam Toxicol 85:334–338

Froese R, Pauly D (2012) FishBase. World Wide Web electronic publication. www.fishbase.org, version 02/2012

González-Félix ML, Pérez-Velázquez M, Quintero-Álvarez JM (2009) Effects of various dietary levels of docosahexanoic and arachidonic acids and different level of n-3/n-6 ratios on biological performance of Pacific white shrimp Litopenaeus vannamei raised in low salinity. J World Aquac Soc 40:194–206

Jara-Marini ME, Soto-Jiménez MF, Páez-Osuna F (2009) Trophic relationships and transference of cadmium, copper, lead and zinc in a subtropical coastal lagoon food web from SE Gulf of California. Chemosphere 77:1366–1373

Moody JR, Lindstrom RN (1977) Selection and cleaning of plastic containers for storage of trace elements samples. Anal Chem 49:2264–2267

Soto-Jiménez MF, Flegal AR (2009) Origin of lead in the Gulf of California ecoregion using stable isotopes analyses. J Geochem Explor 101:209–217

Soto-Jiménez MF, Hibdon SA, Rankin CW, Aggarwal J, Ruiz-Fernández AC, Páez-Osuna F, Flegal AR (2006) Chronicling a century of lead pollution in Mexico: stable lead isotopic composition analyses of dated sediment cores. Environ Sci Technol 40:764–770

Soto-Jiménez MF, Amezcua F, González-Ledesma F (2010) Nonessential metals in striped marlin and Indo-pacific sailfish in the southeast Gulf of California: concentration and human health risk. Arch Environ Contam Toxicol 58:810–818

USFDA (1993) Guidance documents for trace metal elements in seafood. FDA Centre of Food Safety and Applied Nutrition, Washington

Viarengo A, Nott A (1993) Mechanism of heavy metals cation homeostasis in marine invertebrates. Comp Biochem Physiol 3C:355–372

WHO (1998) International programme on chemical safety (IPCS) Environmental health criteria. Lead-environmental, vol 5. World Health Organization, Washington

Zar JH (1999) Biostatistical analysis. Prentice Hall, Upper Saddle River
Acknowledgments
J. Payán identified the fish specimens. H. Bojórquez & A. Rojas helped with laboratory work.
About this article
Cite this article
Quintero-Alvarez, J.M., Soto-Jiménez, M.F., Amezcua, F. et al. Cadmium and Lead Concentrations in the Fish Tissues of a Coastal Lagoon System of the SE Gulf of California. Bull Environ Contam Toxicol 89, 820–823 (2012). https://doi.org/10.1007/s00128-012-0730-8
Received:

Accepted:

Published:

Issue Date:
Keywords
Fish tissues

Metal contents

Lead

Cadmium