Abstract
Emamectin benzoate residue dynamics and final residues in supervised field trials at GAP conditions were studied. An HPLC–MS analytical method for the determination of emamectin benzoate in cabbage and soil was developed. The recoveries of emamectin benzoate on cabbage and soil were observed from 71 % to 102 % at fortification levels of 0.01, 0.1 and 1.0 mg/kg. The reported limit of quantification (LOQ) was found to be 0.01 mg/kg. The dissipation experiments showed the half-lives (T1/2) of emamectin benzoate was around 1 days. At pre-harvest intervals (PHI) of 7 and 12 days, emamectin benzoate residue was observed to be below the LOQ.
Access options
Buy single article
Instant access to the full article PDF.
USD 39.95
Price includes VAT (USA)
Tax calculation will be finalised during checkout.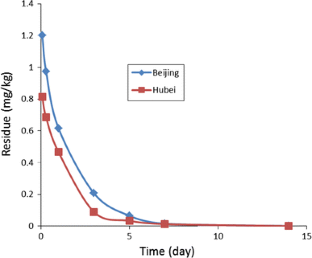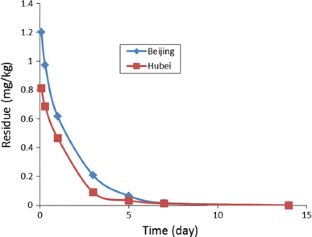 References
Amechi CC, William FF, Thomas JB, Louis SC, Peter GW (1996) Uptake of emamectin benzoate residues from soil by rotational crops. J Agric Food Chem 44:4015–4021

Crouch LS, Wrzesinski CL, Feely WF (1997a) Fate of [C-14/H-3] emamectin benzoate in cabbage. 1. Extractable residues. J Agric Food Chem 45:2744–2757

Crouch LS, Wrzesinski CL, Feely WF (1997b) Fate of H-3 and C-14 emamectin benzoate in lactating goats. J Agric Food Chem 45:2744–2757

Hicks MB, Payne LD, Prabhu SV, Wehner TA (1997) Determination of emamectin benzoate in freshwater and seawater at picogram-per-milliliter levels by liquid chromatography with fluorescence detection. J AOAC Int 80:1098–1103

Krogh KA, Bjorklund E, Loeffler D (2008) Development of an analytical method to determine avermectins in water, sediments and soils using liquid chromatography-tandem mass spectrometry. J Chromatogr A 1211:60–69

Li MH, Chen WT, Li MY, Han LJ (2011) Dissipation and residues of emamectin benzoate study in paddy under field conditions. Bull Environ Contam Toxicol 87:699–702
Acknowledgments
The authors are grateful for the support from Chinese National Modern Industrial Technology System Foundation, P. R. of China (Project No: CARS-09-G15) and Chinese National Natural Science Foundation Support (Project No: 31171872).
About this article
Cite this article
Liu, S., Zhang, F., Wang, L. et al. Dissipation and Residues of Emamectin Benzoate in Cabbage. Bull Environ Contam Toxicol 89, 654–657 (2012). https://doi.org/10.1007/s00128-012-0729-1
Received:

Accepted:

Published:

Issue Date:
Keywords
Cabbage

Emamectin benzoate

Dissipation

Residue