Abstract
Ataturk Dam Lake, the largest impounded lake in Turkey, has been contaminated by domestic, industrial and agricultural effluents coming from Adiyaman city. In this study, we investigated the possible effects of pollutants on several biochemical parameters in the cyprinid fish, Cyprinus carpio, by comparing the parameters in fish collected from a polluted area (Sitilce) to a relatively clean area (Samsat) in August 2011. The activities of alanine aminotransferase, aspartate aminotransferase, alkaline phosphatase and lactate dehydrogenase and levels of cortisol, glucose, and K increased while total protein, cholesterol, Ca, Na and Cl levels decreased in fish from the Sitilce site when compared to the Samsat site. The observed alterations in these biochemical parameters indicate that the Ataturk Dam Lake is affected by untreated wastewater discharges.
Access options
Buy single article
Instant access to the full article PDF.
USD 39.95
Price includes VAT (USA)
Tax calculation will be finalised during checkout.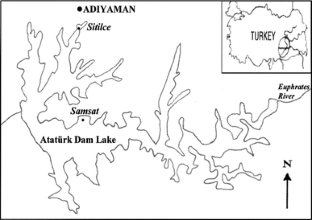 References
Adams SM, Ham KD, Greeley MS, LeHew RF, Hinton DE, Saylor CF (1996) Downstream gradients in bioindicator responses: point source contaminant effects on fish health. Can J Fish Aquat Sci 53:2177–2187

APHA (1998) Standard methods for the examination of water and wastewater, 20th edn. American Public Health Association, Washington, DC

Bucher F, Hofer R (1990) Effects of domestic wastewater on serum enzyme activities of brown trout (Salmo trutta). Comp Biochem Physiol 97C:381–385

Fırat Ö, Kargin F, Korkmaz S (2010) Determining of heavy metal levels Cyprinus carpio and Capoeta trutta, economical important species, from Atatürk Dam Lake. In: Final report of scientific research projects of Adiyaman University, Project Number FEFBAP2008/0004, Adiyaman, pp 1–16

Fırat Ö, Cogun HY, Yüzereroğlu TA, Gök G, Fırat Ö, Kargin F, Kötemen Y (2011) A comparative study on the effects of a pesticide (cypermethrin) and two metals (copper, lead) to serum biochemistry of Nile tilapia, Oreochromis niloticus. Fish Physiol Biochem 37:657–666

Groff JM, Zinkl JG (1999) Hematology and clinical chemistry of cyprinid fish. Vet Clin N Am Exot Anim Pract 2:741–776

Harvey RB, Kubena LF, Elissalde M (1994) Influence of vitamin E on aflatoxicosis in growing swine. Am J Vet Res 55:572–577

Iwama GK, Vijayan MM, Forsyth RB, Ackerman PA (1999) Heat shock proteins and physiological in fish. Am Zool 39:901–909

Karadede H, Ünlü E (2000) Concentrations of some heavy metals in water, sediment and fish species from the Atatürk Dam Lake (Euphrates), Turkey. Chemosphere 41:1371–1376

Karadede H, Oymak SA, Ünlü E (2004) Heavy metals in mullet, Liza abu, and catfish, Silurus triostegus, from the Atatürk Dam Lake (Euphrates), Turkey. Environ Int 30:183–188

Kavitha C, Malarvizhi A, Senthil Kumaran S, Ramesh M (2010) Toxicological effects of arsenate exposure on hematological, biochemical and liver transaminases activity in an Indian major carp, Catla catla. Food Chem Toxicol 48:2848–2854

Kazi TG, Arain MB, Jamali MK, Jalbani N, Afridi HI, Sarfraz RA, Baig JA, Shah AQ (2009) Assessment of water quality of polluted lake using multivariate statistical techniques: a case study. Ecotoxicol Environ Saf 72:301–309

Lavanya S, Ramesh M, Kavitha C, Malarvizhi A (2011) Hematological, biochemical and ionoregulatory responses of Indian major carp Catla catla during chronic sublethal exposure to inorganic arsenic. Chemosphere 82:977–985

Mol S, Özden Ö, Oymak SA (2010) Trace metal contents in fish species from Ataturk Dam Lake (Euphrates, Turkey). Turk J Fish Aquat Sci 10:209–213

Oliveira Ribeiro CA, Filipak Neto F, Mela M, Silva PH, Randi MAF, Rabitto IS, Alves Costa JRM, Pelletier E (2006) Hematological findings in neotropical fish Hoplias malabaricus exposed to subchronic and dietary doses of methylmercury, inorganic lead, and tributyltin chloride. Environ Res 101:74–80

Öner M, Atli G, Canli M (2008) Changes in serum biochemical parameters of freshwater fish Oreochromis niloticus following prolonged metal (Ag, Cd, Cr, Cu, Zn) exposures. Environ Toxicol Chem 27:360–366

Petrivalsky M, Machala M, Nezveda K, Piacka V, Svobodova Z, Drabek P (1997) Glutathione-dependent detoxifying enzymes in rainbow trout liver: search for specific biochemical markers of chemical stress. Environ Toxicol Chem 16:1417–1421

Sepici-Dinçel A, Benli AÇK, Selvi M, Sarıkaya R, Şahin D, Özkul IA, Erkoç F (2009) Sublethal cyfluthrin toxicity to carp (Cyprinus carpio L.) fingerlings: biochemical, hematological, histopathological alterations. Ecotoxicol Environ Saf 72:1433–1439

Suvetha L, Ramesh M, Saravanan M (2010) Influence of cypermethrin toxicity on ionic regulation and gill Na+/K+-ATPase activity of a freshwater teleost fish Cyprinus carpio. Environ Toxicol Pharmacol 29:44–49

Tripathi NK, Latimer KS, Lewis TL, Burnley VV (2003) Biochemical reference intervals for koi (Cyprinus carpio). Comp Clin Path 12:160–165

Zutshi B, Raghu Prasad SG, Nagaraja R (2010) Alteration in hematology of Labeo rohita under stress of pollution from Lakes of Bangalore, Karnataka, India. Environ Monit Assess 168:11–19
Acknowledgments
This study was supported by the Research Found of Adiyaman University, Project Number FEFYL2011/0010. The results described in this paper are part of a MSc thesis.
About this article
Cite this article
Fırat, Ö., Alıcı, M.F. Assessment of Pollution in Ataturk Dam Lake (Adiyaman, Turkey) Using Several Biochemical Parameters in Common Carp, Cyprinus carpio L.. Bull Environ Contam Toxicol 89, 474–478 (2012). https://doi.org/10.1007/s00128-012-0728-2
Received:

Accepted:

Published:

Issue Date:
Keywords
Ataturk Dam Lake

Pollution

Cyprinus carpio

Blood parameters