Abstract
In this study, tobacco leaf samples (n = 26) were collected from different areas in Kushtia to determine the presence of residues of cypermethrin, diazinon, heptachlor, methoxychlor dichlorodiphenyltrichloroethane (DDT), dichlorodiphenyldichloroethan (DDD) and dichlorodiphenyldichloroethylene (DDE). The analysis was conducted by a High Performance Liquid Chromatography (HPLC) system that was equipped with a photodiode array detector. Both cypermethrin and diazinon were detected in tobacco samples from six districts, namely, Mirzapur, Shahebnagar, Kodalipara, Pragpur, Farakpur and Taragunia. The highest concentration of cypermethrin was found in Kodalipara (2.00 ppm) while the highest concentration of diazinon was detected in a sample from Pragpur (0.15 ppm). The pesticide DDT was only detected in the sample from Pragpur at 4.00 ppm. This is the first study in Bangladesh that reports pesticide residue concentrations in tobacco leaf samples.
Access options
Buy single article
Instant access to the full article PDF.
USD 39.95
Price includes VAT (USA)
Tax calculation will be finalised during checkout.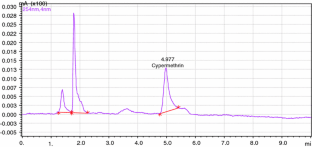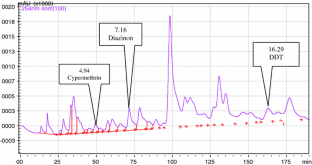 References
Akhter F (2011) Tobacco cultivation and its impact on food production in Bangladesh. 28 March, Dhaka. Available at http://www.fairtradetobacco.org/wp-content/uploads/2011/07/Farida-Akhter_Tobacco-to-Food-Production.pdf. Accessed 13 Feb 2012

ATSDR (2002) Toxicological profile for aldrin and dieldrin. Atlanta, GA: US. Department of health and human services, Public health service: 116

CEC, Commission of the European Communities (1976) Pesticide residues in tobacco and tobacco products. Information on agriculture. Brussels, 1: 62

Chapin G, Wasserstrom R (1983) Pesticide use and malaria resurgence in Central America and India. Soc Sci Med 17:273–290

Chowdhury AZ, Jahan SA, Islam MN, Moniruzzaman M, Alam MK, Zaman MA, Karim N, Gan SH (2012) Occurrence of organophosphorus and carbamate Pesticide residues in surface water samples from the Rangpur district of Bangladesh. Bull Environ Contam Toxicol 89:202–207

Clapp WL, Shelar GR, Dobbins JT, Markunas PC (1972) The Determination of Chlorinated Pesticides in Mainstream Smoke June 21. RJR on pesticides in mainstream smoke, Daily Doc

Drossopoulos J, Bouranis D, Kintzios S, Aivalakis G, Triposkoufi A (1998) Distribution profiles of selected micronutrients in oriental field-grown tobacco plants as affected by nitrogen fertilization. J plant nutr 21:1391–1406

Environment and Social Development Organization (ESDO), Bangladesh (November 2005) POPs Hotspots in Bangladesh. Accessed on 3 Aug 2010

EPA, U.S. Environmental Protection Agency (1989) Pesticide fact sheet number 199: Cypermethrin. Office of Pesticides and Toxic substances, Washington, DC, pp 2–9

Fardous Z, Islam MN, Hoque SM, Chowdhury MAZ, Rahman MA (2007) Determination of some selected pesticide residues in tomato from different locations of Bangladesh. Int J Sustain Agri Tech 3:4–7

FDA, U.S. Food and Drug Administration (2001) Guidance for industry: bioanalytical method validation. CDER, Rockville

GAO (2003). Pesticides on tobacco. Federal activities to assess risks and monitor residues Apr 24, GAO-03-485

Hayat K, Ashfaq M, Ashfaq U, Saleem MA (2011) Determination of pesticide residues in blood samples of villagers involved in pesticide application at district Vehari (Punjab), Pakistan. Afr J Environ Sci Tech 4:666–684

Khan MRA (2007) Tobacco Control, Social, Environmental and Economic Perspective Choices for Bangladesh. Department of Agricultural Marketing, 1: Available at http://www.fairtradetobacco.org/wp-content/uploads/2011/07/Farida-Akhter_Tobacco-to-Food-Production.pdf, Accessed 14 Jan 2012

Matin M, Malek M, Amin M, Rahman S, Khatoon J, Rahman M, Aminuddin M, Mian A (1998) Organochlorine insecticide residues in surface and underground water from different regions of Bangladesh. Agric Ecosyst Environ 69:11–15

Morris P (1972) Chlorinated pesticide residues in Australian cigarettes. Bates No. 2000706359/6361, Available at http://legacy.library.ucsf.edu/tid/rvj35e00, Accessed 18 Feb 2012

Muñoz-De-Toro M, Durando M, Beldomã©Nico PM, Beldomã©Nico HR, Kass L, Garcãa SR, Luque EH (2006) Estrogenic microenvironment generated by organochlorine residues in adipose mammary tissue modulates biomarker expression in ERalpha-positive breast carcinomas. Breast Can Res 8:R47

NHMRC, Australian National Health and Medical Research Council (1982) Report of the ninety-second session, Canberra. October 1981. Canberra: AGPS, 1
Acknowledgments
We would like to acknowledge the Universiti Sains Malaysia RU grant (1001/PPSP/815058).
About this article
Cite this article
Rahman, M.A., Chowdhury, A.Z., Moniruzzaman, M. et al. Pesticide Residues in Tobacco Leaves from the Kushtia District in Bangladesh. Bull Environ Contam Toxicol 89, 658–663 (2012). https://doi.org/10.1007/s00128-012-0725-5
Received:

Accepted:

Published:

Issue Date:
Keywords
Cypermethrin

Diazinon

Pesticide

DDT

DDD

DDE

Tobacco

HPLC