Abstract
This study determined the concentrations of eleven metals in the blue crab, Callinectes danae, from nine sites in the Santos Estuarine System of Sao Paulo State, Brazil. The results were compared to guidelines established in the United States, Europe and Brazil for the safety of human consumers. Muscles of blue crabs were removed by dissection and concentrations of Al, Cd, Co, Cr, Cu, Fe, Hg, Mn Ni, Pb and Zn were determined. In general, the concentrations of metals were low, and the crabs were regarded as safe for human consumption. Crabs from a single site (site 4) exceeded the guidelines established by the United States and Europe, but not Brazil, for Pb, with a mean tissue concentration of 1.725 μg g−1. With the exception of Al, Fe and Ni, significant differences were noted between sites in the concentrations of each metal in crab tissue.
Access options
Buy single article
Instant access to the full article PDF.
USD 39.95
Price includes VAT (USA)
Tax calculation will be finalised during checkout.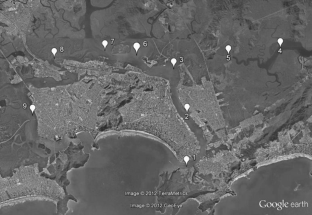 References
Bordon ICAC, Sarkis JES, Gobbato GM, Hortellani MA, Peixoto CM (2011) Metal concentration in sediments from the Santos estuarine system: a recent assessment. J Brazilian Chem Soc 22(10):1858–1865

Brazil (2003) Portaria no. 685/98. Regulamento Técnico: Princípios Gerais para o Estabelecimento de Níveis Máximos de Contaminantes Químicos em Alimentos e seu Anexo: Limites máximos de tolerância para contaminantes inorgânicos. Available via http://e-legis.bvs.br/leisref/public/showAct.php?id=90. Accessed in October, 2011

Brazil (2011) Boletim Estatísticoda Pesca e Aquicultura-Brazil 2008–2009. Available via http://www.mpa.gov.br/mpa/seap/Jonathan/mpa3/docs/anu%E1rio%20da%20pesca%20completo2.pdf. Accessed in November, 2011

EC (2006) Commission regulation no 1881/2006 of 19 December 2006 setting maximum levels for certain contaminants in foodstuffs. Off J Euro Union 364:5–24

FDA (2001) Fish and fisheries products hazards and controls guide, 3rd edn. Available via http://www.fda.gov/Food/GuidanceComplianceRegulatoryInformation/GuidanceDocuments/Seafood/FishandFisheriesProductsHazardsandControlsGuide/ucm252338.htm. Accessed in November, 2011

Harris RR, Santos MCF (2000) Heavy metal contamination and physiological variability in the Brazilian mangrove crabs Ucides cordatus and Callinectes danae (Crustacea: Decapoda). Mar Biol 137(4):691–703

Hortellani MA, Sarkis JES, Bonetti J, Bonetti C (2005) Evaluation of mercury contamination in sediments from Santos—São Vicente Estuarine System, São Paulo State, Brazil. J Brazilian Chem Soc 16(6):1140–1149

Hortellani MA, Sarkis JES, Abessa DMS, Sousa ECPM (2008) Avaliação Da Contaminação Por Elementos Metálicos Dos Sedimentos Do Estuário Santos—São Vicente. Quim Nova 31(1):10–19

Jop KM, Biever RC, Hoberg JR, Shepherd SP (1997) Analysis of metals in blue crabs, Callinectes sapidus, from Two Connecticut Estuaries. Bull Environ Contam Toxicol 58:311–317

Lamparelli ML, Costa MP, Prósperi VA, Bevilácqua JE, Araújo RPA, Eysink GGL, Pompéia S (2001) Sistema Estuarino de Santos e São Vicente. CETESB, Sao Paulo

Luiz-Silva W, Machado W, Mattos RHR (2008) Multi-elemental contamination and historic record in sediments from the Santos-Cubatão Estuarine System, Brazil. J Brazilian Chem Soc 19(8):1490–1500

Melo GAS (1996) Manual de Identificação dos Brachyura (caranguejos e siris) do litoral brasileiro (ed) Plêiade, FAPESP, Sao Paulo

Mutlu C, Turkmen M, Turkmen A, Tepe Y (2011) Comparison of metal concentrations in tissues of blue crab, Callinectes sapidus from Mediterranean Lagoons. Bull Environ Contam Toxicol 87:282–286

Nizoli EC, Silva WL (2009) The role of acid volatile sulfide in the control of potential metal bioavailability in contaminated sediments from a tropical estuary, southeast Brazil. Quim Nova 32(2):365–372

Ong Che RG, Cheung SG (1998) Heavy metals in Metapenaeus ensis, Eriocheir sinensis and sediment from the Mai Po marshes, Hong Kong. Sci Total Environ 214:87–97

Rainbow PS (1985) Accumulation of Zn, Cu, Cd by crabs and barnacles. Estuarine Coast Shelf Sci 21:669–686

Rainbow PS (1995) Physiology, physicochemistry and metal uptake- a crustacean perspective. Mar Pollut Bull 31:55–59

Rainbow PS (2007) Trace metal bioaccumulation: models, metabolic availability and toxicity. Environ Int 33:576–582

Reichmuth JM, Weis P, Weis JS (2010) Bioaccumulation and depuration of metals in blue crabs (Callinectes sapidus Rathbun) from a contaminated and clean estuary. Environ Pollut 158:361–368

Sastre MP, Reyes P, Ramos H, Romero R, Rivera J (1999) Heavy metal bioaccumulation in Puerto Rican Blue Crabs (Callinectes spp.). Bull Mar Sci 64(2):209–217

Schuwerack PMM, Lewis JW, Jones P (2001) The potential use of the South African River Crab, Potamonautes warreni, as a bioindicator species for heavy metal contamination. Ecotoxicology 10:159–166

Severino-Rodrigues E, Pita JB, Graça-Lopes R (2001) Pesca artesanal de siris (Crustacea, Portunidae) na região estuarina de Santos e São Vicente (SP), Brazil. Bol Inst Pesca 27(1):7–19

Turoczy NJ, Mitchell BD, Levings AH, Rajendram VS (2001) Cadmium, copper, mercury, and zinc concentrations in tissues of the King Crab (Pseudocarcinus gigas) from southeast Australian waters. Environ Int 27:327–334

Virga RHP, Geraldo LP (2008) Investigação dos teores de metais pesados em espécies de siris azuis do gênero Callinectes sp. Ciênc Tecnol Aliment 28(4):943–948

Virga RHP, Geraldo LP, Santos FH (2007) Avaliação de contaminação por metais pesados em amostras de siris azuis. Ciênc Tecnol Aliment 27(4):787–792

Willians MJ (1974) The swimming crabs of genus Callinectes (Decapoda: Portunidae). Fish Bull 72:685–789
Acknowledgments
We would like to thank Fundação de Amparo à Pesquisa do Estado de São Paulo (FAPESP) for financial support.
About this article
Cite this article
Bordon, I.C.A.C., Sarkis, J.E.S., Tomás, A.R.G. et al. Assessment of Metal Concentrations in Muscles of the Blue Crab, Callinectes danae S., from the Santos Estuarine System. Bull Environ Contam Toxicol 89, 484–488 (2012). https://doi.org/10.1007/s00128-012-0721-9
Received:

Accepted:

Published:

Issue Date:
Keywords
Callinectes danae

Santos Estuarine System

Metal

Brazil