Abstract
Algal chlorophyll content and chlorophyll type ratios, as biomarkers of stress, were investigated. Ulva intestinalis and Sargassum angustifolium were sampled at low tide, in the intertidal zone of Bushehr Province in January and May, 2010. The mean concentrations of metals in the algae were in the following order: Pb > Ni > Cu > Cd. High negative correlations between chlorophyll a content (r = −0.84, p < 0.01), chlorophyll c content (r = −0.82, p < 0.01), and ratio of chlorophyll c/a in S. angustifolium (r = −0.93, p < 0.001) and Ni concentration in this algae shows that both the content and ratio of chlorophyll may clearly reflect a negative effect of high metal concentrations in this algae.
Access options
Buy single article
Instant access to the full article PDF.
USD 39.95
Price includes VAT (USA)
Tax calculation will be finalised during checkout.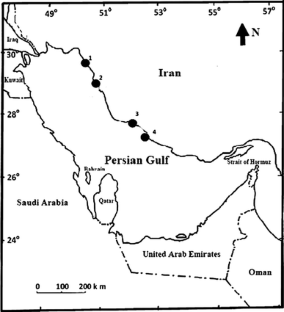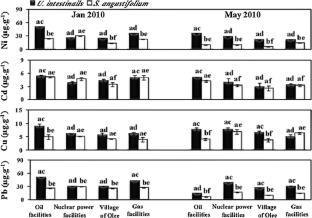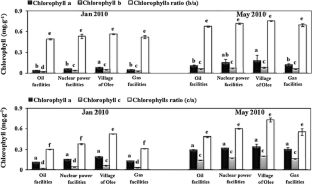 References
Al-Homaidan A (2008) Accumulation of nickel by marine macro algae from the Saudi coast of the Persian Gulf. J Food Agric Environ 6:148–151

Al-Shwafi NA, Rushdi AI (2008) Heavy metals concentrations in marine green, brown, and red seaweeds from coastal waters of Yemen, the Gulf of Aden. Environ Geol 55:653–660

Anish CH, Madhumi M, Christopher H, Yan W, Jurgen S (2007) Heavy metal biomonitoring by seaweeds on the Delmarva Peninsula, east coast of the USA. Botanica Marina 50:151–158

Buo-Olayan AH, Subrahmanyam M (1996) Heavy metals in marine algae of the Kuwait coast. Bull Environ Contam Toxicol 57:816–823

De Jong L, Diana C, Campos RJ, Arnoux A, Pellegrini L (1994) Toxicity of methyl mercury and mercury (II) chloride to a brown algae Cyctoseira barbata (Fucales) under laboratory culture conditions. Detoxify role of calcium. Botanica Marina 37:367–379

Deheyn DD, Latz MI (2006) Bioavailability of metals along a contamination gradient in San Diego Bay (California, USA). Chemosphere 63:818–834

El- Naggar ME, Al-Amoudi OA (1989) Heavy metal levels in several species of marine algae from the Red sea of Saudi Arabia. JKAU Sci 1:5–13

Giloni-Lima PC, Delello D, Cremonez MLM, Eler MN, Lima VA, Espindola ELG (2010) A study of the effects of chromium exposure on the growth of Pseudokirchneriella subcapitata (Korshikov) hindak evaluated by central composite design and response surface methodology. Ecotoxicology 19:1095–1101

Gosavi K, Sammut J, Gifford S, Jankowski J (2004) Macroalgal biomonitors of trace metal contamination in acid sulfate soil aquaculture ponds. Sci Total Environ 324:25–39

Ibemesim RI (2010) Effect of salinity and wytch farm crude oil on Paspalum conjugatum Bergius (Sour Grass). J Biol Sci 10:122–130

Jeffrey SW, Humphrey GF (1975) New spectrophotometric equations for determining chlorophylls a, b, c1 and c2 in higher plants, algae and natural phytoplankton. Biochemie und Physiologie der Pflanzen 167:191–194

Jothinayagi N, Anbazhagan C (2009) Heavy metal monitoring of Rameswaram coast by some sargassum species. Am J Sci Res 4:73–80

Perez AA, Farias SS, Strobl AM, Perez LP, Lopez CM, Pineiro A, Roses O, Fajado MA (2007) Levels of essential and toxic elements in Porphyra columbina and Ulva sp. from San Jorge Gulf, Patagonia Argentina. Sci Total Environ 376:51–59

Riget F, Juhansen P, Asmund G (1995) Natural seasonal variation of cadmium, copper, zinc and lead in brown seaweed (Fucus vesiculosus). Mar Pollut Bull 30:409–413

Sawidis T, Brown MT, Zacharidis G, Satis I (2001) Trace metal concentrations in marine macroalgae from different biotopes in the Aegean Sea. Environ Int 27:43–47

Tarpley L, Reddy KR, Sassenrath-Cole GF (2005) Reflectance indices with precision and accuracy in predicting cotton leaf nitrogen concentration. Crop Sci 40:1814–1819
About this article
Cite this article
Alahverdi, M., Savabieasfahani, M. Seaweed and Chlorophyll as Biomarkers of Metals in the Persian Gulf, Iran. Bull Environ Contam Toxicol 89, 501–506 (2012). https://doi.org/10.1007/s00128-012-0719-3
Received:

Accepted:

Published:

Issue Date:
Keywords
Seaweed

Metal

Chlorophyll

Biomarker

Persian Gulf

Iran