Abstract
Biodiesel is promoted as environmentally less harmful than diesel fuel. Nevertheless its water-soluble-fraction (WSF) may contain methanol, which appears by a reversion of the transesterification reaction, when biodiesel contacts water. This paper evaluated the loss of the lysosomal membrane integrity in liver homogenate of juvenils Tilapia exposed to biodiesels-WSF, through the increase of the acid phosphatase activity, as an evidence of citotoxicity. Differences in the enzyme activity levels (3.4, 2.3 and 0.8 mU mg−1 total protein over the control value, which was 1.6 mU mg−1 total protein), found for castor oil, waste cooking-oil and palm oil-biodiesels, respectively, were indicative of their toxicity according to this decreasing trend. WSF-chromatograms suggest the cytotoxicity as related to methanol.
Access options
Buy single article
Instant access to the full article PDF.
USD 39.95
Price includes VAT (USA)
Tax calculation will be finalised during checkout.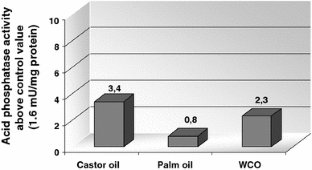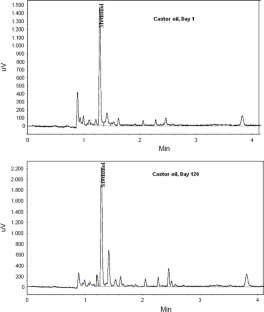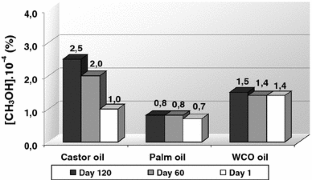 References
Anderson JV, Neff JM, Cox BA, Tatem HE, Hightower GM (1974) Characteristics of dispersions and water-soluble extracts of crude and refined oils and their toxicity to estuarine crustaceans and fish. Mar Biol 27:75–78

AVMA—Association Veterinary Medical American (2007) Guidelines on Euthanasia. Available via DIALOG. http://www.avma.org/issues/animal_welfare/euthanasia.pdf. Accessed 20 Jun 2010

Bradford MM (1976) A rapid and sensitive method for the quantities of protein utilizing the principle of protein-dye-biding. Anal Biochem 72:248–254

Fent K (2001) Fish cell lines as versatile tools in ecotoxicology: assessment of cytotoxicity, cytochrome P450 1A induction potencial and estrogenic activity of chemical and environmental samples. Toxicol In Vitro 15:477–488

Hwang HM, Wade TL, Sericano JL (2004) Destabilized lysosomes and elimination of polycyclic aromatic hydrocarbons and polycholorinated biphenyls in eastern oysters (Crassotrea virginica). Environ Toxicol Chem 23:1991–1995

Jimenez BD, Stegeman JK (1990) Detoxification enzymes as indicators of environmental stress on fish. In: Adams S (ed) Biological indicators of stress in fish, vol 8. American Fisheries Society, Bathesda, pp 67–79

Jonsson CM, Aoyama H (2010) Alteração da atividade enzimática em organismos aquáticos por poluentes de origem agrícola: uma abordagem geral e sobre a suscetibilidade da fosfatase ácida. Quím Nova 33:920–928

Khangarot BS, Rathore RS (2003) Effects of copper on respiration, reproduction, and some biochemical parameters of water Flea Daphnia magna Straus. Bull Environ Contam Toxicol 70:112–117

Leite MBNL, De Araújo MMS, Nascimento IA, Cruz ACS, Pereira SA, Nascimento NC (2011) Toxicity of water-soluble fractions of biodiesel fuels derived from castor oil, palm oil, and waste cooking oil. Environ Toxicol Chem 30:893–897

Martins LK, Nascimento IA, Fillman G, King R, Depledge M, Readman J, Evangelista AJA (2005) Lysosomal responses as diagnostic tool for the detection of oil chronic pollution at Todos os Santos Bay. Environ Res 99:387–396

Nascimento IA, Leite MBNL, Sansone G, Pereira AS, Smith DH (1998) Stress protein accumulation as an indicator of impact by the petroleum industry in Todos os Santos Bay, Brazil. Aquat Ecosysyst Health Manage 1:101–108

Nascimento IA, Souza ECP, Nipper MG (2002) Métodos e Aplicações da Ecotoxicologia Marinha: a experiência brasileira. Artes Gráficas e Indústria Ltda Salvador

Nascimento IA, Pereira SA, Leite MBNL (2006) Biomarcadores como instrumentos preventivos de poluição. In: Zagatto PA, Bertoletti E (eds) Ecotoxicologia Aquática: Princípios e Aplicações, vol 1. RIMA, São Paulo, p 413

Nascimento IA, Pereira SA, Leite MBNL, Cruz ACS, Santos JM, Barros DA, Veras TF, Alvarez HM, Nascimento MA (2009) Is biodiesel a eco-compatible fuel ? Toxicity estimation to organisms of different trophic levels. In: Newbury H, De Lorne W (eds) Industrial Pollution including oil. Nova Science Publishers Inc, USA 1:61–90

Nazar ML, Rodrigues LEA, Nascimento IA (2008) The lysosomal stability as a biomarker for the determination of pollution in aquatic environments. Braz Arch Biol Technol 52:1071–1077

Nicholson S (2001) Ecocytological and toxicological responses to copper in Perna viridis (L.) (Bivalvia:mytilidae) haemocyte lysosomal membranes. Chemosphere 45:399–407

Nicholson S, Lam PK (2005) Pollution monitoring in Southeast Asia using biomarkers in the mytilid Perna viridis (Mytilidae: bivalvia). Environ Int 31:121–132

Okay OS, Tolun L, Tüfekçi V, Telli-Karakoç F, Donkin P (2006) Effects of pyrene on mussels in different experimental conditions. Environ Int 32:538–544

Paixão JF, Nascimento IA, Pereira SA, Leite MBNL, Correia G, Severiano J, Rebouças M, Matias GRA, Rodrigues ILP (2007) Estimating the gasoline components and formulations toxicity to microalgae (Tetraselmis chuii) and (Crassostrea rhizophorae) embryos: an approach to minimize pollution risks. Environ Res 103:365–374

Pereira SA, Araújo VQ, Rebouças MV, Vieira FSV, Almeida MVA, Chinalia FA, Nascimento IA (2012) Toxicity of biodiesel, diesel and biodiesel/diesel blends: comparative sub-lethal effects of water-soluble fractions to microalgae species. Bull Environ Contam Toxicol 88:234–238

Petrovic S, Semencic L, Ozretic B, Ozretic M (2004) Seasonal variations of physiological and cellular biomarkers and their use the biomonitoring of north Adriatic coastal (Croatia). Mar Pollut Bull 49:713–720

Roel AR, Vendramim JD, Frighetto RTS, Frighetto N (2000) Atividade tóxica de extratos orgânicos de Trichilia pallida Swartz (Meliaceae) sobre Spodoptera frugiperda (J. E. Smith). An Soc Entomol Bras 29:51–59

Roy AV, Brower ME, Hayden JE (1971) Sodium thymolphthalein monophosphate: a new acid phosphatase substrate with greater specificity for the prostatic enzyme in serum. Clin Chem 17:1093–1102

Simonato JD, Guedes CLB, Martinez CBR (2008) Biochemical, physiological, and histological changes in the neotropical fish Prochilodus lineatus exposed to diesel oil. Ecotoxicol Environ Saf 69:112–120

Strmac M, Braunbeck T (2002) Cytological and biochemical effects of a mixture of 20 pollutants on isolated rainbow trout (Oncorhynchus mykiss) hepatocytes. Ecotoxicol Environ Saf 53:293–304

Van der Oost R, Beyer J, Vermeulen NPE (2003) Fish bioaccumulation and biomarkers in environmental risk assessment: a review. Environ Toxicol Pharmacol 13:57–149

Van Nierop K, Muller FJM, Stap J, Van Noorden CJF, Van Eijk M, Groot C (2006) Lysosomal destabilization contributes to apoptosis of germinal center B-lymphocytes. J Histochem Cytochem 54:1425–1435

Vijayavel K, Balasubramanian MP (2007) Interaction of potash and decis in the ecophysiology of a freshwater fish Oreochromis mossambicus. Ecotoxicol Environ Saf 66:154–158

Yang L, Lai CT, Shieh WK (2000) Biodegradation of dispersed diesel fuel under high salinity condition. Water Res 34:3303–3314
Acknowledgments
The authors are indebted to CNPQ (National Research Council) for funding this research (GRANTS 574712-2008-9 and 551134/2010-0), to Dr. Heiddy Márquez Alvarez for the CG analysis, to Dr. Fabio Alexandre Chinalia for the helpful discussions on the technique as far as to Dr. Kestur Satyanarayana, Visiting Researcher, PIPE/UFPR, Curitiba, and to Dr. Bianca Forte, Biofuels Coordinator for Renewables East, U.K., for reviewing the paper for Language corrections.
About this article
Cite this article
da Cruz, A.C.S., Leite, M.B.N.L., Rodrigues, L.E.A. et al. Estimation of Biodiesel Cytotoxicity by Using Acid Phosphatase as a Biomarker of Lysosomal Integrity. Bull Environ Contam Toxicol 89, 219–224 (2012). https://doi.org/10.1007/s00128-012-0707-7
Received:

Accepted:

Published:

Issue Date:
Keywords
Biodiesel

Hepatotoxicity

Lysosomal biomarker

Acid phosphatase