Abstract
Chromafenozide is a lepidopteran insecticide. It is highly effective in controlling various lepidopteran pests. Chromafenozide technical and formulation (80WP) was applied at 2.5 and 5.0 μg g−1 in 4 types of soils (air dried and sieved) separately in laboratory condition. Half-lives of active ingredient were calculated and found at 15.8, 21.6, 25 and 23.9 days for single dose for chromafenozide technical (99.4 %).
Access options
Buy single article
Instant access to the full article PDF.
USD 39.95
Price includes VAT (USA)
Tax calculation will be finalised during checkout.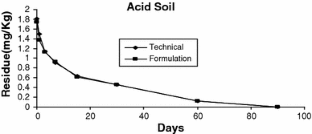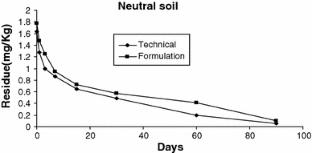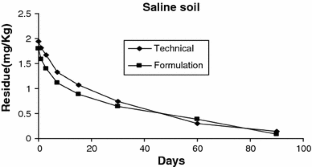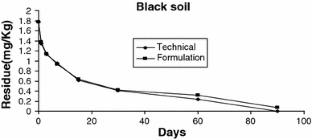 References
Balasubramanya RH, Patil RB (1980) Degradation of carboxin and oxycarboxin in different soils. Plant Soil 57:195–201

Coupe R, Welch H, Pell A, Thurman E (2005) Herbicide and degradate flux in the Yazoo River Basin. Int J Environ Anal Chem 85:1127–1140

Frampton GK, Jnsch S, Scott-Fordsmand JJ, Römbke J, van den Brink PJ (2006) Effects of pesticides on soil invertebrates in laboratory studies: a review and analysis using species sensitivity distributions. Environ Toxicol Chem 25:2480–2489

Hoskins WM (1961) Mathematical treatment of the rate of loss of pesticide residues. Plant Protect Bull. FAO 9:163–168

Moyer JR, Esau R, Kozub GC (1990) Chlorsulfuron persistence and response of nine rotational crops in alkaline soils of Southern Alberta. Weed Technol 4:543–548

Sabadie J (1990) Chemical acidic hydrolysis of metsulfuronmethyl. Weed Res 30:413–419

Schneiders GE, Koeppe MK, Naidu MV, Horne P, Brown AM, Mucha CF (1993) Fate of rimsulfuron in the environment. J Agric Food Chem 41:2404–2410

Tomlin CDS (2009) The pesticide manual: a world compendium. British Crop Production Council

Willian WT, Mueller TC (1994) Liquid chromatographic determination of norflurazon and its initial metabolite in soil. J AOAC Int 77:752–755

Yutai L, Zimmerman WT, Gorman MK, Reiser RW, Fogiel AJ, Haney PE (1999) Aerobic soil metabolism of metsulfuron-methyl. Pestic Sci 55:434–445
Acknowledgments
This work was supported by the Residue Analysis Laboratory, B.C.K.V, Mohanpur, India. We are grateful to PI Industries Ltd., Goregaon, India for there kind cooperation for the experiment.
About this article
Cite this article
Ditya, P., Das, S.P. & Bhattacharyya, A. Degradation Dynamics of Chromafenozide in Different Types of Soil. Bull Environ Contam Toxicol 89, 322–327 (2012). https://doi.org/10.1007/s00128-012-0691-y
Received:

Accepted:

Published:

Issue Date:
Keywords
Chromafenozide

HPLC

Residue

Formulation

Soil