Abstract
Consumption of pesticides associated foods increased in recent decades in Bangladesh. Most of the pesticides come from paddy, as rice is the main food items here and about 70 % pesticides are used only on paddy fields. Water samples of paddy fields and Kaliganga River of Manikganj district were analyzed to provide base line data on cypermethrin, chlorpyrifos and diazinon residue by using high performance liquid chromatography. Levels of Cypermethrin, chlorpyrifos and diazinon detected in the paddy field water samples were (0.605 ± 0.011 μg/L), (0.06 ± 0.001 μg/L) and (0.039 ± 0.002 μg/L), respectively. 0.11 ± 0.003 μg/L of cypermethrin and 0.012 ± 0.0006 μg/L of chlorpyrifos were also identified in the water samples of Kaligonga River. Diazinon residue was not detected in the river water samples. The detected concentrations of pesticide residues in the river water were below the accepted maximum residue limit (MRL) value of drinking water (0.1 μg/l) adopted by the FAO/WHO Codex Alimentarius Commission. Cypermethrin and chlorpyrifos were chosen for decontamination through rice bran, as it was found in river water. Two gm rice bran could easily decontaminated 95.6 % and 96.4 % of cypermethrin and chlorpyrifos. The result of this study showed that pesticide residue was detected in water samples were below the MRLs value, which can easily be decontaminated through absorption of rice bran.
Access options
Buy single article
Instant access to the full article PDF.
USD 39.95
Price excludes VAT (USA)
Tax calculation will be finalised during checkout.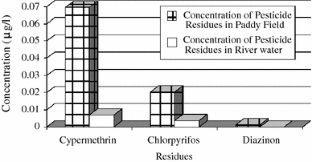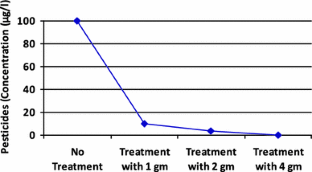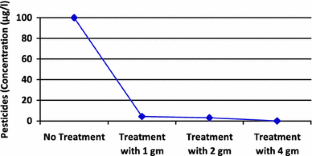 References
Adachi A, Okano T (2006) Pesticide residues reduction in selected vegetables using rice bran. J Health Sci 52(3):320–323

Adachi A, Takagi S, Okano T (2000) Studies on removal efficiency of rice bran for pesticides. J Health Sci 47(2):94–98

Adachi A, Takagi S, Okano T (2002) Adsorption and adsorption mechanism of rice bran for chloroform from tap water. Chemosphere 46:87–92

Akther N, Rahman A, Chowdhury M (1998) Environmental investigation and evaluation of sericulture programme and ayesha abed foundation. Available via www.bracresearch.org/reports/sericulture.pdf. Accessed 3 Jan 2010

Ali MY (1994) Fisheries and environment: environment and development in Bangladesh 2. University Press, Dhaka, pp 71–72

Ali RB, Tahir A (2000) Preliminary survey for pesticide poisoning in Pakistan. Pak J Biol Sci 3(11):1976–1977

Arjmandi R, Tavakol M, Shayeghi M (2010) Determination of organophosphorus insecticide residues in the rice paddies. Int J Environ Sci Technol 7(1):175–182

Bailey P, Waite D, Quinnett-Abbott L, Ripley BD (2005) Residues of DDT and other selected organochlorine pesticides in soils from Saskatchewan, Canada (1999). Can J Soil Sci 85:265–271

Bedos C, Cellier P, Calvelet R, Barruiso E (2002) Occurrence of pesticides in the atmosphere in France. Agronomie 22:35–49

Begum A, Krishna H, Khan I (2009) A Survey of persistent organochlorine pesticides residues in some Streams of the Cauvery River, Karnataka, India. Int J Chem Technol Res 1(2):237–244

Chowdhury MTI, Razzaque MA, Khan MSI (2011) Chlorinated pesticide residue status in tomato, potato and carrot. J Exp Sci 2(1):1–5

Dahal L (1995) A study on pesticide pollution in Nepal. National conservation strategy implementation project, National Planning Commission, HMG Nepal and IUCN-The World Conservation Union, Kathmandu, pp 51–57

Gallagher DL, Dietrich AM, Reay WG, Hayes MC, Simmons, GM Jr (1996) Ground water discharge of agricultural pesticide and nutrients to estuarine surface water. Ground Water Monit R 1996 Winter:118–129

Hassan S, Rabbinic KA, Raman ML, Husain MA (2010) Persistent organic pollutants and pesticide residues in seasonal waters of rural Bangladesh. Available via www.binbd.com/benjp/iceab10/43.pdf. Accessed on 21 July 2010

Honeycutt R, Paulson D, LeBaron H, Rolofson G (2001) Chemical treatment option for pesticide wastes disposal. Available via www.p2pays.org/ref/13/12389.pdf. Accessed on 10 Jan 2011

IRRI (International Rice Research Institute) (2005) Medium Term Plan 2006-2008, Achieving the UN Millenium Development Goals begins with Rice Research. IRRI, Manila (Philippines), pp 5–8

Kalam KMHA (1998) Bangladesh country paper. Environmental assessment for agricultural development in Asia and the Pacific. Asian Productivity Organization (APO), Tokyo, pp 141–152

Khatoon JA, Islam MS, Talukdar MN, Hossain MA (2004) Monitoring of the residue level of three selected pesticide in red amaranth. Pak J Bio Sci 4(4):474–479

Morasso G, Bolognesi C, Duglio E, Musso M (2001) Pesticides as food contaminants: a pilot project for correct public information. Trends Food Sci Technol 11:379–382

PAB (2000) Pesticides consumption report for the year 1999/2000. PAB, Dhaka, pp 18–19

Parveen S, Nakagoshi N (2001) An analysis of pesticide use for rice pest management in Bangladesh. J Int Dev Cooper 8(1):107–111

Perveen Z, Maud SZ (1988) Organochlorine pesticide residues in cattle drinking water. Pak J Sci Ind Res 31:53–56

Pfeuffer RJ (1991) Pesticide monitoring in sediment and surface water within the south Florida. Water Manage Fla 2:8–17

Rahman MH, Alam MJB (1997) Risk assessment of pesticide used in Bangladesh. J Civil Eng CE 25:97–106

Romeh AA, Ashour M, Hendawi MY, Ramadan AR (2009) Decontamination of Cyanophos residues from water containing Catfish (Clarias Lazera) using activated charcoal and rice husk ash. J Appl Sci Res 5(7):820–826

Street JC (1969) Methods of removal of pesticide residues. Can Med Assoc J 100:154–160
About this article
Cite this article
Bhattacharjee, S., Fakhruddin, A.N.M., Chowdhury, M.A.Z. et al. Monitoring of Selected Pesticides Residue Levels in Water Samples of Paddy Fields and Removal of Cypermethrin and Chlorpyrifos Residues from Water Using Rice Bran. Bull Environ Contam Toxicol 89, 348–353 (2012). https://doi.org/10.1007/s00128-012-0686-8
Received:

Accepted:

Published:

Issue Date:

DOI: https://doi.org/10.1007/s00128-012-0686-8
Keywords