Abstract
The toxicological effects of the active ingredients of the herbicides diuron and bentazon on the activity of acetylcholinesterase (AChE) of krait (Bungarus sindanus) venom and electric eel (Electrophorus electricus) were studied. The diuron and entazon caused non-competitive inhibition of AChE from both species. For the venom AChE, the calculated IC50 for diuron and bentazon were found to be 3.25 and 0.14 μM, while for eel AChE, the respective IC50 values were 3.6 and 0.135 μM. In comparison, bentazon was a more potent inhibitor than diuron of AChE from both species. The insecticide lindane did not have any inhibitory effect on AChE activity in either species, even when tested at high concentrations (200–800 μM).
Access options
Buy single article
Instant access to the full article PDF.
USD 39.95
Price includes VAT (USA)
Tax calculation will be finalised during checkout.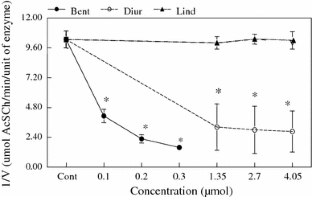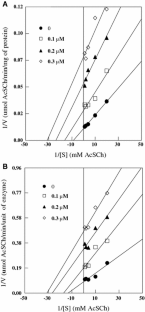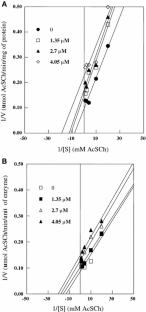 References
Ahmed M, Rocha JBT, Mazzanti CM, Morsch AL, Cargnelutti D, Corrêa M, Loro V, Morsch VM, Schetinger MRC (2007) Malathion, carbofuran and paraquat inhibit Bungarus sindanus (krait) venom acetylcholinesterase and human serum butyrylcholinesterase in vitro. Ecotoxicology 16(4):363–369

Barak D, Kronman C, Ordentlich A, Ariel N, Bromberg A, Marcus D, Lam A, Velan B, Shafferman A (1994) Acetylcholinesterase peripheral anionic site degeneracy conferred by amino acid arrays sharing a common core. J Biol Chem 269:6296–6305

Bradford MM (1976) A rapid and sensitive method for the quantification of microgram quantities of protein utilizing the principle of protein dye binding. Anal Biochem 72:248–254

Cousin X, Créminon C, Grassi J, Méflah K, Cornu G, Saliou B, Bon S, Massoulié J, Bon C (1996) Acetylcholinesterase from Bungarus venom: a monomeric species. FEBS Lett 387:196–200

Dave KR, Syal AR, Katyare SS (2000) Tissue cholinesterases. A comparative study of their kinetic properties. Z Naturforsch 55:100–108

Dixon M, Webb EC (1964) Enzyme kinetics, 2nd edn. Longman, London, p 54

Ecobicon DJ, Corneau AM (1973) Pseudocholinestarase of mammalian plasma: Physiochemical properties and organophosphate inhibition in eleven species. Toxicol Appl Pharmacol 24:29–100

Eddleston M, Mohamed F, Davies JO, Eyer P, Worek F, Sheriff MH, Buckley NA (2006) Respiratory failure in acute organophosphorus pesticide self-poisoning. Oxf J Med 99:513–522

Ellman GL, Courtney KD, Andres V Jr, Featherstone RM (1961) A new and rapid colorimetric determination of acetylcholinesterase activity. Biochem Pharmacol 7:88–95

Frobert Y, Créminon C, Cousin X, Rémy M, Chatel J, Bom S, Bom C, Grassi J (1997) Acetylcholinesterases from Elapidae snake venoms: biochemical, immunological and enzymatic characterization. Biochim Biophys Acta 1339(2):253–267

Froede HC, Wilson IB (1971) Acetylcholinesterase. In: Boyer PD (ed) The enzymes, 3rd edn. Academic Press, New York, p 87–114

Lineweaver H, Burk D (1934) The determination of enzyme dissociation constants. J Am Chem Soc 56:658–666

Massoulié J, Bon S (1982) The molecular forms of cholinesterase and acetylcholinesterase in vertebrates. Annu Rev Neurosci 5:57–106

Menéndez-Helman RJ, Ferreyroa GV, dos Santos Afonso M, Salibián A (2012) Glyphosate as an acetylcholinesterase inhibitor in Cnesterodon decemmaculatus. Bull Environ Contam Toxicol 88(1):6–9

Pope CN (1999) Organophosphorus insecticides: do they all have the same mechanism of action? J Toxicol Environ Health B 2:161–181

Prody CA, Zevin-Sonkin D, Gnatt A, Goldberg O, Soreq H (1987) Isolation and characterization of full length cDNA clones coding for cholinesterase from fetal human tissues. Proc Natl Acad Sci USA 84:3555–3559

Quinn DM (1987) Acetylcholinesterase enzyme structure, reaction dynamics, and virtual transition state. Chem Rev 87:955–979

Rocha JBT, Emanuelli T, Pereira ME (1993) Effects of early undernutrition on kinetic parameters of brain acetylcholinesterase from adult rats. Acta Neurobiol Exp 53:431–437

Rosenberry TL, Johnson JL, Cusack B, Thomas JL, Emani S, Venkatasubban KS (2005) Interaction between the peripheral site and the acylation site in acetylcholinesterase. Chem Biol Interact 157–158:181–189

Siddiqi AR, Zaidi ZH, Jornvall H (1991) Purification and characterization of a Kunitz-type trypsin inhibitor from leaf-nosed viper venom. FEBS Lett 294:141–143

Sussman JL, Harel M, Frolow F, Oefner C, Goldman A, Toker L, Silman I (1991) Atomic structure of acetylcholinesterase from Torpedo californica: a prototypic acetylcholine-binding protein. Science 253:872–879
Acknowledgments
The authors wish to thank Higher Education Commission of Pakistan and Directorate of Science and Technology, Khyber Pakhtunkhwa for Support.
About this article
Cite this article
Ahmed, M., Latif, N., Khan, R.A. et al. Toxicological Effect of Herbicides (Diuron and Bentazon) on Snake Venom and Electric Eel Acetylcholinesterase. Bull Environ Contam Toxicol 89, 229–233 (2012). https://doi.org/10.1007/s00128-012-0684-x
Received:

Accepted:

Published:

Issue Date:
Keywords
Snake venom

Acetylcholinesterase

Inhibition

Kinetics

Pesticides