Abstract
We conducted experiments to culture Pycnoporus sp. SYBC-L3 in a medium comprising an industrial waste (dye-containing textile effluent) and a lignocellulosic waste (Phragmites australis) that achieved laccase production while having the color removed from the wastewater. Our experimental results showed that the fungus grew well in liquid submerged cultivation with the diluted textile effluent as the sole culture medium, but relatively low extracellular laccase activity (1.8 U/mL) was produced. Addition of the lignocellulosic biomass enhanced laccase production and color removal. The highest laccase activity was found to be 6.5 U/mL in the presence of Phragmites australis stem. Under this condition, 70 % color removal occurred in the culture medium. This study provided an alternative novel scheme to remove color in textile wastewater while having an economic value added by producing laccase.
Access options
Buy single article
Instant access to the full article PDF.
USD 39.95
Price includes VAT (USA)
Tax calculation will be finalised during checkout.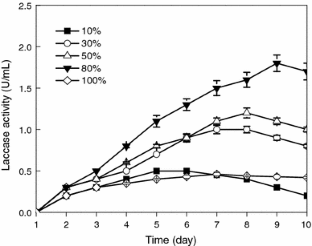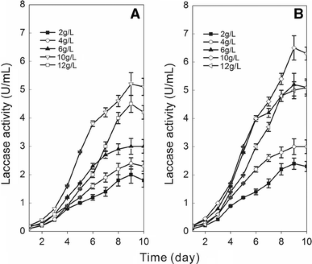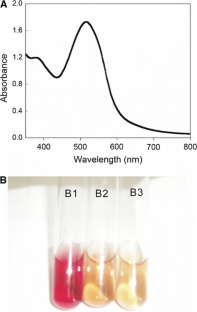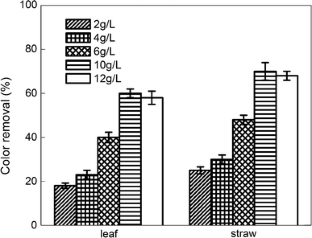 References
Abadulla E, Tzanov T, Costa S, Robra KH, Cavaco-Paulo A, Gubitz GM (2000) Decolorization and detoxification of textile dyes with a laccase from Trametes hirsuta. Appl Environ Microbiol 66:3357–3362

Arias ME, Arenas M, Rodriguez J, Soliveri J, Ball AS, Hernandez M (2003) Kraft pulp biobleaching and mediated oxidation of a nonphenolic substrate by laccase from Streptomyces cyaneus CECT 3335. Appl Environ Microbiol 69:1953–1958

Arockiasamy S, Krishnan IP, Anandakrishnan N, Seenivasan S, Sambath A, Venkatasubramani JP (2008) Enhanced production of laccase from Coriolus versicolor NCIM 996 by nutrient optimization using response surface methodology. Appl Biochem Biotechnol 151:371–379

Attanasio A, Diano N, Grano V, Sicuranza S, Rossi S, Bencivenga U, Fraconte L, Di Martino S, Canciglia P, Mita DG (2005) Nonisothermal bioreactors in the treatment of vegetation waters from olive oil: laccase versus syringic acid as bioremediation model. Biotechnol Progr 21:806–815

Baldrian P (2004) Purification and characterization of laccase from the white-rot fungus Daedalea quercina and decolorization of synthetic dyes by the enzyme. Appl Microbiol Biotechnol 63:560–563

Banat IM, Nigam P, Singh D, Marchant R (1996) Microbial decolorization of textile-dyecontaining effluents: a review. Biores Technol 58:217–227

Blánquez P, Sarrà M, Vicent T (2008) Development of a continuous process to adapt the textile wastewater treatment by fungi to industrial conditions. Proc Biochem 43:1–7

Colosi LM, Burlingame DJ, Huang Q, Weber WJ (2006) Peroxidase-mediated removal of a polychlorinated biphenyl using natural organic matter as the sole cosubstrate. Environ Sci Technol 41:891–896

D'Souza DT, Tiwari R, Sah AK, Raghukumar C (2006) Enhanced production of laccase by a marine fungus during treatment of colored effluents and synthetic dyes. Enzyme Microb Technol 38:504–511

Enayatzamir K, Alikhani HA, Rodríguez Couto S (2009) Simultaneous production of laccase and decolouration of the diazo dye Reactive Black 5 in a fixed-bed bioreactor. J Hazard Mater 164:296–300

Gianfreda L, Xu F, Bollag J-M (1999) Laccases: a useful group of oxidoreductive enzymes. Bioremediat J 3:1–26

Halaburgi VM, Sharma S, Sinha M, Singh TP, Karegoudar TB (2011) Purification and characterization of a thermostable laccase from the ascomycetes Cladosporium cladosporioides and its applications. Proc Biochem 46:1146–1152

Ibarra D, Camarero S, Romero J, Martínez MJ, Martínez AT (2006) Integrating laccase–mediator treatment into an industrial-type sequence for totally chlorine-free bleaching of eucalypt kraft pulp. J Chem Technol Biot 81:1159–1165

Li L, Dai W, Yu P, Zhao J, Qu Y (2009) Decolorisation of synthetic dyes by crude laccase from Rigidoporus lignosus W1. J Chem Technol Biot 84:399–404

Litthauer D, van Vuuren MJ, van Tonder A, Wolfaardt FW (2007) Purification and kinetics of a thermostable laccase from Pycnoporus sanguineus (SCC 108). Enzyme Microb Technol 40:563–568

Lorenzo M, Moldes D, Rodriguez Couto S, Sanroman A (2002) Improving laccase production by employing different lignocellulosic wastes in submerged cultures of Trametes versicolor. Biores Technol 82:109–113

Lu J, Huang Q, Mao L (2009) Removal of acetaminophen using enzyme-mediated oxidative coupling processes: I. Reaction rates and pathways. Environ Sci Technol 43:7062–7067

Moldes D, Lorenzo M, Sanroman MA (2004) Different proportions of laccase isoenzymes produced by submerged cultures of Trametes versicolor grown on lignocellulosic wastes. Biotechnol Lett 26:327–330

Pant D, Adholeya A (2007) Enhanced production of ligninolytic enzymes and decolorization of molasses distillery wastewater by fungi under solid state fermentation. Biodegradation 18:647–659

Rodríguez Couto S (2007) Decolouration of industrial azo dyes by crude laccase from Trametes hirsuta. J Hazard Mater 148:768–770

Singh A, Bajar S, Bishnoi NR, Singh N (2010) Laccase production by Aspergillus heteromorphus using distillery spent wash and lignocellulosic biomass. J Hazard Mater 176:1079–1082

Vianello F, Ragusa S, Cambria MT, Rigo A (2006) A high sensitivity amperometric biosensor using laccase as biorecognition element. Biosens Bioelectron 21:2155–2160

Wu M, Xia L, Wu M, Xia L (2002) Decolorization of dyestuff and dying waste water by laccase solution with self-flocculent mycelial pellets of Coriolus versicolor. Acta Microbiol Sin 42:364–369
Acknowledgments
This work was financially supported by the National High Technology and Development Program of China (863 Program, grant No., 2010AA101501), The scientific & technological personnel service project of the ministry of science and technology (Grant No. 2009GJ10038), The national natural science foundation of China (Grand No. 21045007).
About this article
Cite this article
Liu, J., Cai, Y., Liao, X. et al. Simultaneous Laccase Production and Color Removal by Culturing Fungus Pycnoporus sp. SYBC-L3 in a Textile Wastewater Effluent Supplemented with a Lignocellulosic Waste Phragmites australis . Bull Environ Contam Toxicol 89, 269–273 (2012). https://doi.org/10.1007/s00128-012-0678-8
Received:

Accepted:

Published:

Issue Date:
Keywords
Textile

Effluent

Phragmites australis

Lignocellulosic biomass

Laccase

Decolorization