Abstract
A laboratory experiment was conducted to study the effect of soil amendments with four different sources of organic matter on the dissipation rate of endosulfan. Farm yard manure (FYM), vermi compost, leaf compost and charcoal, dried, ground (<4 mm) and thoroughly mixed with a calcareous soil at a rate of 2.5 % and placed in plastic pots. Endosulfan was added at 10 μg level. In 30-day incubation period the degradation was fastest in vermin compost, 88.48 %, followed by FYM, seababul leaves and charcoal, recording 87.21 %, 79.41 % and 68.39 %, respectively, as compared to un amended treatment where slow degradation of 65.53 % was observed. The half life was 18.8 days in un-amended soil as compared to 1.01–1.29 days in vermi compost, farm yard manure, charcoal and leaf compost. The amendment with vermin compost, followed by FYM was found to be most effective and enhances the degradation as compared to the other amendments.
Access options
Buy single article
Instant access to the full article PDF.
USD 39.95
Price includes VAT (USA)
Tax calculation will be finalised during checkout.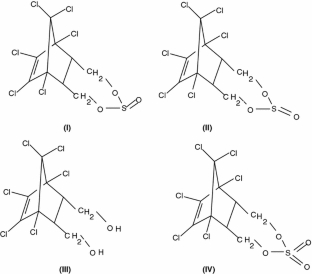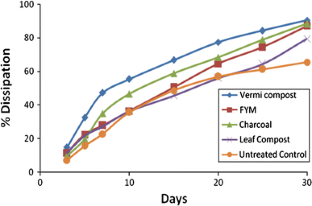 References
Awashti N, Ahuja R, Kumar A (2000) Factors influencing the degradation of soil applied endosulfan isomers. Soil Biol Biochem 32:1697–1705

Brar DP, Aust SA (1997) Mineralization of recalcitrant environmental pollutants by white rot fungus In: Proceedings of national conference of hazardous materials, pp 146–151

Gopal M, Mukherjee I (1993) Determination of residues of endosulfan and endosulfan sulfate on eggplant, mustard and chickpea. Pestic Sci 37:67–72

Jayshree R, Vasudevan N (2007) Effect of Tween 80 added to the soil on degradation of endosulfan by Pseudomonas uuerginosa. Int J Environ Sci Tech 4:203–210

Kathpal T, Singh A, Dhankar J, Singh G (1997) Fate of endosulfan in cotton soil under sub-tropical conditions of Northern India. Pestic Sci 50:21–27

Kwon GS, Kim JE, Kim TK, Sohn HY, Koh SCDG (2002) Klebsiella pneumonia KE 1 degrades endosulfan without the formation of toxic metabolite endosulfan sulfate. FEMS Microbiol Lett 215:255–289

Mukherjee I, Gopal M (1994) Degradation of beta-endosulfan by Aspergillus niger. Toxicol Environ Chem 46:217–221

Mukherjee I, Gopal M (1998) Behaviour of endosulfan and lindane on cowpea. Bull Environ Contam Toxicol 60:25–30

Mukherjee I, Mittal A (2005) Biodegradation of endosulfan by using Aspergillus terrus. and Cladasporun oxysporum. Bull Environ Contam Toxicol 75:1034–1040

Raghed M, Al-Hassan I, Bashour I, Kawar Nasri NS (2004) Biodegradation of a and b endosulfan in soil as influenced by application of different organic materials. J Environ Sci Health, Part B 39:757–764

Singh S, Dureja P, Kumar S (2000) Biodegradation of a and b isomers of endosulafan and endosulfan sulfate in Indian soils. J Environ Sci Health B 35:337–346
Acknowledgments
Author thanks the Head of Division Agricultural Chemicals, for providing the facilities for the work. Contribution No. 995.
About this article
Cite this article
Mukherjee, I. Influence of Organic Amendments on the Degradation of Endosulfan. Bull Environ Contam Toxicol 89, 334–339 (2012). https://doi.org/10.1007/s00128-012-0676-x
Received:

Accepted:

Published:

Issue Date:
Keywords
Endosulfan

α and β isomer

Dissipation

Organic amendments