Abstract
This study investigated the sensitivity of plant species to acid rain based on the modeled dosage–response relationship on the net photosynthetic rate (P N) of 21 types of plant species, subjected to the exposure of simulated acid rain (SAR) for 5 times during a period of 50 days. Variable responses of P N to SAR occurred depending on the type of plant. A majority (13 species) of the dosage–response relationship could be described by an S-shaped curve and be fitted with the Boltzmann model. Model fitting allowed quantitative evaluation of the dosage–response relationship and an accurate estimation of the EC10, termed as the pH of the acid rain resulting in a P N 10 % lower than the reference value. The top 9 species (Camellia sasanqua, Cinnamomum camphora, etc. EC10 ≤ 3.0) are highly endurable to very acid rain. The rare, relict plant Metasequoia glyptostroboides was the most sensitive species (EC10 = 5.1) recommended for protection.
Access options
Buy single article
Instant access to the full article PDF.
USD 39.95
Price includes VAT (USA)
Tax calculation will be finalised during checkout.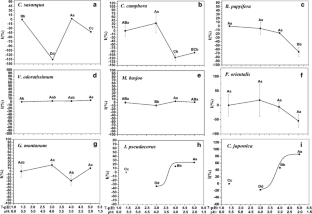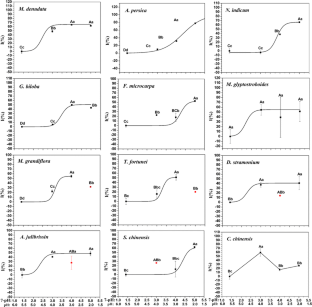 References
Bell DT, Wilkins CF, Moezel PG, Ward SC (1993) Alkalinity tolerance of woody species used in bauxite waste rehabilitation, Western Australia. Restor Ecol 1:51–58

Bradshaw AD (1983) The reconstruction of ecosystems. J Appl Ecol 20:1–17

Cairns J, Heckman JR (1996) Restoration ecology: The state of emerging field. Annu Rev Energ Environ 21:167–189

Campos da Silva L, Azevedo AA, Monteiro da Silva EA, Oliva MA (2005) Effects of simulated acid rain on the growth of five Brazilian tree species and anatomy of the most sensitive species (Joannesia princeps). Aust J Bot 53:789–796

Driscoll CT, Driscoll KM, Mitchell MJ, Raynal DJ (2003) Effects of acidic deposition on forest and aquatic ecosystems in New York State. Environ Pollut 123:327–336

Fan HB, Wang YH (2000) Effects of simulated acid rain on germination, foliar damage, chlorophyll contents and seedling growth of five hardwood species growing in China. For Ecol Manag 126:321–329

Feng ZW, Cao HF, Zhou XP (1999) Effects of acid deposition on ecosystems and its ecological restoration. China Environmental Science, Beijing

Haines B, Stefani M, Hendrix F (1980) Acid rain: Threshold of leaf damage in eight plant species from a Southern Appalachian forest succession. Water Air Soil Pollut 14:403–407

Hindawi IJ, Rea JA, Griffis WL (1980) Response of bush bean exposed to acid mist. Am J Bot 67:168–172

Jagels R, Jiang M, Marden S, Carlisle J (2002) Red spruce canopy response to acid fog exposure. Atmos Res 64:169–178

Jordan WR, Peters RL, Allen EB (1987) Ecological restoration as a strategy for conserving biological diversity. Environ Manage 12:55–72

Lee JJ, Weber DE (1979) The Effect of simulated acid rain on seedling emergence and growth of eleven woody species. For Sci 25:393–398

Lee CS, Lee KS, Hwangbo JK, You YH, Kim JH (2004) Selection of tolerant plants and their arrangement to restore a forest ecosystem damaged by air pollution. Water Air Soil Pollut 156:251–273

Liu SZ, Xue KN, Kong GH, Hu XC, Lu YD, Wu ZY (2003) Effects of air pollution on the growth of 35 garden plants. J Trop and Subtrop Bot 11:329–335

Munzuroglu O, Obek E, Geckil H (2003) Effects of simulated acid rain on the pollen germination and pollen tube growth of apple (Malus sylvestris Miller cv. Golden). Acta Biol Hungarica 54:95–103

Naveh Z (1994) From biodiversity to ecodiversity: a landscape ecology approach to conservation and restoration. Restor Ecol 2:180–189

Ouimet R, Duchesne L, Houle D, Arp PA (2001) Critical loads and exceedances of acid deposition and associated forest growth in the northern hardwood and BorealConiferous forests in Québec, Canada. Water Air Soil Pollut Focus 1:119–134

Ren R (1997) On acid rain in china: Past, present and its future. J Beijing Polytechnic Univ 23:128–132

Rodhe H, Dentener F, Schulz M (2002) The global distribution of acidifying wet deposition. Environ Sci Technol 36:4382–4388

Scherbatskoy T, Klein RM (1983) Response of spruce and birch foliage to leaching by acidic mists. J Environ Qual 12:189–195

Shan YF (1994) Acid rain, air pollutiong and plants. China Environmental Science, Beijing

Singh RK, Dutta RK, Agrawal M (2004) Litter decomposition and nutrient release in relation to atmospheric deposition of S and N in a dry tropical region. Pedobiologia 48:305–311

Sun BY, Kan SH, Zhang YZ, Deng SH, Wu J, Yuan H, Qi H, Yang G, Li L, Zhang XH (2010) Certain antioxidant enzymes and lipid peroxidation of radish (Raphanus sativus L.) as early warning biomarkers of soil copper exposure. J Hazard Mater 183:833–838

Tang XY, Luo L, Zhang HJ (2009) The study on the space-time distribution characteristics of acid rain in Southwest. Plateau and Mt Meteorolo Res 29:33–36

Wei L, Deng XH, Liu ZQ (2001) Analysis of the situation of acid rain in Sichuan Province and its tendency. Sichuan Environ 20:63–65

Westman WE, Temple PJ (1989) Acid mist and ozone effects on the leaf chemistry of two western conifer species. Environ Pollut 57:9–26

Wood T, Bormann FH (1974) The effects of an artificial acid mist upon the growth of Betula alleghaniensis britt. Environ Pollut 7:259–268

Wood T, Bormann FH (1977) Short-term effects of a simulated acid rain upon the growth and nutrient relations of Pinus strobus, L. Water Air Soil Pollut 7:479–488

Xu Y, Carmichael GR (1999) An assessment of sulfur deposition pathways in Asia. Atmos Environ 33:3473–3486
Acknowledgments
This study was funded by the Ministry of Science and Technology of the People's Republic of China for the project titled "Special Sub-topic on Sifting, Selection, and Rapid Culturing of Plant Species Endurable to Acid Rain (2006BAD03A0104-2)" in the framework of the '11th Five Year' National Scientific and Technological Key Research Scheme.
Additional information
Shihuai Deng, Shuzhen Gou, and Baiye Sun are co-first authors and have equally contributed to this paper.
About this article
Cite this article
Deng, S., Gou, S., Sun, B. et al. Modeled Dosage–Response Relationship on the Net Photosynthetic Rate for the Sensitivity to Acid Rain of 21 Plant Species. Bull Environ Contam Toxicol 89, 251–256 (2012). https://doi.org/10.1007/s00128-012-0661-4
Received:

Accepted:

Published:

Issue Date:
Keywords
Simulated acid rain

Net photosynthetic rate

Dosage–response relationship

Species sensitivity