Abstract
Chromium-resistant bacteria isolated from industrial wastes can be used to detoxify toxic chromium from contaminated sources. From effluent of Shafiq Tannery, Kasur, Pakistan, bacterial strain STCr-1 that could endure 40 mg mL−1 of potassium chromate in nutrient agar medium was isolated. STCr-1, identified as Ochrobactrum anthropi by 16S rRNA gene sequence homology, demonstrated substantial Cr(VI) reduction at pH 7 and temperature 37°C. It completely reduced 250 μg mL−1 of Cr(VI) and showed 71.2 % Cr(VI) reduction at Cr(VI) concentrations of 550 μg mL−1. Rate of Cr(VI) reduction increased with increase in cell and Cr(VI) concentration. The presence of Cu2+, Co2+ and Mn2+ significantly stimulated Cr(VI) reduction. Assay with cell free extracts clearly indicated that Cr(VI) reduction was solely associated with the soluble fraction of the cell.
Access options
Buy single article
Instant access to the full article PDF.
USD 39.95
Price includes VAT (USA)
Tax calculation will be finalised during checkout.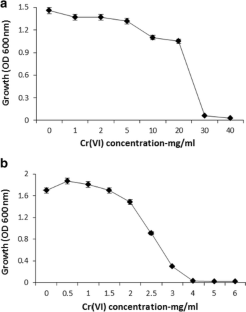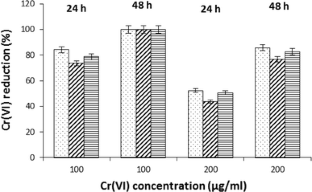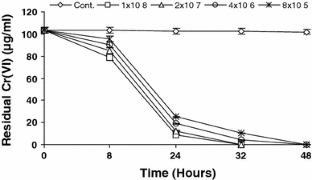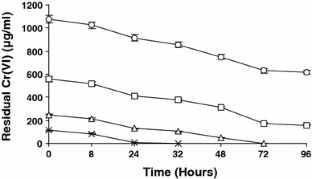 References
Abe F, Miura T, Nagahama T, Inoue A, Usami R, Horikoshi K (2001) Isolation of a highly copper-tolerant yeast, Cryptococcus sp., from the Japan trench and the induction of superoxide dismutase activity by Cu2+. Biotechnol Lett 23:2027–2034

Ackerley DF, Barak Y, Lynch SV, Curtin J, Matin A (2006) Effect of chromate stress on Escherichia coli K-12. J Bacteriol 188:3371–3381

Al-Aoukaty A, Appana VD (1990) Sensitivity of Pseudomonas syringae to various metals complexed to citrate. Microbios Lett 45:105–111

APHA (1995) Standard methods for the examination of water and waste water, 19th edn. American Public Health Association, Washington

Bailey SE, Olin TJ, Bricka RM, Adrian DD (1999) A review of potentially low cost sorbents for heavy metals. Wat Res 33:2469–2479

Branco R, Alpoim MC, Morais PV (2004) Ochrobactrum tritici strain 5bvl1-characterization of a Cr(VI)-resistant and Cr(VI)-reducing strain. Can J Microbiol 50:697–703

Camargo FAO, Okeke BC, Bento FM, Frankenberger WT (2005) Diversity of chromium-resistant bacteria isolated from soils contaminated with dichromate. Appl Soil Ecol 29:193–202

Campos J, Martinez-Pacheco M, Cervantes C (1995) Hexavalent-chromium reduction by a chromate resistant Bacillus sp. strain. Anton Leeuwenhoek 68:203–208

Chen F, Vallyathan V, Castranova V, Shi X (2001) Cell apoptosis induced by carcinogenic metals. Mol Cell Biochem 222:183–188

Cheung KH, Gu JD (2003) Reduction of chromate by an enrichment consortium and an isolate of marine sulfate-reducing bacteria. Chemosphere 52:1523–1529

DeLeo PC, Ehrlich HL (1994) Reduction of hexavelant chromium by Pseudomonas fluorescens LB300 in batch and continuous cultures. Appl Microbiol Biotechnol 40:756–759

Desai C, Jain K, Madamwar D (2008) Evaluation of In vitro Cr(VI) reduction potential in cytosolic extracts of three indigenous Bacillus sp. isolated from Cr(VI) polluted industrial landfill. Bioresour Technol 99:6059–6069

Elangovan R, Abhipsa S, Rohit B, Ligy P, Chandraraj K (2006) Reduction of Cr(VI) by a Bacillus sp. Biotechnol Lett 28:247–252

Francisco R, Alpoim MC, Morais PV (2002) Diversity of chromium resistant and reducing bacteria in a chromium-contaminated activated sludge. J Appl Microbiol 92:837–843

Hasnain S, Thomas CM (1996) Two related rolling circle replication plasmids from salt-tolerant bacteria. Plasmid 36:191–199

He Z, Gao F, Sha T, Hu Y, He C (2009) Isolation and characterization of a Cr(VI)-reduction Ochrobactrum sp. strain CSCr-3 from chromium landfill. J Hazard Mat 163:869–873

Johnson JL (1994) Similarity analysis of rRNAs. In: Gerhardt P, Murray RGE, Wood WA, Krieg NR (eds) Methods for general and molecular bacteriology. American Society for Microbiology, Washington, pp 683–700

Losi ME, Amrhein C, Frankenberger WT (1994) Environmental biochemistry of chromium. Rev Environ Contam Toxicol 36:91–121

McLean J, Beveridge TJ (2001) Chromate reduction by a pseudomonad isolated from a site contaminated with chromated copper arsenate. Appl Environ Microbiol 67:1076–1084

Megharaj M, Avudainayagam S, Naidu R (2003) Toxicity of hexavalent chromium and its reduction by bacteria isolated from soil contaminated with tannery waste. Curr Microbiol 47:51–54

Michel C, Brugna M, Aubert C, Bernadac A, Bruschi M (2001) Enzymatic reduction of chromate: comparative studies using sulfate-reducing bacteria. Key role of polyheme cytochrome c and hydrogenases. Appl Microbiol Biotechnol 55:95–100

Mir S, Hai SMA (1999) Pollution due to hazardous waste-water discharge by the local industry and its control. Sci Vision 4:1–7

Mullis K, Faloona F, Scharf S, Saiki R, Horn G, Erlich H (1986) Specific enzymatic amplification of DNA in vitro: the polymerase chain reaction. Cold Spring Harb Symp Quant Biol 51:263–273

Pal A, Paul AK (2004) Aerobic chromate reduction by chromium-resistant bacteria isolated from serpentine soil. Microbiol Res 159:347–354

Pattanapipitpaisal P, Brown NL, Macaskie LE (2001) Chromate reduction and 16S rRNA identification of bacteria isolated from a Cr(VI)-contaminated site. Appl Microbiol Biotechnol 57:257–261

Shen H, Wang YT (1994) Biological reduction of chromium by E. coli. J Environ Eng 120:560–570

Steel RGD, Torrie JH, Dickey DA (1996) Principles and procedures of statistics, a biometrical approach, 3rd edn. McGraw Hill International Book Company, New York

Sultan S, Hasnain S (2005) Plasmid mediated chromate resistance in bacteria isolated from industrial waste. Pak J Biologic Sci 8:1771–1777

Sultan S, Hasnain S (2006) Characterization of an Ochrobactrum intermedium strain STCr-5 manifesting high level Cr(VI) resistance and reduction potential. Enzyme Microb Technol 39:883–888

Sultan S, Hasnain S (2007) Reduction of toxic hexavalent chromium by Ochrobactrum intermedium strain SDCr-5 stimulated by heavy metals. Bioresour Technol 98:340–344

Thacker U, Madamwar D (2005) Reduction of toxic chromium and partial localization of chromium reductase activity in bacterial isolate DM1. World J Microbiol Biotechnol 21:891–899

Thacker U, Parikh R, Shouche Y, Datta M (2006) Hexavalent chromium reduction by Providencia sp. Process Biochem 41:1332–1337

Thacker U, Parikh R, Shouche Y, Datta M (2007) Reduction of chromate by cell free extract of Brucella sp. isolated from Cr(VI) contaminated sites. Bioresour Technol 98:1541–1547

Wang YT, Xiao C (1995) Factors affecting hexavalent chromium reduction in pure cultures of bacteria. Water Res 29:2467–2474

Wang P-C, Mori T, Toda K, Ohtake H (1990) Membrane-associated chromate reductase activity from Enterobacter cloacae. J Bacteriol 172:1670–1672

Xu WH, Liu UG, Zeng GM, Li X, Song HX, Peng QQ (2009) Characterization of Cr(VI) resistance and reduction by Pseudomonas aeruginosa. Trans Nonferrous Met Soc China 19:1336–1341

Zhang K, Li F (2011) Isolation and characterization of a chromium-resistant bacterium Serratia sp. Cr-10 from a chromate-contaminated site. Appl Microbiol Biotechnol 90:1163–1169
About this article
Cite this article
Sultan, S., Hasnain, S. Chromium (VI) Reduction by Cell Free Extract of Ochrobactrum anthropi Isolated from Tannery Effluent. Bull Environ Contam Toxicol 89, 152–157 (2012). https://doi.org/10.1007/s00128-012-0648-1
Received:

Accepted:

Published:

Issue Date:
Keywords
Cr(VI)-resistance

Tannery effluent

Ochrobactrum anthropi

Cr(VI) reduction

Cell free extract