Abstract
This study was performed to investigate certain major and toxic metal concentrations in muscle, gill and liver tissues of two Cyprinid species (Leuciscus cephalus, Tinca tinca). Generally liver and gill tissue exhibited higher metal concentrations than did muscle. The highest metal concentrations found in tench and chub muscle tissues were determined to be Al (59.01–108 mg kg−1), Zn (45.23–57.81 mg kg−1), Fe (9.23–16.03 mg kg−1) and Ba (3.50–2.69 mg kg−1) respectively. The level of metal accumulation is evaluated for potential risk to human health based on international standards. Zinc, lead and arsenic values of muscle tissues of the fishes were found to be above the allowed limits for human consumption.
Access options
Buy single article
Instant access to the full article PDF.
USD 39.95
Price includes VAT (USA)
Tax calculation will be finalised during checkout.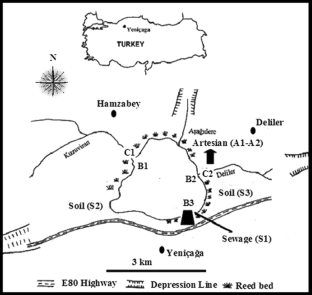 References
Alhas E, Oymak AS, Karadede HA (2009) Heavy metal concentrations in two barbus, Barbus xanthopterus and Barbus rajanum mysstaceus from Atatürk Dam Lake, Turkey. Environ Monit and Assess 148:11–18

Čelechovska O, Svobodova Z, Zlabek V, Macharackova B (2007) Distribution of metals in tissues of the common carp (Cyprinus carpio L.). Acta Vet Brno 76:93–100

Codex Alimentarius Commission (2002) Codex Committee on food additives and Contaminnats: maximum level for lead in fish. Joint FAO/WHO Food Standards Programme: Document CL-2002 10 FAC. United Nations, Rome

Dybern BI (1983) Manuel of methods in aquatic environment research. Analyses of Metals in Fish: FAO Technical paper, p 221

FAO (1983) Compilation of legal limits for hazardous substances in fish and fishery product. FAO Fisheries Circular 464:5–100

Fidan FA, Ciğerci İH, Konuk M, Küçükkurt İ, Aslan R, Dündar Y (2008) Determination of some heavy metal levels and oxidative status in Carassius carassius L., 1758 from Eber Lake. Environ Monit and Assess 147:35–41

Guillaume J, Kaushik S, Bergot P, Metailler R (2001) Nutrition and feeding of fish and crustaceans. Springer, Praxis Publishing, United Kingdom

Heat AG (1987) Water pollution and fish physiology. CRC pres, Florida

Karadede HA, Ünlü E (2007) Heavy metal concentrations in water, sediment, fish, and some benthic organisms from Tigris River, Turkey. Environ Monit and Assess 131:323–337

Linde AR, Sanchez-Galan S, Izquierdo JI, Arribas P, Maranon E, Garcya-Vazquez E (1998) Broun trout as biomonitor of heavy metal pollution: effect of age on the reliability of the assesment. Ecotox Environ Safe 40:120–125

Papagiannis I, Kagalou I, Leonardos J, Petridis D, Kalfakaou V (2004) Copper and zinc in four freshwater fish species from Lake Pamvotis (Greece). Environ Inter 30:357–362

Qiao QC, Guang-Wei Z, Langdon A (2007) Bioaccumulation of heavy metals in fishes from Taihu Lake, China. J Environ Sci 19:1500–1504

Romeoa M, Siaub Y, Sidoumou Z, Gnassia-Barelli M (1999) Heavy metal distribution in different fish species from the Mauritania coast. Sci Total Environ 232:169–175

Saygı Y, Atasagun SY (2012) Heavy metals in Yeniçağa Lake and its potential sources: soil, water, sediment, and plankton. Environ Monitor Assess 184:1379–1389

Tekin-Özan S (2008) Determination of heavy metal levels in water, sediment and tissues of tench (Tinca tinca L., 1758) from Beyşehir Lake (Turkey). Environ Monitor Assess 145:295–302

TFC (2002) Turkish Food Codes, Official Gazete, 23 September 2002, No: 24885

USFDA (1993) Food and drug administration. Guidance document for arsenic in shellfish. DHHS/PHS/FDA/CFSAN/Office of Seafood, Washington DC

Uysal K, Köse E, Bülbül M, Dönmez M, Erdoğan Y, Koyun M, Ömeroğlu Ç, Özmal F (2009) The compassion of heavy metal accumulation ratios of some fish species in Enne Dam Lake (Kütahya/Turkey). Environ Monitor Assess 157:355–362

Yılmaz F, Özdemir N, Demirak A, Tuna AL (2007) Heavy metal levels in two fish species Leuciscus cephalus and Lepomis gibbosus. Food Chem 100:830–835
Acknowledgments
This research was a part of the project financed by the Scientific and Technical Research Council of Turkey: "Determination of Heavy Metal Accumulation in the Food Chain of Yeniçağa Lake (Bolu)" ÇAYDAG-107Y180.
About this article
Cite this article
Saygı, Y., Yiğit, S.A. Assessment of Metal Concentrations in Two Cyprinid Fish Species (Leuciscus cephalus and Tinca tinca) Captured from Yeniçağa Lake, Turkey. Bull Environ Contam Toxicol 89, 86–90 (2012). https://doi.org/10.1007/s00128-012-0647-2
Received:

Accepted:

Published:

Issue Date:
Keywords
Yeniçağa Lake

Accumulation

Leuciscus cephalus
Tinca tinca