Abstract
Gallic acid is known as a potent antioxidant active compound of the edible and medicinal plant Peltiphyllum peltatum. The main objective of this study was to evaluate the neuroprotective effects of gallic acid against sodium fluoride induced oxidative stress in rat brain. Gallic acid (10 and 20 mg/kg) and vitamin C (10 mg/kg) were intraperitoneally administrated for 1 week prior to sodium fluoride intoxication. After the treatment period, brain tissues were collected and homogenized, and antioxidant parameters were measured in the homogenates. The level of thiobarbituric acid reactive substances in sodium fluoride intoxicated rats (42.04 ± 2.14 nmol MDA eq/g tissue, p < 0.01 vs. normal) increased compared to the normal rats (35.99 ± 1.08 nmol MDA eq/g tissue). Pretreatment with gallic acid at 20 mg/kg was exhibited significant reduction in the thiobarbituric acid reactive substances level (37.06 ± 1.4 nmol MDA eq/g tissue, p > 0.05 vs. normal). This increasing in thiobarbituric acid reactive substances level was accompanied with a decrease in the level of reduced glutathione (6.74 ± 0.28 μg/mg of protein, p < 0.001 vs. normal), superoxide dismutase (53.24 ± 1.62 U/mg of protein, p < 0.001 vs. normal) and catalase (70.73 ± 2.94 μmol/min/mg of protein p < 0.001 vs. normal) activities in sodium fluoride intoxicated rat. Gallic acid at 20 mg/kg was significantly modified the level of reduced glutathione (11.02 ± 0.53 μg/mg of protein, p < 0.05 vs normal) and catalase activity (89.22 ± 3.67 μmol/min/mg of protein, p > 0.05 vs. normal) in rat brain. However, gallic acid at 20 mg/kg was significantly more effective in retrieving superoxide dismutase (124.78 ± 5.7 U/mg of protein) activity than vitamin C (115.5 ± 4.97 U/mg of protein).
Access options
Buy single article
Instant access to the full article PDF.
USD 39.95
Price includes VAT (USA)
Tax calculation will be finalised during checkout.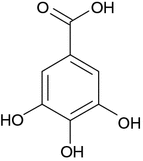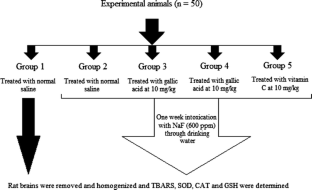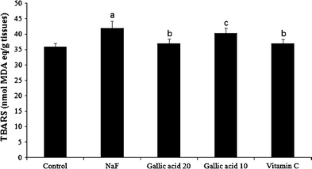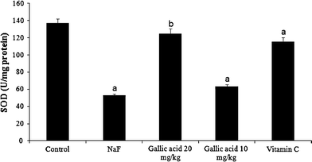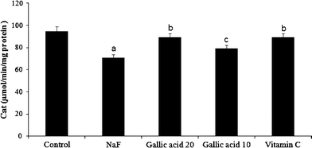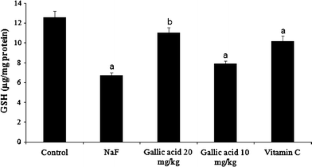 References
Ban JY, Nguyen HT, Lee HJ, Cho SO, Ju HS, Kim JY, Bae K, Song KS, Seong YH (2008) Neuroprotective properties of gallic acid from Sanguisorbae radix on amyloid beta protein (25–35)-induced toxicity in cultured rat cortical neurons. Biol Pharm Bull 31(1):149–153

Bharti VK, Srivastava RS (2009) Fluoride-induced oxidative stress in rat's brain and its amelioration by buffalo (Bubalus bubalis) pineal proteins and melatonin. Biol Trace Elem Res 130:131–140

Bradford MM (1976) A rapid and sensitive method for the quantitation of microgram quantities of protein utilizing the principle of protein-dye binding. Anal Biochem 72:248–254

Dwibedy P, Dey GR, Naik DB, Kishore K, Moorthy PN (1999) Pulse radiolysis studies on redox reaction of gallic acid: one electron oxidation of gallic acid by hallic acid OH adduct. Phys Chem Chem Phys 1:1915–1918

Ellman GL (1959) Tissue sulphydryl group. Arch Biochem Biophys 82:70–77

Eraslan G, Kanbur M, Silici S (2007) Evaluation of propolis effects on some biochemical parameters in rats treated with sodium fluoride. Pest Biochem Physiol 88:273–283

Eslami AC, Pasanphan W, Wagner BA, Buettner GR (2010) Free radicals produced by the oxidation of gallic acid: an electron paramagnetic resonance study. Chem Cent J 4:15

Habtemariam S (2008) Activity-guided isolation and identification of antioxidant components from ethanolic extract of Peltiphyllum peltatum (Torr.) Engl. Nat Prod Commun 3:1321–1324

He LF, Chen JG (2006) DNA damage, apoptosis and cell cycle changes induced by fluoride in rat oral mucosal cells and hepatocytes. World J Gastroenterol 12(7):1144–1148

Kim YJ (2007) Antimelanogenic and antioxidant properties of gallic acid. Biol Pharm Bull 30(6):1052–1055

Li L, Ng TB, Gao W, Li W, Fu M, Niu SM et al (2005) Antioxidant activity of gallic acid from rose flowers in senescence accelerated mice. Life Sci 77:230–240

Liu GY, Chai CY, Li C (2003) Fluoride causing abnormally elevated serum nitric oxide levels in chicks. Environ Toxicol Pharmacol 13:199–204

Lu Z, Nie G, Belton PS, Tang H, Zhao B (2006) Structure–activity relationship analysis of antioxidant ability and neuroprotective effect of gallic acid derivatives. Neurochem Int 48:263–274

Madhusudhan N, Basha PM, Begum S, Ahmed F (2009) Fluoride-induced neuronal oxidative stress and its amelioration by antioxidants in developing rats. Fluoride 42(3):179–187

Misra HP, Fridovich I (1972) The role of superoxide anion in the autooxidation of epinephrine and simple assay for superoxide dismutase. J Biol Chem 247:3170–3175

Nabavi SF, Eslami Sh, Moghaddam AH, Nabavi SM (2011) Protective effects of curcumin against fluoride-induced oxidative stress in the rat brain. Neurophysiology 43(4):287–291

Nabavi SF, Nabavi SM, Abolhasani F, Moghaddam AH, Eslami S (2012a) Cytoprotective effects of curcumin on sodium fluoride-induced intoxication in rat erythrocytes. Bull Environ Cont Toxicol 88:486–490

Nabavi SM, Nabavi SF, Eslami S, Moghaddam AH (2012b) In vivo protective effects of quercetin against sodium fluoride-induced oxidative stress in the hepatic tissue. Food Chem 132:931–935

Ozturk OH, Oktar S, Aydin M, Kucukatay V (2010) Effect of sulfite on antioxidant enzymes and lipid peroxidation in normal and sulfite oxidase-deficient rat erythrocytes. J Physiol Biochem 66(3):205–212

Pari L, Latha M (2004) Protective role of Scoparia dulcis plant extract on brain antioxidant status and lipid peroxidation in STZ diabetic male Wistar rats. BMC Compliment Altern Med 4:4–16

Pendrys DG (2001) Fluoride ingestion and oral health. Nutrition 17:979–980

Punithavathi VR, Prince PSM, Kumar R, Selvakumari J (2011) Antihyperglycaemic, antilipid peroxidative and antioxidant effects of gallic acid on streptozotocin induced diabetic Wistar rats. Eur J Pharmacol 650:465–471

Ranjan R, Swarup D, Patra RC (2009) Oxidative stress indices in erythrocytes, liver, and kidneys of fluoride-exposed rabbits. Fluoride 42(2):88–93

Sohi KK, Mittal N, Hundal MK, Khanduja KL (2003) Gallic acid, an antioxidant, exhibits antiapoptotic potential in normal human lymphocytes: a Bcl-2 independent mechanism. J Nutr Sci Vitaminol 49:221–227

Tachibana H, Koga K, Fujimura Y, Yamada K (2004) A receptor for green tea polyphenol EGCG. Nat Struct Mol Biol 11:380–381

Zhao J, Khan IA, Fronczek FR (2011) Gallic acid. Acta Crystallogr Sect E Struct Rep 67(Pt 2):o316–o317
Acknowledgments
The authors acknowledge the financial support of National elite's foundation of Iran (Tehran, Iran) for this study. This paper is dedicated to Seyed Maryam Nabavi, Seyed Morteza Nabavi and with memory of Seyed Ali Asghar Nabavi.
About this article
Cite this article
Nabavi, S.F., Habtemariam, S., Jafari, M. et al. Protective Role of Gallic Acid on Sodium Fluoride Induced Oxidative Stress in Rat Brain. Bull Environ Contam Toxicol 89, 73–77 (2012). https://doi.org/10.1007/s00128-012-0645-4
Received:

Accepted:

Published:

Issue Date:
Keywords:
Peltiphyllum peltatum

Gallic acid

Fluoride toxicity

Antioxidant

Oxidative stress