Abstract
Microplastic particles were quantified in beach transects of the East Frisian islands Spiekeroog and Kachelotplate and in two samples from a tidal flat. Both granules and fibres were present while fragments and polystyrene pellets were completely absent. On the Kachelotplate the highest number of granules (496/10 g sediment) was observed at the high water line while on Spiekeroog a sample from the dune area had the highest value (38/10 g sediment). The tidal flat samples hat 36 and 136 granules/10 g sediment with the higher number being associated with a blue mussel bank. Fibres were more homogeneously distributed and did not show any particular enrichment. In comparison with data from the Belgian coast the total numbers are higher which might be related to the exposure situation of the island beaches.
Access options
Buy single article
Instant access to the full article PDF.
USD 39.95
Price includes VAT (USA)
Tax calculation will be finalised during checkout.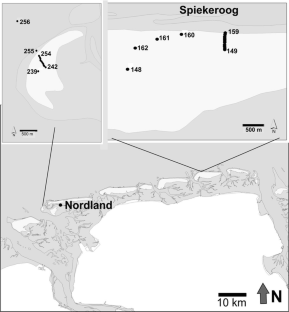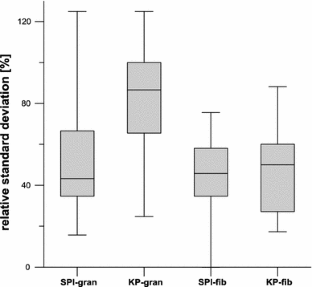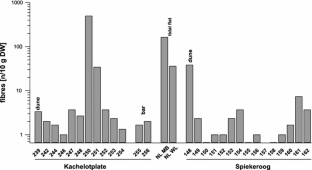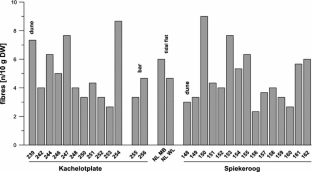 References
Andrady AL (2011) Microplastics in the marine environment. Mar Poll Bull 62:1596–1605

Arthur C, Baker J, Bamford H (eds) (2009) Proceedings of the International Research Workshop on the Occurrence, Effects, and Fate of Microplastic Marine Debris. National Oceanic and Atmospheric Administration Technical Memorandum NOS-OR&R-30, http://marinedebris.noaa.gov/projects/pdfs/Microplastics.pdf, 49 p

Barnes DKA, Galgani F, Thompson RC, Barlaz M (2009) Accumulation and fragmentation of plastic debris in global environments Phil. Trans Roy Soc B Biol Sci 364:1985–1998

Browne MA, Dissanayake A, Galloway TS, Lowe DM, Thompson RC (2011) Accumulations of microplastic on shorelines worldwide: sources and sinks. Environ Sci Technol 45:9175–9179

Carpenter EJ, Anderson SJ, Harvey GR, Miklas HP, Peck BB (1972) Polystyrene spherules in coastal waters. Science 178:749–750

Claessens M, de Meester S, Landuyt LV, Clerck KD, Janssen CR (2011) Occurrence and distribution of microplastics in marine sediments along the Belgian coast. Mar Poll Bull 62:2199–2204

Derraik JGB (2002) The pollution of the marine environment by plastic debris: a review. Mar Poll Bull 44:842–852

Fendall LS, Sewell MA (2009) Contributing to marine pollution by washing your face: Microplastics in facial cleansers. Mar Poll Bull 58:1225–1228

Flemming BW, Davis RA (1994) Holocene evolution, morphodynamics and sedimentology of the Spiekeroog barrier island system (southern North Sea). Senckenberg Marit 24:117–155

Gregory MR (1996) Plastic 'scrubbers' in hand cleansers: a further (and minor) source for marine pollution identified. Mar Poll Bull 32:867–871

Habib D, Locke DC, Cannone LJ (1998) Synthetic fibers as indicators of municipal sewage sludge, sludge products, and sewage treatment plant effluents. Water Air Soil Poll 103:1–8

Liebezeit G (2008) Marine litter on the Kachelotplate, Lower Saxonian Wadden Sea. Senckenb Marit 38:147–151

Liebezeit G (2011) Makro- und Mikromüll im Niedersächsischen Wattenmeer. Wasser Abfall 2001-6:41–44

Lobelle D, Cunliffe M (2011) Early microbial biofilm formation on marine plastic debris. Mar Poll Bull 60:197–200

McDermid KJ, McMullen TL (2004) Quantitative analysis of small-plastic debris on beaches in the Hawaiian archipelago. Mar Poll Bull 48:790–794

Meith N (ed) (2009) Marine litter: a global challenge. UNEP, Nairobi

Ryan PG, Moore CJ, van Franeker JA, Moloney CL (2009) Monitoring the abundance of plastic debris in the marine environment. Phil Trans Roy Soc B Biol Sci 364:1999–2012

Thompson RC, Olsen Y, Mitchell RP, Davies A, Rowland SJ, John AWG (2004) Lost at sea: where is all the plastic? Science 304:834

UNEP (2005) Marine litter, an analytical overview, pp 1–47

Wehrmann A, Tilch E (2008) Sedimentary dynamics of an ephemeral sand bank island (Kachelotplate, German Wadden Sea): an atlas of sedimentary structures. Senckenb Marit 38:185–198

Zitko V, Hanlon M (1991) Another source of pollution by plastics: skin cleaners with plastic scrubbers. Mar Poll Bull 22:41–42

Zubris KAV, Richards BK (2005) Synthetic fibers as an indicator of land application of sludge. Environ Pollut 138:201–211
Acknowledgments
We are indebted to Richard Czeck for providing the base maps for Fig. 1. This work was supported financially by the Lower Saxonian Wadden Sea Foundation.
About this article
Cite this article
Liebezeit, G., Dubaish, F. Microplastics in Beaches of the East Frisian Islands Spiekeroog and Kachelotplate. Bull Environ Contam Toxicol 89, 213–217 (2012). https://doi.org/10.1007/s00128-012-0642-7
Received:

Accepted:

Published:

Issue Date:
Keywords
Microplastics

Wadden Sea

Beach sediment

Marine debris