Abstract
In order to understand whether organochlorine pesticides and polychlorinated biphenyls (PCBs) are responsible for the mortality of waterbirds in Nalaban bird sanctuary in Chilika Lake, the current investigation was carried out in tissues of 11 individuals comprising 7 species of birds. One or more residues were detected in all the tissues of birds analysed. Concentration of ∑HCH, ∑DDT, and ∑PCBs were ranged from below detectable level (BDL)-811 ng/g, BDL-1,987 ng/g and BDL-1,027 ng/g respectively. PCBs levels were less than the food and drug administration's (FDA) action limits. Although varying levels of residues were detected among tissues, they do not appear to be responsible for the mass mortality of waterfowl. However, the need for additional research is heightened when considering that some of the birds are classified as a globally protected species by the international bodies.
Access options
Buy single article
Instant access to the full article PDF.
USD 39.95
Price includes VAT (USA)
Tax calculation will be finalised during checkout.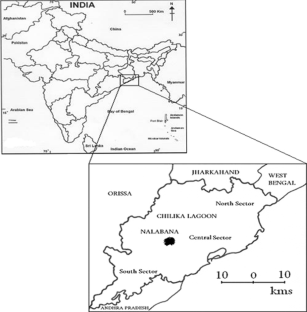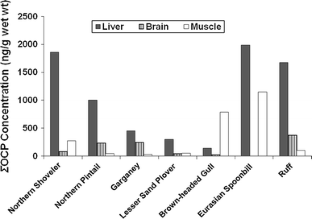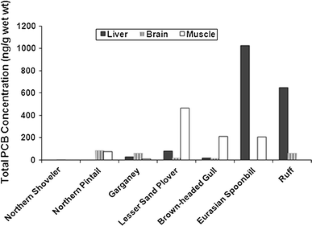 References
Ali S (2002) The book of Indian birds, Bombay Natural History Society. Oxford University Press, Bombay, p 326

Balachandran S, Rahmani R, Sathiyaselvam P (2005) Habitat evaluation of Chilika Lake with special reference to birds as bioindicators, Bombay Natural History Society. Final Report to Govt. of Orissa, Bhubaneswar

CDA Chilika Development Authority (2003) Chilika-A living lagoon, Bhubaneswar, India

Choi JW, Matsuda M, Kawano M, Min BY, Wakimoto T (2001) Accumulation profiles of persistent organochlorines in waterbirds from an estuary in Korea. Arch Environ Contam Toxicol 41:353–363

Dhananjayan V (2009) Organochlorine contaminants and select biomarkers in the birds of Gujarat and Tamil Nadu, India, PhD dissertation, Bharthiar University

Dhananjayan V, Muralidharan S, Jayanthi P (2011) Distribution of persistent organochlorine chemical residues in blood plasma of three species of vultures from India. Environ Monit Assess 173:803–811

Gundersen DT, Pearson WD (1992) Partitioning of PCBs in the muscle and reproductive tissues of paddlefish, Polyodon spathula, at the falls of the Ohio River. Bull Environ Contam Toxicol 49:455–462

Heath RG, Spann JW, Hill EF, Kreitzer JF (1983) Comparative dietary toxicities of pesticides to birds, US Fish and Wildlife Ser Spec Sci Rep. No 152, Washington, DC

Henny CJ, Blus LJ, Stafford CJ (1983) Effects of heptachlor on American Kestrels in the Columbian Basin, Oregon. J Wildl Manage 47:1080–1087

Kumari A, Sinha RK, Gopal K, Prasad K (2001) Dietary intake of persistent organochlorine residues through Gangetic fishes in India. Int J Ecology Environ Sci 27:117–120

Long ER, Macdonald DD, Smith SL, Calder FD (1995) Incidence of adverse biological effects within ranges of chemical concentrations in marine and estuarine sediments. Environ Manage 19:81–97

Mukherjee I, Gopal M (1996) Insecticides residues in baby food, animal feed, and vegetables by gas liquid chromatography. Bull Environ Contam Toxicol 56:381–388

Muralidharan S (1993) Aldrin poisoning of Sarus cranes (Grus antigone) and a few granivorous birds in Keoladeo National Park, Bharatpur, India. Ecotoxicology 2:196–202

Naso B, Perrone D, Ferrante MC, Zaccaroni A, Lucisano A (2003) Persistent organochlorine pollutants in liver of birds of different trophic levels from coastal areas of Campania, Italy. Arch Environ Contam Toxicol 45:407–414

Pain DJ, Gargi R, Cunningham AA, Jones A, Prakash V (2004) Mortality of globally threatened Sarus Cranes Grus antigon from monocrotophos poisoning in India. Sci Total Environ 326:55–61

Porter SL (1993) Pesticide poisoning in birds of prey. In: Redig TP, Cooper JE, Remple JD, Hunter B (eds) Raptor biomedicine. University of Minnesota Press, Minneapolis, MN, pp 329–345

Stickel WH, Stickel LF, Coon FB (1970) DDE and DDD residues correlated with mortality of experimental birds. In: Deichmann WB (ed) Pesticide symposia. Halos Assoc, Miami, pp 287–294

Sundar KSG (2006) Bird deaths at Okhla Bird Sanctuary, Gautam Buddh Nagar, Uttar Pradesh, February 4–7, WPSI and ICF, India, ICWWG Field Report 2006

Wiemeyer SN, Bunck CM, Stafford CJ (1993) Environmental contaminants in bald eagle eggs-1980–1984-and further interpretations of relationships to productivity and shell thickness. Arch Environ Contam Toxicol 24:213–227
Acknowledgments
I express sincere gratitude to the Wildlife Warden, Bhuvaneshwar, Orissa. Dr. S. Muralidharan, Principal Scientist, Sálim Ali Centre for Ornithology and Natural History, Coimbatore extended scientific support and arranged a financial support from the institute's R & D funds.
About this article
Cite this article
Dhananjayan, V. Organochlorine Pesticides and Polychlorinated Biphenyls in Various Tissues of Waterbirds in Nalabana Bird Sanctuary, Chilika Lake, Orissa, India. Bull Environ Contam Toxicol 89, 197–201 (2012). https://doi.org/10.1007/s00128-012-0640-9
Received:

Accepted:

Published:

Issue Date:
Keywords
Organochlorine pesticides

PCBs

Chilika lake

Nalabana bird sanctuary

India